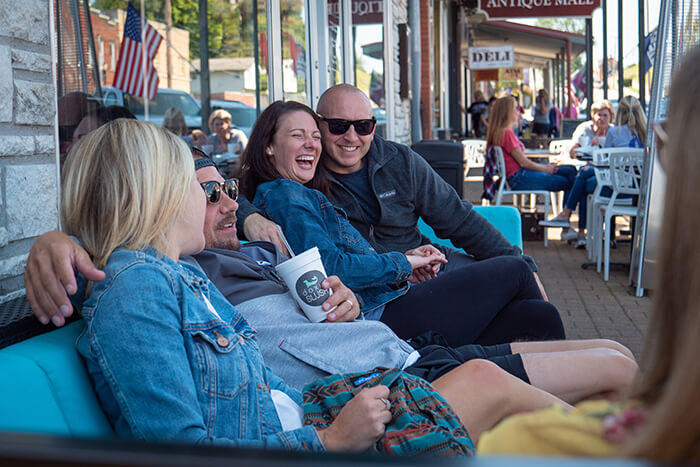 Hot Days and Cool Nights in Hermann, MO
August 10, 2022

It's summer, and whether you have "enjoying some fun in the sun" or "escaping the heat" on your agenda, Hermann has the perfect backdrop and soundtrack for summer camraderie.
If you're looking to beat the heat, look no further than Hermann's wineries and distilleries. Unique wines and spirits combined with breathtaking views are the perfect way to enjoy the scenery from the comfort of air conditioning. Stay even cooler with a wine slush or frozen cocktail from Doxie Slush, Adam Puchta Winery, or Stone Hill Winery.
Hermann's shopping district is full of treasures just waiting to be discovered, and we know shopping can build an appetite. On hot summer days, enjoying a hand-dipped ice cream is a great way to rest before the next adventure. Lunch and dinner options abound. Whatever you're craving, there's sure to be something to please your taste buds.
And whether you're looking for a romantic getaway, a family adventure, a girls or guys night out 一 or anything in between 一 Hermann has the perfect accommodations for overnight and weekend stays. RV parks and campgrounds lend themselves to hiking and biking, and for cycling enthusiasts, Hermann links to the Katy Trail with the McKittrick trailhead just north of the city. Our bed and breakfast inns, cottages, and guesthouses ensure your extended stay is as comfortable as it is fun.
Hermann also boasts live music nightly at the 1837 Cellar Bar, with all of your country and classic rock favorites. Wineries and other venues also host music and entertainment throughout the summer. See the schedule.
Late Summer Festivities
As the leaves turn, we'll keep the good times rolling with end of summer and fall festivals for all. Plan now for these upcoming events.
Hermann Wine & Jazz Festival: Mark your calendar for the Hermann Wine & Jazz Festival Saturday, August 27. Located just four blocks south of the Amtrak station on Gutenberg Street, the Clara Eitmann-Messmer Amphitheater will be the focal point of the festival. A warm night combined with cool jazz and your favorite wine will make the evening one to remember.
Perhaps the best part? The event is a fundraiser for the Hermann Music Boosters.
The lineup has been announced as follows:
2 p.m.: Augusta Jazz Quartet
4 p.m.: Friends of Aaron
6 p.m.: Joel Vanderheyden Quartet
8 p.m.: Mosaic Jazz Sextet with special guest Adrianne Felton King
More details will be posted on our events calendar as they take shape.
SmokeFest: The sweet smell of smoke, from barbecue to cigars, will beckon at the 2022 SmokeFest set for Saturday, September 17. Attend a cigars seminar, listen to music and enjoy whiskey at this annual festival. Visitors can also attend a Fuma tasting, a unique opportunity that will both educate and delight your senses. Planning is underway, so check back for details in the coming months.
German Town Jams: Lionheart Whiskey Co. presents a new concert series this fall. The next event is Saturday, September 24th at the Clara Eitmann Messmer Amphitheater. Gates open at 5:30 pm and the band starts at 6:00 pm. This event is free and family-friendly. Bring a lawn chair or blanket and enjoy live music from Dawson Hallow. Coolers are allowed, but no outside alcohol. The cash bar will have options for wine, beer, soda, bottled water, and cocktails. The VIP Lounge will have covered seating, two drinks, and other perks. Passes are a $25 donation to the Hermann Arts Council and available at the gate. RSVP or find updates on the Facebook event here.
Oktoberfest: A celebration of all things German – culture, heritage, food and drinks – takes place every weekend in October. Visitors can enjoy a brat and beer, take a wine tour, or listen to live music while checking out some of the local shops. Check the events calendar for your guide to all things Oktoberfest as the month-long celebration takes shape.
Do you need help planning your visit? Contact our Visitor Information Center.