Time to Plan Your Ultimate Guys Getaway
May 13, 2023
When it's time for you and your best mates to plan that man-cation, Hermann is the perfect place to kick back with spirits and brews, outdoor activities, and plenty of good food and music. Whether you're planning a birthday, bachelor party, or just a fun weekend on the town, Hermann has something for everyone in your group.
Distilleries, Craft Brews, and Wineries
If you're on the hunt for a beer, spirit, or other drink for you and the guys, Hermann has something to suit your unique tastes with several distilleries, breweries, and wineries around town.
If you're craving something tried and true, Hermann's wineries date back to the earliest days of American winemaking. Craft beer soon blossomed alongside the wine scene, and distilleries have joined the scene with handcrafted, award-winning artisan spirits. Hermann even has the new category of whiskey to be officially recognized – Missouri Bourbon.
Black Shire Distillery Tasting Room – 111 Gutenberg St.
Located in downtown Hermann, enjoy handcrafted spirits or order a cocktail to sip at the rustic brick bar. When the weather is nice, you and your friends can gather outdoors on the patio overlooking Frene Creek. The tasting room offers a rotation of seasonal drinks, with a couple of perennial favorites. Hit the gift shop for artisan bitters, branded merchandise, and cocktail accessories to deck out your home bar.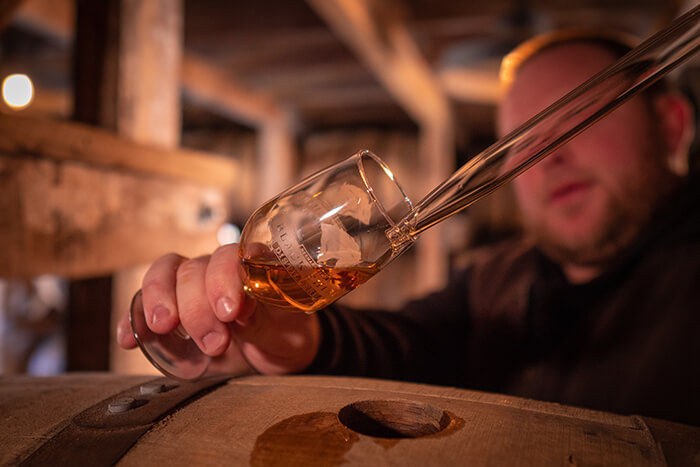 Copper Mule Distillery – 2258 Hwy 100 East
Copper Mule Distillery offers premium bourbon distilled and bottled in Hermann. Treat your group to a tour and tastings on the rolling hills of a former mule farm. Visitors can also enjoy bourbon-related products like BBQ sauce, rub, bourbon balls, bourbon bacon, specialty drinks, or participate in barrel-tasting events.
Tin Mill Brewing Company – 114 Gutenberg St.
Located in a historic grain processing plant, Tin Mill Brewing Company focuses on the art of authentic German Brewing. The majority of their beers are crafted according to the German Purity Law of 1516 and Tin Mill imports their barley, hops, and copper brewing kettles from the Hallertau region of Germany. Flights, a restaurant, a gift shop, and live music complement the brewery operations.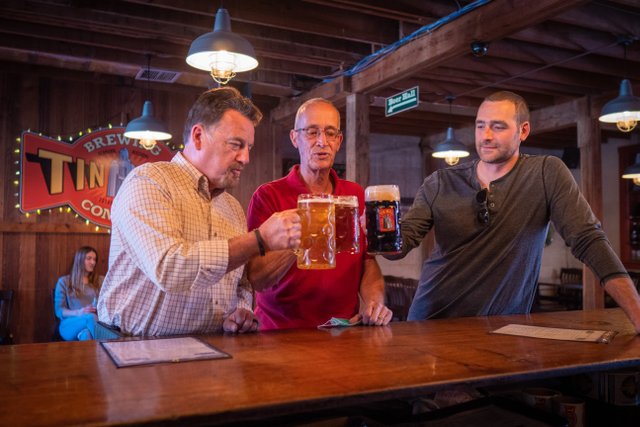 Fernweh Distilling Co. – 4 Schiller St.
Fernweh offers small batch and single barrel spirits, including a Straight Bourbon Whiskey, Straight Rye Whiskey, Double-Oaked Wheat Whiskey, Wildflower sherry-barrel-aged spirit, and Stardust Vodka. The adjoined 1867 historic building is home to the Fernweh craft cocktail bar and serves up an exciting variety of spirits, cocktails, wine and beer, as well as globally inspired small plate fare and includes seasonal Missouri riverfront patio seating.
Hermann Farm Distillery – 28 Hermann Farm Rd.
Set on a historic farm, the distillery carries on the tradition of crafting spirits from local ingredients, with a focus on locally grown grain, aged in Missouri-made white oak casks. Their lineup of spirits includes bourbon, rye, blended whiskey, gin, and vodka, along with limited release and seasonal offerings. Tours of the distillery can be booked in advance.
Lionheart Whiskey Co. – 215 Schiller St.
Located in the historic August Nasse property in downtown Hermann, Lionheart Whiskey Co. offers its namesake whiskey as well as a curated list of premium whiskey and cocktail-related items. Guided tours and tasting experiences begin at each half-hour though flights and cocktails are available anytime. They also have a fine selection of whiskey and home bar accessories.
If you want to add in an unforgettable whiskey, scotch, and smoking experience, stop into the smoking lounge at HogsHead Cigars & Fine Tobaccos. HogsHead procures the finest cigars available in its market. An ample pipe selection is available for their premium lines of pipe tobaccos. Pair tobacco with your favorite single malts and bourbons and admire the attention to detail in this private club-like atmosphere.
Grab a Bite to Eat
Hermann offers everything from the usual favorites you crave — like burgers, pizza, and wings, to traditional German cuisine. Whether you're just grabbing lunch on the go, or your group is full of foodies looking to find something to excite your palate, you won't be disappointed.
4th Street Pizza – 113 E. 4th St.
Located in the heart of the historic district, 4th Street Pizza serves hand-tossed, made-from-scratch pizza, pasta, sandwiches and salads. A private dining room offers space for wedding rehearsal dinners, parties, and group meals.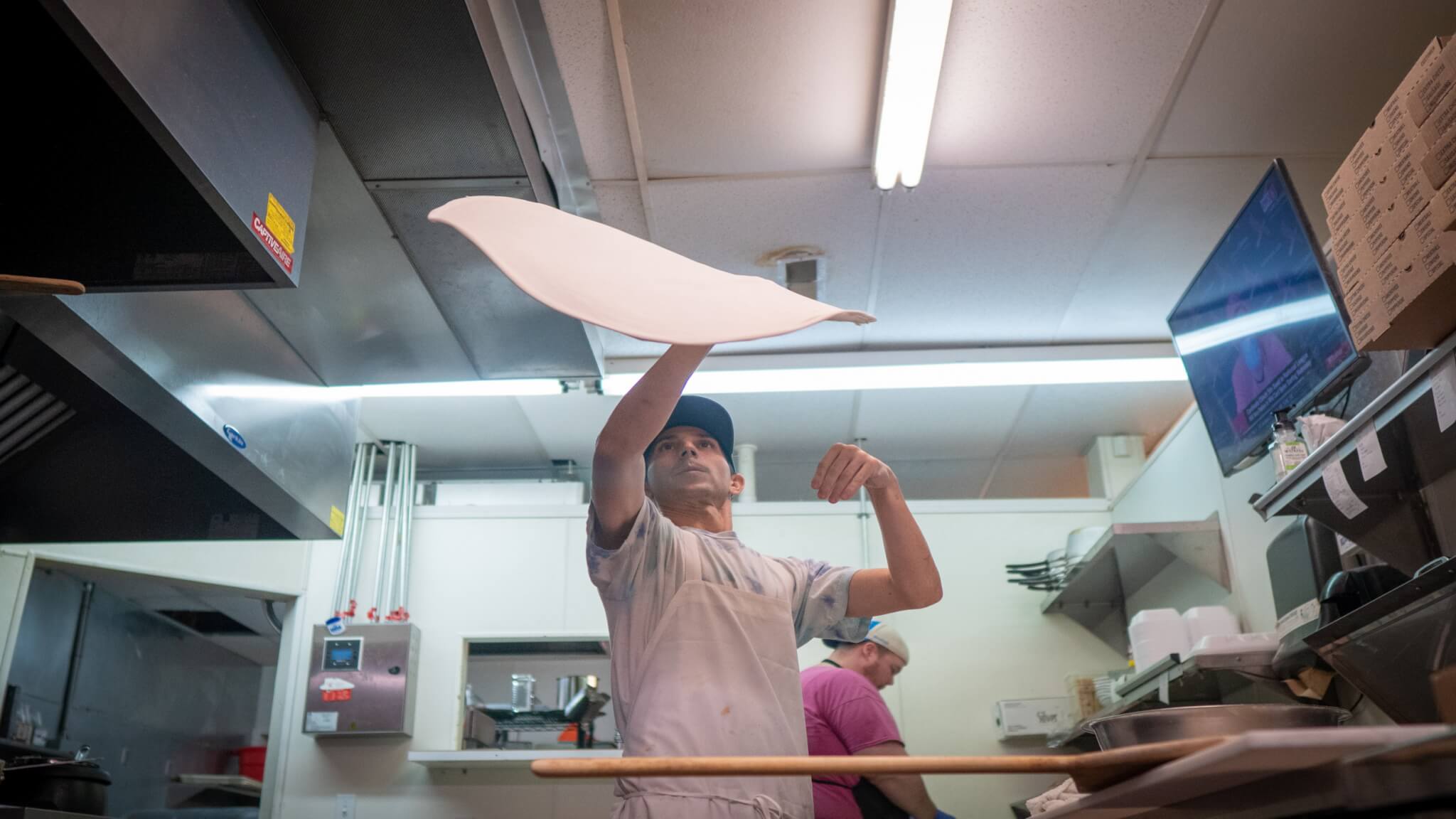 Ainsley's Place – 127C 4th St.
Tucked away, just off 4th Street, Ainsley's Place serves a hearty variety of breakfast and lunch. From Shrimp & Grits to Banana Walnut French Toast, and Vegan Burger to a classic Fish and Chips, there is something for everyone.
Hermann Wurst Haus – 234 E. 1st St.
The Hermann Wurst Haus is a deli-style restaurant in a meat and sausage shop. The restaurant offers award-winning bratwurst, hickory-smoked pulled pork, deli meat and cheese sandwiches, house-made German sides, beer, wine, and craft soda. Be sure to check out the schedule of events to find their sausage and bacon making classes.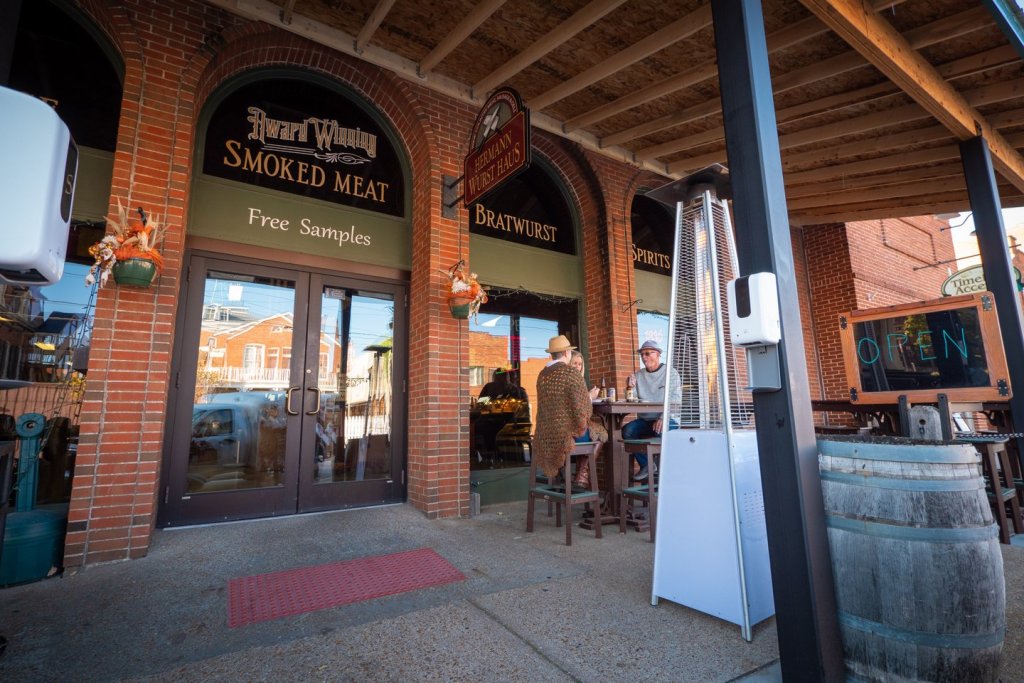 Hermann 1837 Cellar Bar & Grill – 403 S. Market St.
Live music seven nights a week, May through October, makes Hermann 1837 Cellar Bar (and patio) a fun and memorable place to enjoy lunch, dinner, and drinks with your pals. Full bar service is available in the cellar, and the grill is open for lunch and dinner, serving appetizers, pizza, burgers, and brats. Vegan, vegetarian, and gluten-free options are available.
Wings A-Blazin' and Turbulence Brewery – 120 E. 4th St.
Known for their never-frozen wings fried naked with a variety of temperatures and flavors at Wings A-Blazin'. Combine it with one of 18 microbrews on tap and enjoy a casual meal while you're out on the town.
Enjoy A Night on the Town
Hermann is always hopping, with a variety of establishments offering live music and food that stay open late.
Enjoy high-end bar fare alongside scratch-made frozen cocktails at Doxie Slush or hit the Loose Caboose Saloon to hang out, have a drink, grab a bite, and enjoy yourself. Big-screen TVs, pool, cornhole, and Jenga round off the fun. The Piano Bar offers live music and dueling pianos, along with a full bar.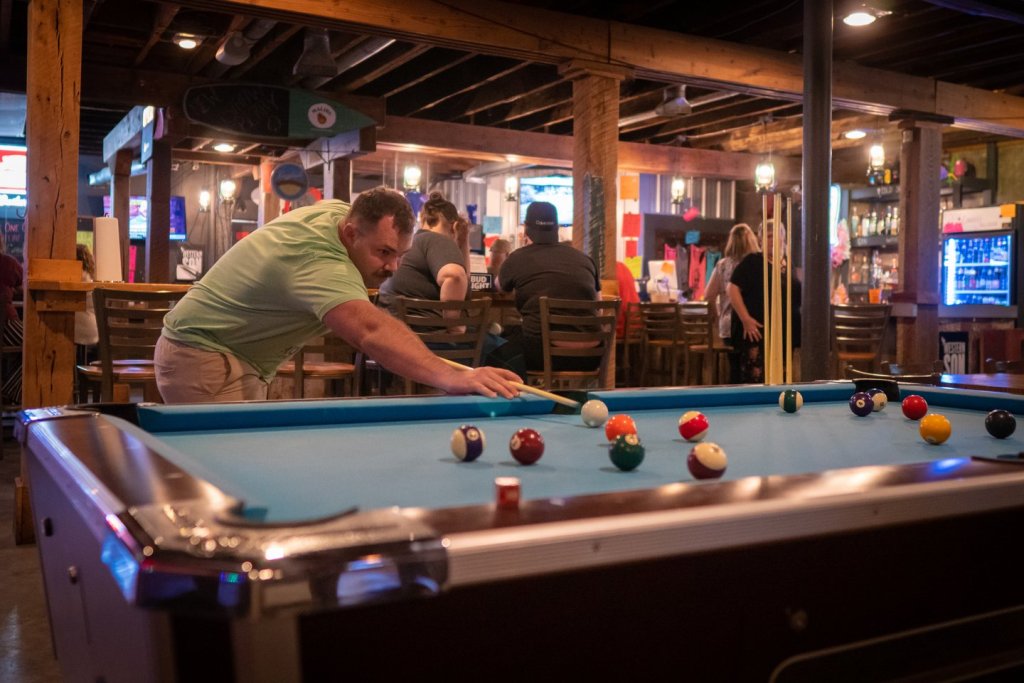 Action and Adventure Await
Want to get your blood pumping? Hermann is a hiker's dream with nearby state parks and conservation areas ready to be explored. Graham Cave State Park has a cave and trail for recreation and education. Marked with interpretive exhibits detailing the cultural and natural significance of the site, the park also has a campground and boat ramp for boating and fishing.
Grand Bluffs Conservation Area features a stretch of dolomite bluffs overlooking the Missouri River. They are a portion of a spectacular and scenic two-mile stretch of 300-foot bluffs along the river.
For cyclists, a protected eight-foot bike lane on the Missouri River Bridge provides safe access to the Katy Trail, the nation's longest rails-to-trails project.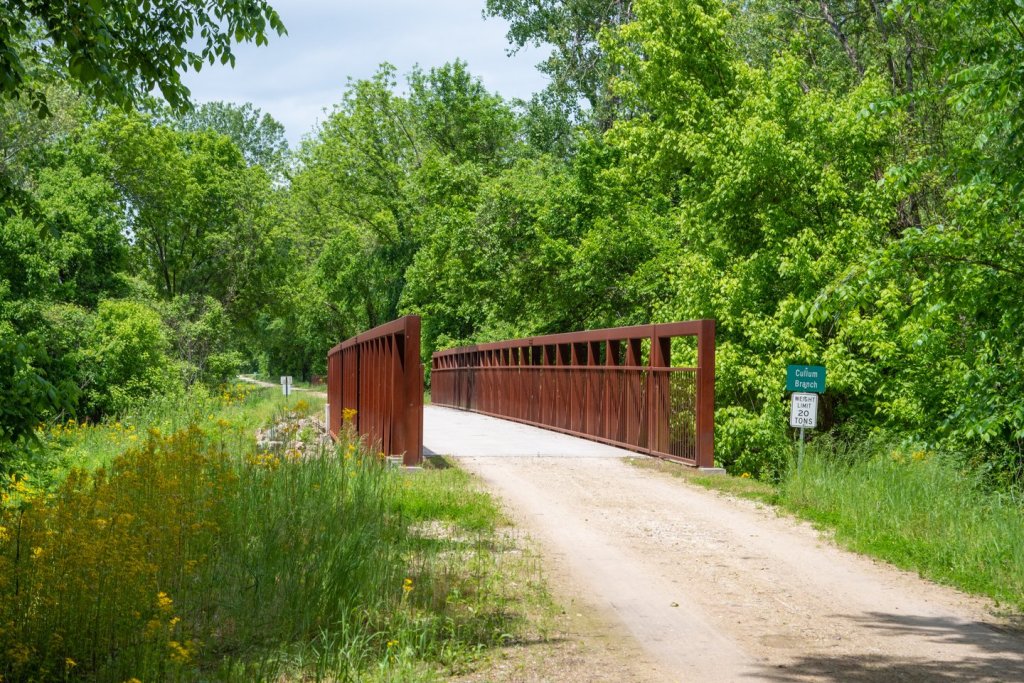 Upcoming Events
Copper Mule Bourbon Bash | Saturday, June 30
Copper Mule's fourth annual Bourbon Bash is set for Saturday, June 3. Enjoy live bluegrass music, food and drinks, or buy into a barrel with a pre-purchase barrel program.
2023 Missouri Bourbon Festival | Saturday, August 5
Enjoy bourbon tastings from Missouri distilleries at the 1st Annual Missouri Bourbon Festival. Purchase tickets online prior to event. Website and ticket link coming soon.
River City Cruisers Cruise-In 2023 | Saturday, Sept. 9
The second annual River City Cruisers Cruise-In car show will benefit annual scholarships and other local charities. It's a great way to spend the day checking out cool cars, and once you're finished, head over to the Hermann Area District Hospital Auxiliary's benefit with Butch Wax & the Hollywoods.
Oktoberfest | Weekends September 30 to October 31
Immerse your senses with the sights, sounds, and aromatic smells of authentic German food, music, and activities. Hosted each weekend in October, the festival features events focused on German Heritage. Catch a polka tune by the Loehnig German Band, which has been specializing in German folk music since the 1970s. Then go try your hand at the annual Stein Hoisting Contest to see who can hold a stein full of brew the longest.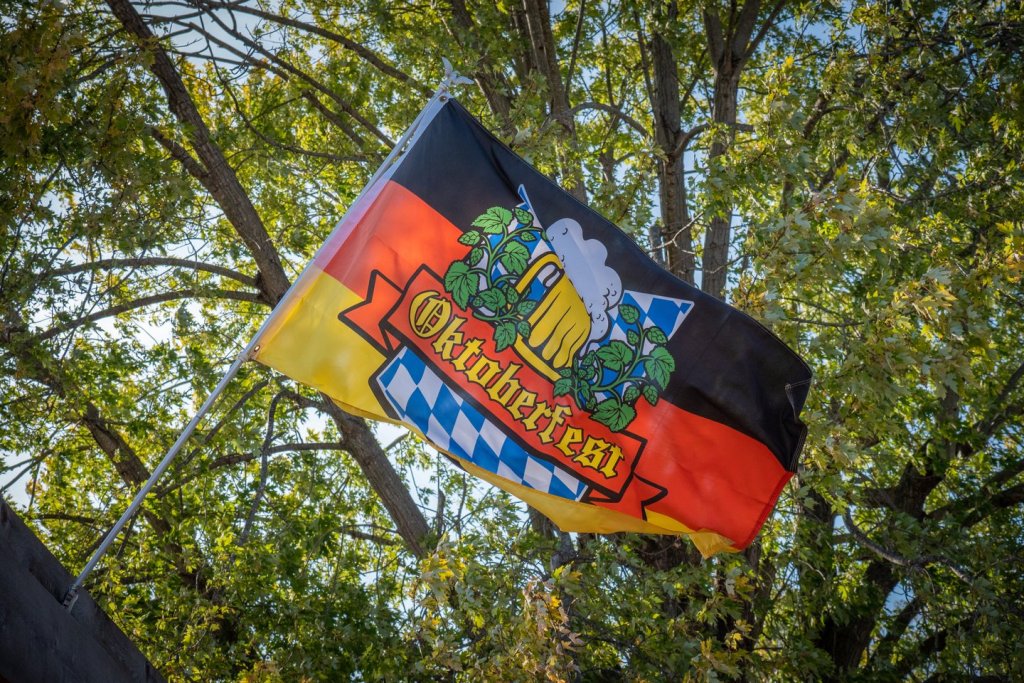 Treat Yourself
Enjoy some self-care at one of Hermann's barber shops and spas and wellness centers.   Eden Spa and Hermann Hill Spa offer customized massages and spa services to help reset your mind and body. Massage for Your Health provides a variety of massages, including Swedish, myofascial release, lymphatic drainage, craniosacral, and hot stone. Visitors can also benefit from reflexology, raindrop technique, de-stressing technique, paraffin wax for hands/feet, a sauna, and a float room.
Business Hours
Hermann is a charming town with a big heart for our visitors, and small staffs. Some businesses are closed or have limited hours through the week. Plan ahead to make the most of your visit. A complete list of business hours can be found on our website.
Come Stay with Us
With more than 600 guest rooms – from luxury suites to cozy cottages, historic homes, and inns – the Hermann area has lodging for every group.
Contact the Visitor Information Center at Amtrak Station with questions about planning your guy's getaway in Hermann by calling 573-798-0771 or email TourismServices@VisitHermann.com. Or, visit us online to use the trip planner tool.