Happening in Hermann
Embracing the Legacy of Our Past with Jazz and a Symposium on the Shared History of Germans and African Americans
Hermann is observing Black History Month with a celebration of our shared history of Germans and African Americans in Missouri. Highlights include great food and wine, Jazz concert, inspiring stories, faith, and ending the month-long celebration with a Symposium.
Monday and Tuesday
February 10-11
Come experience Hermann hospitality and see first-hand why we are becoming a popular destination for meetings and events for small to medium size groups. We invite all meeting and event planners to attend. This is a two day event including a trade show featuring area service providers, wine and appetizer reception, one-on-one appointment opportunities, breakfast, lunch and on site tours of meeting venues.
Saturday and Sunday
February 22-23
Luscious chocolate and wine pairings at seven stops on the scenic Hermann Wine Trail make for a romantic Valentine's getaway weekend. Tickets are $30 per person, advance purchase required.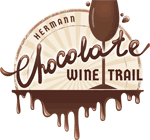 Friday, Saturday & Sunday
March 27-29
Celebrating over 40 years of sausage making tradition. The weekend will include sausage-making contests, sausage samples and sales, German music and dancing, wurst and kraut-making classes, a three-mile Volksmarch and the ever-popular Wiener Dog Derby on Sunday afternoon.