Stars & Stripes: Celebrate July 4th in Hermann
June 15, 2023
It's almost Independence Day, and Hermann celebrates with a bang. FreedomFest 2023 is a city-wide celebration with a lineup the whole family can enjoy. This year, FreedomFest kicks off Sunday, July 2, and wraps up Tuesday, July 4.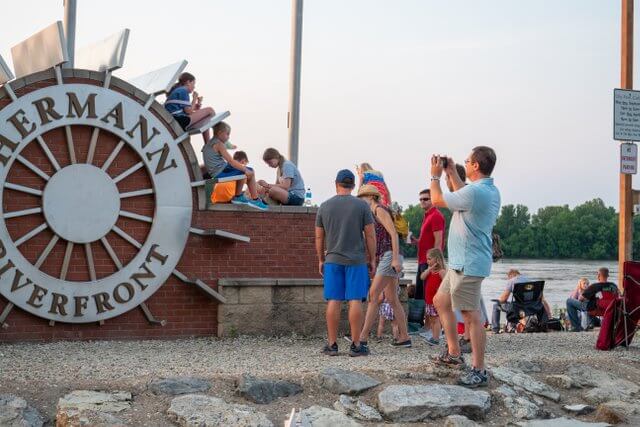 Sunday, July 2
Children's Activities and a Concert: The fun begins on Sunday with children's activities and a free concert at the amphitheater.
Monday, July 3
Parade, 6 PM, Riverfront Park: Area businesses and organizations show their spirit as they parade through the streets of Hermann.
Fireworks, Dusk, Riverfront Park: After the parade, grab a spot at Riverfront Park and enjoy music and refreshments leading up to a spectacular fireworks display over the Missouri River.
Tuesday, July 4
Band Concert, 7 PM, Clara Eitmann Messmer Amphitheater: The Hermann City Band will wrap up the Independence Day festivities with a free concert at the Clara Eitmann Messmer Amphitheater. The band will perform a variety of marches, overtures, show tunes, patriotic music, and contemporary concert band selections. Concertgoers should bring a lawn chair or blanket for seating.
Extend Your Stay
Between events, there's plenty to do in Hermann, from dining to shopping, museum exploring, and more.
When it comes to dining, wine and local libations are only a small portion of what Hermann has to offer. Here, you'll find everything from American classics to traditional German fare, and many specialty food and drink shops.
Local shops offer everything from food to unique gifts and collectibles, making your visit the perfect time to stroll through town and browse for something special to take home. Hermann is also brimming with riveting history and museums covering regional stories and the history of the United States' expansion west.
Find overnight accommodations perfect for your group online, with everything from RV and tent camping to inns, cottages, and suites.
See the full FreedomFest schedule.
Contact the Visitor Information Center at Amtrak Station with questions about planning your Independence Day celebration in Hermann by calling 573-798-0771 or emailing TourismServices@VisitHermann.com. Or visit us online to see business hours and use the trip planner tool.