FreedomFest 2023
Amphitheater
573-486-2313
Sunday July 2, 2023 to Tuesday July 4, 2023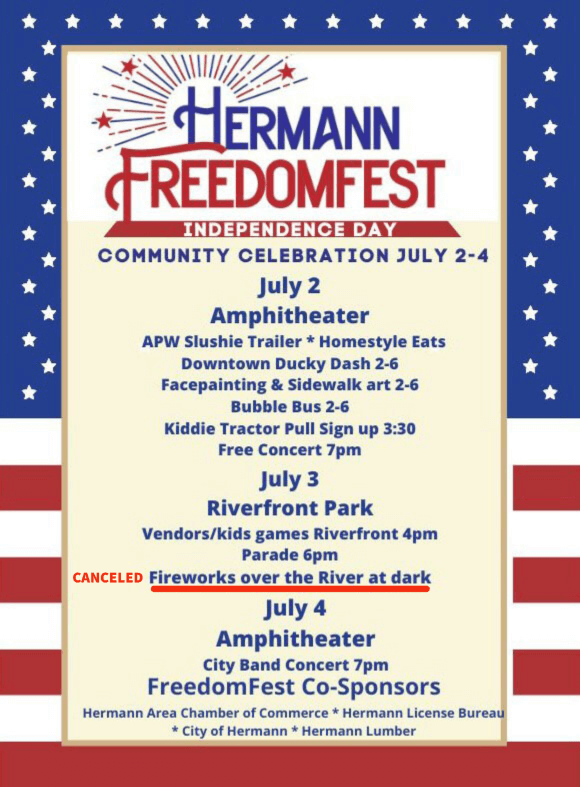 Spend your July 4th holiday with us in Hermann! Explore Hermann during the day and check out some of the scheduled events.
Sunday, July 2: Kid's Day & Free Concert at the Amphitheater (2PM – 10PM)

This year's kid's activities including the kiddie tractor pull and the 2nd annual Downtown Ducky Dash will be held at the Amphitheater. A free concert will start at 7pm with the rocking sounds from the band Clan Schaffrin & Friends.

Monday, July 3: Parade at Riverfront Park (6 PM)

This year's theme is "Honoring the Red, White, & BLUE"
Parade begins at 6pm.
Fireworks have been CANCELED for Monday Night.

Tuesday, July 4: City Band Concert at the Amphitheater (7 PM)
Stay in one of our guest houses, inns, B&B's, boutique hotels, or RV or tent camp in our parks! For lodging reservations, go to at VisitHermann.com/Stay. For RV camping reservations call 573-486-5400. No reservations are needed for tent camping.