Your Guide to Oktoberfest 2021 in Hermann
September 17, 2021
October weekends in Hermann are filled with authentic German food, live music, and activities to celebrate Oktoberfest. Set against a backdrop of beautiful fall color, Oktoberfest is an autumn festival that shines a light on Hermann's rich German heritage. We've rounded up everything you need to know to make the most of Oktoberfest weekends in Hermann. Lederhosen and dirndls optional, but encouraged!
What to Do During Oktoberfest
Check the calendar of events for the full lineup of live music day and night. There are several options every weekend at various times, making it easy to follow the live music around town or plan ahead for a great seat at the place of your choosing. You'll also find several brat stands, as well as, local craft beer, wine, and spirits available around town to celebrate the spirit of Oktoberfest. Prost!
Stein Hoisting Contest
What would Oktoberfest be without a stein challenge? This competition occurs every Saturday night at 8pm in the Jaycees Biergarten at Sesquicentennial Park. Participants line up with a stein full of brew and see who can hold it the longest. Sounds easy? Show up to give it a try!
Do "The Duck Dance"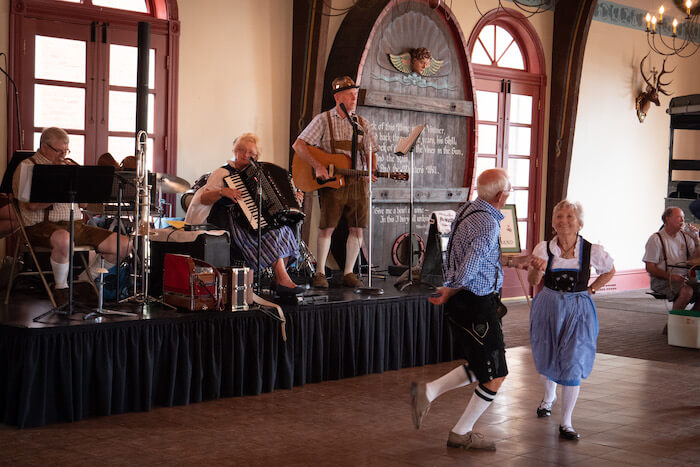 It's not a proper Oktoberfest without doing "The Duck Dance"! You're likely to hear this favorite polka tune by the Loehnig German Band. They'll be entertaining guests every Saturday afternoon in the Historic Festhalle at the Inn at
Hermannhof. The Loehnig German Band has performed since the late 1970s. They specialize in German folk music, like waltzes, polkas, schottisches, vocals, and yodeling. They also play unique selections of Slovenian and Czech music on the button-box accordion. Clap, dance, and enjoy traditional German food and beverages for the afternoon.
Shop local businesses on Sunday
After a weekend of delicious food, good music, and so much fun, bring something special home with you to commemorate your Oktoberfest getaway. There are a variety of local shops throughout town, making Sunday a perfect time to stroll through town and browse for the ideal souvenir to bring home.
For more ideas of things to do, check out these articles on Hermann's Best Dives, hiking or biking the Katy Trail, finding treasures in antique shops, and exploring local quilting shops.
Where to Find Authentic German Food
Hermann's deep German roots are deliciously on display with traditional German fare at many local restaurants like these:
Hermann Wurst Haus – Nothing like a juicy, handmade bratwurst for lunch! All sausage and brats at Hermann Wurst Haus are made in-house by their hall of fame Wurstmeister, Mike. Pair it with the German Potato Salad loaded with house-made bacon and red cabbage. Wurstmeister Mike highly recommends it.
Swiss Meat & Sausage Co. – Like grandpa used to make, browse the traditional selection of old-world German specialty meat. From liverwurst, blood sausage, and head cheese to a whole roasted turkey, bringing home a bite of Germany is easy.
Tin Mill Restaurant – Pork schnitzel, Bavarian soft pretzel, seafood spätzle, Germann chocolate cake…. are you hungry yet? Enjoy these traditional German dishes and more at Tin Mill Restaurant. You can't miss this local landmark. Tin Mill is located in one of Hermann's oldest and most recognized buildings, blending history and delicious cuisine.
Vintage Restaurant at Stone Hill Winery – Housed in a historic, transformed carriage house, Vintage Restaurant at Stone Hill Winery is known for its contemporary world cuisine, including German specialties. Oktoberfest is the time to indulge your taste buds with traditional dishes like kartoffelpuffer, a wurst sampler plate, Bavarian pretzel platter, as well as chicken or vegetable spaetzle… or both, we wouldn't blame you. Be sure to try an award-winning glass of wine, too!
The Best Breakfasts and Late Night Dining
Start your day with a delicious, stick-to-your-ribs breakfast. Local favorites include:
For a late-night snack, stop here:
Loose Caboose Saloon – Known for their games like cornhole, giant Jenga, foosball, air hockey, darts, pool, and video games, Loose Caboose Saloon is always a fun time. Late-night favorites include a sheet pan of savory, cheesy nachos, a salty super pretzel with dip, and the create-your-own pizza.
Sharp Corner Tavern – One of the oldest establishments in Hermann, Sharp Corner Tavern is famous for its mouthwatering burgers. With a full-service bar and extensive list of side items, like cheddar cheese balls and onion chips, you'll find just the right thing for a late-night snack.
The Piano Bar – Hermann's first and only piano bar is a lively and fun place to spend your evening. Sing along to dueling pianos, signature cocktails, and select late night bites.
Where to Stay for Oktoberfest
Oktoberfest weekends are very popular and book well in advance, but tent camping at Hermann's campground is an excellent option to also consider. There is wide availability for tents in the campground and, for an extra perk, transportation services will pick you up at your tent to take you to Hermann wineries, breweries, distilleries or a beer garden.
How to Get Around Hermann
Don't feel like driving? Take the Amtrak! With four daily stops in Hermann from Kansas City or St. Louis, it's easy to get straight to downtown Hermann and start the fun. Once you're in Hermann, there are several transportation services for making getting around, especially for groups, easy and fun.
Lyft You Up Rides – Being chauffeured in comfort and style by a local is one of the best ways to experience a new destination. Debbie is known for her extensive knowledge of Hermann, fair rates, as well as prompt and friendly service.
Hermann Crown Taxi and Van Service – Available for the public as well as guests, Hermann Crown Suites has a fleet of passenger vans ready to take you to your next fun Hermann experience. You can call ahead to schedule services or request pick up immediately in their safe, reliable vehicles.
Hermann Trolley – Riding the Hermann Trolley is a fun and safe way to get around town. The trolley stops at five iconic wineries, a distillery, and a brewery. Along the way, enjoy local tidbits on places to eat, stay, as well as things to do to make the most of your Hermann getaway. This all-day pass is just $20. Enjoy sipping and exploring at Fernweh Distilling Co., Stone Hill Winery, Hermannhof Winery, Tin Mill Brewery, Star Lane / Three Saints, Adam Puchta Winery, and Oak Glenn Winery.
Insider Tips for Making the Most of Your Oktoberfest Weekend
Visitor Information Center
The Visitor Information Center at the Amtrak station has everything you need to decide what to do while you're in town. Pick up maps of downtown, Oktoberfest schedule of events, and restaurant menus. Find restrooms and catch a Trolley, Taxi, Lyft You Up Rides, Hermann Crown Taxi and Van Service, or Uber to take you from the Amtrak station to your next stop for fun.
What to Wear & Bring
Fall in Missouri can be unpredictable, so be sure to wear layers to be comfortable with the changing autumn weather. Don't forget flat, sturdy shoes for walking throughout town or potentially uneven terrain, like hills. And with all the handcrafted wine and German sausage, savvy Oktoberfest goers bring a cooler to take home delicious souvenirs.
Tag @VisitHermann and #HermannOktoberfest2021 on Facebook and Instagram to show off your Oktoberfest fun. Reach out to our team of local experts for more information on planning your Oktoberfest trip: 573-789-0771 or TourismServices@VisitHermann.com.