Hermann Through the Grapevine
5th Annual Hermann Wine & Jazz Festival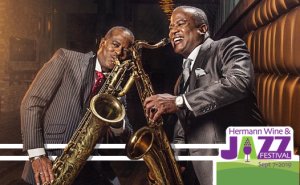 Celebrating the legacy of jazz and enhancing your wine tasting experience is the Hermann Wine & Jazz Festival. With live music from the heart of Missouri's Wine Country, the event is Missouri's only Wine & Jazz Festival. What started as a one-day event in 2015, the free festival has expanded this year to be a 3-day event that now features performances by over 30 world-class jazz artists. With the goal of pairing the region's finest jazz and blues musicians with its delicious, award-winning wines and culinary delights, the Hermann Wine & Jazz Festival guests will thoroughly enjoy their experience in Missouri's picturesque Wine Country.
The event, which offers free admission, runs from Friday, September 6th to Sunday, September 8th. Allowing visitors to explore several parts of Hermann, each day of the event takes place at a different Hermann establishment, ensuring that you'll get to check out some awesome places in town!
Sept. 6—Local jazz in a stunning venue
Kicking off the festival at the richly-historic, 1837 Wine and Craft Beer Bar in the cellars of the Hermann Crown Suites is Friends of Aaron, Hermann's local jazz band. Creating the perfect ambiance for the group's unique sound, you'll love the gorgeous space, complete with a handcrafted bar designed by local craftsmen. Stop in and have a listen to Friends of Aaron starting at 8pm!
Sept. 7—World-renowned jazz performances & award-winning wines
Day 2 of the festival begins Saturday afternoon at the Hermann Amphitheater with a full lineup of award-winning and world-class musical varieties and delicious choices from area food and wine vendors. The event starts with an educational panel held by key industry personnel on the musical genre, so you'll be able to learn a little about jazz, further enhancing your listening experience and appreciation.
Throughout the afternoon, several iconic performers will play leading up to the high-energy headlining performance by The Bosman Twins, internationally-renowned and Emmy award-winning jazz legends.
Sept. 8—Local tunes and eats with picturesque river views
The third day of the festival, presented by the Hermann Arts Council, features Hermann's own Retired Judge John Berkemeyer's Band from 1-4pm. Mouth-watering area foods and spectacular wines will be available for purchase at the historic Gasconade County Courthouse throughout the afternoon.
Getting here and staying for the weekend
As Missouri's only weekend wine and jazz festival, Hermann is just where you want to be September 6-8. The free events are all conveniently located in the heart of town, perfect for those wanting to explore all the area has to offer. With Amtrak's Missouri River Runner making 4 stops a day from Kansas City and St. Louis, and its location within walking distance to the festival, it's a great opportunity for a weekend getaway.
For those wanting to stay and check out all the Hermann area's wineries, German cuisine, and stunning hillside and river bluff views, there are over 300 guests rooms available in the charming town, from luxury, high-end suites to comfy and cozy B&Bs. Check out all of our lodging options here.
For more information about the 5th Annual Hermann Wine & Jazz Festival, and to see a complete lineup, visit the Wine & Jazz Festival's website. For more photos and to stay up-to-date on festival information, follow Hermann Wine & Jazz Festival on Facebook, @hermannwinejazzfest on Instagram, and @hermannwinejazz on Twitter. Don't miss out on this free, weekend-long event and the chance to stay in beautiful Hermann, MO!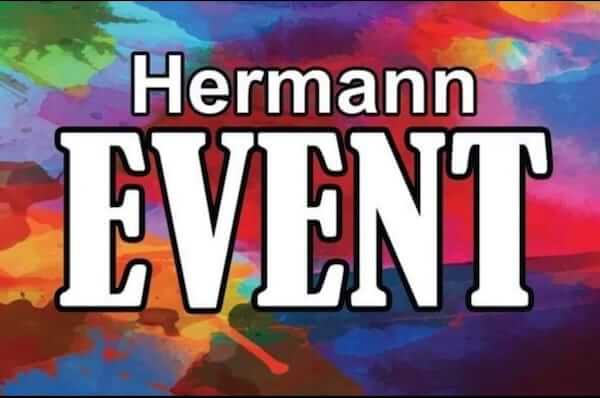 A Celebration of Hermann's Local Art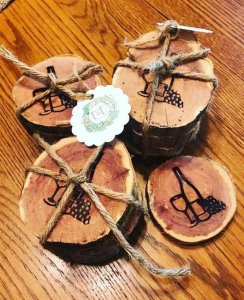 Beginning in April of this year, the Hermann Arts Council has hosted the First Friday Art Walk on the first Friday of each month, an event that showcases local artists and their work in several downtown businesses. The Art Walk is a great opportunity for both visitors and locals alike to explore beautiful, unique art created right here in the Hermann area. Spanning much of the charming and historic downtown, the Art Walk stops can be found on Market, 4th, Schiller, and First Streets.
More than 20 area businesses participate in the Art Walk by displaying the artists' work in their shops, restaurants, boutiques, and distilleries. You'll know a business has art on display by the "Hermann Event" flag flying outside their door! Meet the artists in person and discover their creative processes as you browse all different types of art, perfect for anyone's taste. You'll find everything from handcrafted jewelry, stunning photography, and pottery to unique paintings, textiles, sculptures, and more!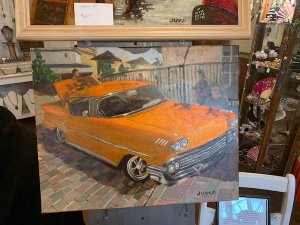 Don't miss out on the chance to find a perfect, one-of-a-kind piece tomorrow, August 2nd, at the First Friday Art Walk! Treat yourself or someone you love to the gift of a memorable piece of artwork!
To find out more about the First Friday Art Walk, check out their Facebook page. To see a complete calendar of Hermann events and to see the dates for upcoming Art Walks, check out the Events section of our website.
A Charming Inn in the Heart of Hermann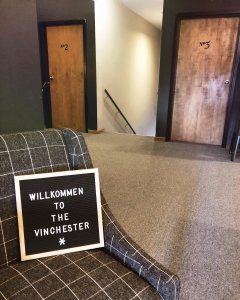 A Hermann fixture since 1996, the Vinchester Inn—lovingly known as "The Vin"— has provided visitors with comfortable and affordable lodging for over 20 years. As of Spring 2018, the 11-room hotel has been under the ownership of three sisters who have stepped in to stylishly renovate and modernize the space.
The hotel's location in the heart of Hermann's popular historic district, conveniently places guests within walking distance to several restaurants, shops, bars, and wineries. You can even catch the nostalgic Hermann trolley, which makes a stop right in front of the Vin! Perfect for couples on a weekend getaway, groups exploring wine country, or even wedding parties, the hotel offers private, off-street parking for lodgers.
Modern amenities and historic charm
Designed to be a simple, serene space for guests, the Vinchester Inn boasts contemporary hotel amenities. Each room is tastefully decorated and furnished with plush, high-end bedding, a Bluetooth alarm clock, mini-fridge and microwave, and a flat screen television. The private bathroom features small appliances and lavish Beekman 1802 bath products for its guests. In addition to a beautiful patio for guests to gather and relax, rooms with balconies are also available if you're looking for a private outdoor space.
Beyond the lodging experience
While the Vinchester Inn has been thoughtfully remodeled to give guests a comfortable, relaxing space, its owners provide even more than lodging. As members of the local community, the sisters running the Vin want visitors to get the most out of the Hermann experience. Having crafted a fun and welcoming environment in their hotel, they extend their dedication to guests by helping them plan their perfect Hermann stay. Before visiting, you can browse the "Planning Your Trip" section of their website for recommendations on everything from shopping and dining to wineries and nightlife. They even include information about outdoor adventures and historical tours in the area to ensure you get to experience the wide variety of activities in Hermann.
Plan your unforgettable stay
The recently-renovated hotel in the middle of the charming Hermann Historic District is perfect for anyone looking for a relaxing getaway to Hermann wine country. The Vinchester Inn provides guests with an affordable yet elegant space close to all Hermann has to offer. Follow @vinchesterinn on Instagram to check out stunning photos of the hotel, favorite Hermann spots, and area events. They even offer occasional giveaways! Visit https://www.vinchesterinn.com to plan your Hermann getaway and book your reservation—you'll love it here!
A Magnificent Performance at the Showboat
This Saturday, July 20th, don't miss out on an impressive and memorable performance at the Showboat Community Theater. Gitana Productions, a not-for-profit arts and education organization serving the St. Louis region, will be putting on the production of "An Amazing Story: German Abolitionists in Missouri." The show highlights the close ties between early German immigrants, many of whom sought freedom from oppression by moving to the United States, and the enslaved African Americans living in the country. Many of these immigrants, who often spoke little to no English, understood that the abolishment of slavery was imperative to America's growing democracy. These German abolitionists were often disliked by Missouri slave owners, but many were persistent, with some even starting newspapers spreading their political ideology and messages of equality.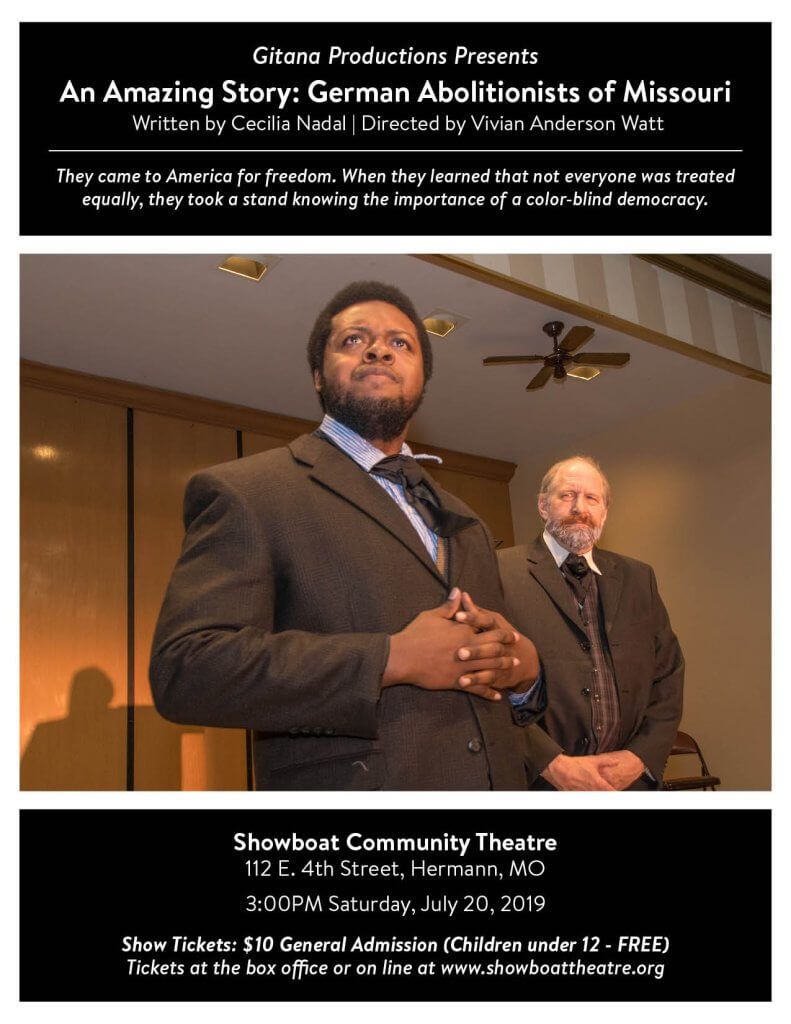 A unique glimpse into German American history
The work of the talented and diverse creative team expertly depicts for the audience what these early immigrants experienced, offering a special opportunity for viewers to see into the past. The actors, whose impressive work will captivate you and draw you into the fascinating story, range from aspiring young actors and singers to those whose experience spans more than 25 years. The show even features actors who speak fluent German!
After the show, the audience will have the chance to participate in a question and answer session with the show's actors, playwright, and historians to learn more about these abolitionists and their experience. Tickets for the show are $10 and can be purchased online at showboattheatre.org or at the door. You can see the show this Saturday, July 20th, at 3:00pm. To learn more, visit the Showboat's website. Don't miss your chance to see "An Amazing Story: German Abolitionists in Missouri" this weekend, in Hermann.
A Sweet Stop in Historic Downtown Hermann
Have you ever tasted a pie baked with love? One that has been carefully and painstakingly crafted from the melt-in-your-mouth crust to the meringue's perfectly-formed peaks? If the thought brings back memories of warm, delicious pies made by your mother, grandmother, aunt, or neighbor, and fills you with nostalgia and a craving for something sweet, look no further than Sugar Momma's. A one-stop sweet shop in Hermann, MO, this place has just what you need to satisfy your sweet cravings.
Appropriately located in the building that once housed Ewald Bakery, a Hermann fixture dating back to 1938, Sugar Momma's opened in 2013 and has been a Hermann must-see ever since. A popular spot for both visitors and locals, Sugar Momma's carries candies, homemade pies, a variety of gifts, and even ice cream.
A sweet window to the past
With over 25 flavors of salt water taffy and shelves filled with nostalgic candy, Amish candy, liqueur candy, and German candy, Sugar Momma's encourages shop goers to indulge their inner child. They even feature a great selection of gluten-free and sugar-free candies! The shop is truly a favorite destination for kids of all ages—it will take you back to childhood with candies like wax lips, wacky wafers, and Black Jack gum.
At Sugar Momma's you'll have the unique opportunity to enjoy some extra-sweet moments when you bring in your kids or grandkids and share some of your favorite, hard-to-find childhood candies with them. They'll certainly love trying some "new" treats and creating sweet memories with you.
The homemade pies will not disappoint
In addition to the candy, Sugar Momma's also features over 60 flavors of homemade pie. Some local favorites include Coconut Cream, Strawberry Rhubarb, and the sweet-savory combination of Bacon Apple. Customers can order pie by the slice or whole (though you just might end up eating the entire thing). Their delicious selection includes baked and frozen pies…and even the occasional fried pie! Toppings range from the traditional, decorative crust-covered pie to tall, sweet meringues, and mouth-watering crumbles. Sugar Momma's has so many tasty pies awaiting you—even heavenly flavor combinations like their Cheesecake Pecan Pie.
If you're traveling to Hermann on a getaway and need to find a souvenir for someone back home (or for yourself—no judgement), Sugar Momma's pie is a great gift option. You can even call and have your favorite flavor reserved. All of the available pie flavor options can be found on Sugar Momma's website. To reserve your pie, call 573-486-Kan-D (5263).

Delightful finds around every corner
Although first opened as a sweet shop, Sugar Momma's has since blossomed into a wonderland filled with all sorts of charming treasures. From local souvenirs like magnets, cookbooks, coffee mugs, and German treasure boxes to a great selection of gifts for Harry Potter fans, dog and cat lovers, and beer and wine drinkers, Sugar Momma's won't cease to surprise you. You'll even find the popular Lily and Laura bracelets on display!
To fully round out its role as a one-stop shop for all things sweet, Sugar Momma's also has a great selection of ice creams. They offer Ted Drewes Frozen Custard and Giofre Apiaries Honey Ice Creams. Favorite flavors of the Honey Ice Cream include Salted Caramel, Butter Pecan, and Jazz Berry Chocolate Boom, made with Jazz Berry wine from Hermann's Adam Puchta Winery.
The sweetest place Hermann has to offer
Whether you're looking for a nostalgic treat, a thoughtful gift, or a slice of the best pie you'll ever taste, Sugar Momma's has you covered. Open 7 days a week and located in the heart of town, it's a great stop for visitors and locals, kids and those who still feel like kids! "Like" Sugar Momma's Candies, Home-Made Pies, Gifts on Facebook to see events, products, and offers. And don't forget to follow @sugarmommaspies on Twitter and @sugarmommashermannmo on Instagram to see photos that will make your mouth water. Stop in and satisfy your sweet tooth at Sugar Momma's today—there's something for everyone here!