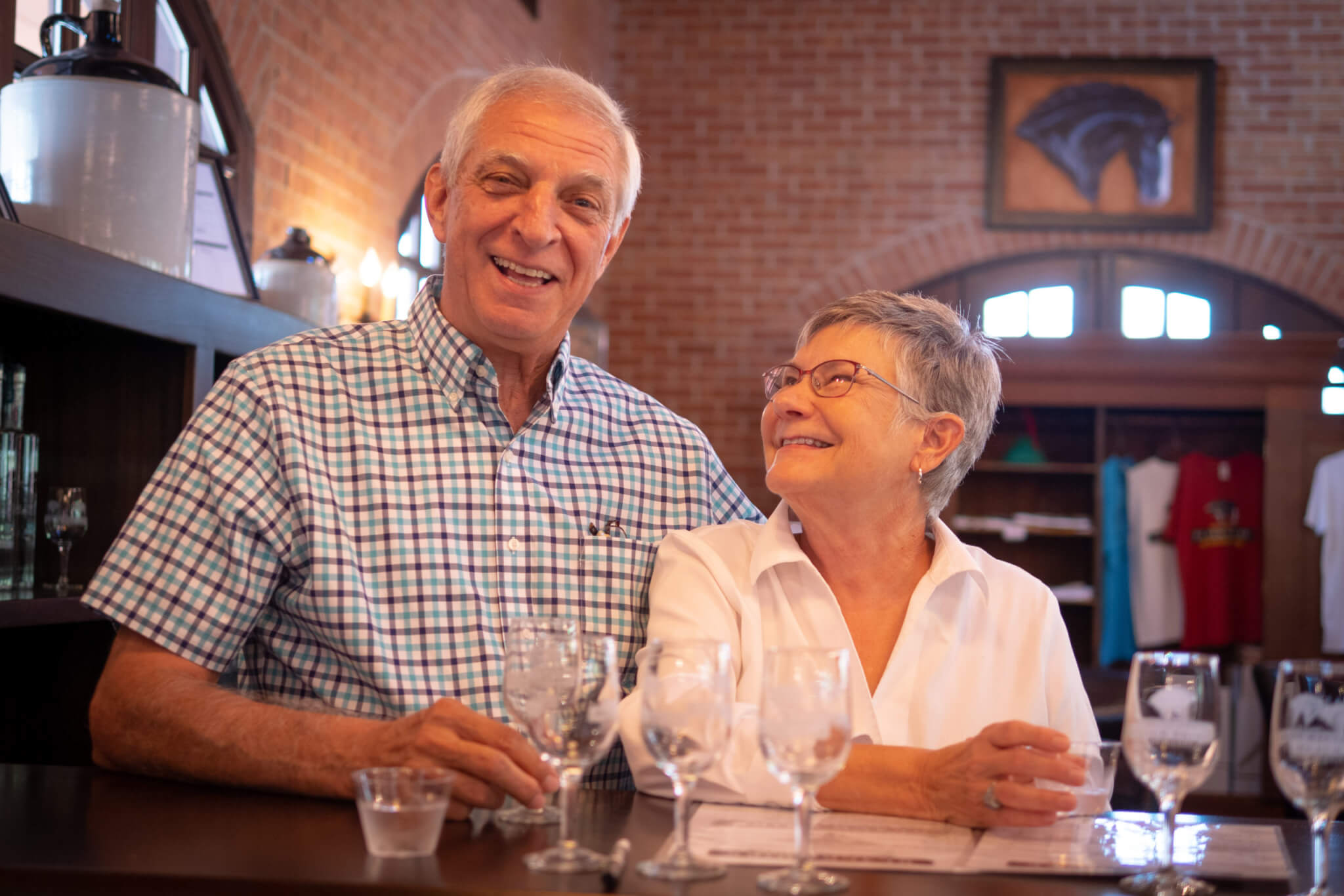 Romantic Things to Do
December 16, 2021
When you ask for love advice from couples who have been together for decades, the resulting answers often make you laugh. Whether the key is "understanding who is in charge" or "never complaining about an overcooked meal," the common thread always contains a little humor. Happy couples know the importance of having fun with each other. It's a pretty simple recipe—two parts play, two parts laughter, a heaping spoonful of consideration, and a dash of time well-spent together in Hermann.
What are your favorite activities or even past-times as a couple? If you are early in a relationship, it is probably easy to rattle off a list. If you are in a busy stage of life with young kids and stressful obligations, that might be a bit harder. If life has just recently calmed down at home, maybe you are trying to figure out who you are as a couple again. No matter the stage in life, you can find a way to reconnect or to strengthen a relationship when you interact together outside of your home. With a little planning, you can be in Hermann this weekend, fully investing in a relationship that leaves others envious. 
Fall in Love With Hermann
Engage one another with a tour and tasting. Add a few sips of Hermann wine to that recipe we talked about and viola—suddenly, you are an obvious match made-in-heaven! That's right, tasting a selection of Hermann's best might be all that you need to let go of disagreements and get on with simply loving each other once more. A short trip from major Missouri cities can find you smack-dab in the center of wine country and in a position to tour some of the most extensive underground wine cellars in North America. Sample wines that stand out from the competition—proving they have centuries of finesse behind their vintage. Take advantage of Valentine's love in the air, plan a trip to the charming winery town of Hermann, and loosen up a little!
Enjoy an adventure with your lover! Hop the train to Hermann… this could mean packing a bag and checking the Amtrak schedule or bike riding in on the Katy Trail. If you opted for a train ride, Amtrak visits Hermann regularly from Kansas City or St. Louis and is a great way to concentrate on your partner rather than the traffic—see the city and countryside together as you roll into Missouri Wine Country. 
When we are gifted with a perfect blue-bird day, load up a bike, charge the Bluetooth speaker, and get ready to spend some time in the saddle with your loved one. Pedal along and imagine a time when the Missouri-Kansas-Texas line ran the 237-mile bike trail past Hermann. Don't feel like replacing tire tubes this time of year? There are easy spots to rent e-bikes, reclining rides, or even tandem bikes (how romantic…and we'll add "teambuilding"!) 
If you have driven into town on four wheels and really just want to link arms for a stroll—walk through town together and view historic monuments, cross the river on the Missouri River bridge, and take a scenic jaunt on the Katy Trail by foot. Prefer some climbing rather than hiking pancake-flat rail-to-trail? Grand Bluff Conservation Area is convenient to town and a great spot to test your trail legs. Either destination is perfect if you are looking for a little solitude and privacy while breathing in the brisk winter as a couple. 
It's not a secret, but a reminder helps!
Communication. It might seem like a cheap buzzword, but how you converse and how you listen are paramount in any relationship. It can be challenging to focus on healthy communication when a spark feels faded and with "life as usual" seeming never to end. With a little bit of work disguised as play, you can retain that shiny appearance for the life of your relationship. 
We know…listening to your partner breathe can sometimes feel anxiety-inducing! It's okay to laugh at that. When you participate in regular activities with each other, you'll reinforce the seamless connection that you experienced early in your relationship. For thriving and healthy couple goals, learning to play kindly with each other is definitely a lesson worth practicing. With so many options for a fun afternoon or weekend together, count on Hermann to help you secure your connection, laugh, and make romantic memories.