Hermann Festivals
festivals
Fourth weekend of March
Sponsored by the Hermann Area Chamber of Commerce
2019 marks the 40th anniversary of the Midwest's Wurst Festival. Hermann's celebration of all things sausage includes sausage samples and sales, statewide contests for amateur and professional sausage makers, German music and dancing and the ever-popular Wiener Dog Derby Sunday in the park.
Third weekend of May

An old-fashioned celebration of spring, with German music, dancing, food, and parades, Maypole dancers, children's games, and beer gardens.

First weekend of June
Tour lovely town and country gardens in and around Hermann. Sponsored by the Hermann Garden Club.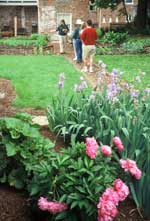 Hermann's annual Fourth of July celebration gets underway July 3 with an evening concert at the Amphitheater. Independence Day events include a parade, games and food booths at Riverfront Park. A free City Band concert at the Amphitheater is followed by a spectacular fireworks display at the riverfront.
The Hermann Area Chamber of Commerce and the City of Hermann extend a big thank you to the following 2018 co-sponsors whose generous support made this event possible:
Fountain-level sponsor ($1,000)
Hermann Lumber and Hermann Lumber Ready Mixed Concrete
Roman Candle-level sponsors ($500)
Stone Hill Winery
Hermann Lions Club
Fraternal Order of Eagles Post #1328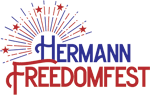 September 7, 2019
Hermann teams up with St. Louis radio station Hip 96.3 HD-3 to bring a great line-up of jazz performances to the Amphitheater. Grab a lawn chair or blanket and enjoy the show!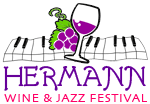 Every weekend in October
Hermann celebrates its German heritage throughout the month of October with German music, dancing and food, all set against a backdrop of glorious fall color.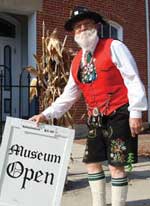 November & December
Christmastime is magical in our German village, where holiday traditions date back centuries. Kristkindl Markt at Stone Hill Winery the first weekend of December and at Hermannhof Winery the second weekend of December head a full schedule of events.
Annual Wine Trails, hosted by the Hermann Vintners Association, are popular getaway weekends. Guests sip and sample themed food and wine pairings at seven stops—Adam Puchta Winery, Bias Winery, Dierberg Star Lane Tasting Room, Hermannhof Winery, OakGlenn Winery and Stone Hill Winery.
Chocolate Wine Trail
Third weekend of February

Farmers' Table Wine Trail
April 6, 2019
Wild Bacon Wine Trail
First weekend of May
Berries & BarBQ Wine Trail
Last full weekend of July
Holiday Fare Wine Trail
Third weekend of November
Say Cheese Wine Trail
Second weekend of December