Unique Garden Accents to Freshen Up Your Outdoor or Indoor Spaces
April 28, 2021
See how Hermann adds a little whimsy and life to your indoor or outdoor spaces this summer with some fresh garden accents! You can add some color and life to your garden, sun room, patio or office even if you don't have a green thumb. These unique gifts also make great ideas for Mother's Day, a loved one, or just for you this spring and summer.
Antiques & Collectibles. Find something one-of-a-kind to take home or just have fun exploring the oddities and collectors items found in any of our local antique and collectible shops. There's so much to look at, it may take more than one day! See our directory for directions to Red Barn Antiques, Hermann's Attic Antique Mall, Antiques Unlimited I & II. Find unique yard ornaments or items that can enhance your flower or rock garden.
House Plants. Know someone who has taken advantage of the real estate market? House plants are a wonderful house-warming present for friends and family. There are lots of options at Terraflora Botanicals & Gifts.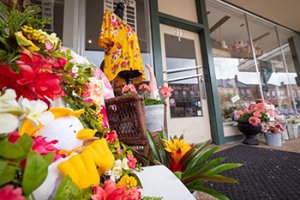 Bird-Feeders & Houses. Let gentle spring breezes or a few neighboring birds add a charming sound to an outdoor living area for months and years to come. The gift shop at Topiaries is full of whimsical accessories to match your style.
Garden Sculptures. Looking for a new feature attraction to add to your garden oasis? Stop by Topiaries and check out the variety of garden art, rain chains, or sculptures available to take home. Enjoy your indoor or outdoor plantings even more with a little (or big) something new.
Ready to spruce up your indoor or outdoor space? Start planning your trip today!