Sip, Shop, and Stroll Hermann this Holiday Season
November 14, 2022
The gifting season is upon us, and there's no better place than Hermann, MO, to enjoy shopping for the ones you love. Sip, shop, and stroll our historic, walkable downtown area with storefronts adorned for the holidays. You will find them packed with antiques, boutique clothing and home goods, books, and many other unique finds that are sure to make your recipient smile.
Find the Perfect Gift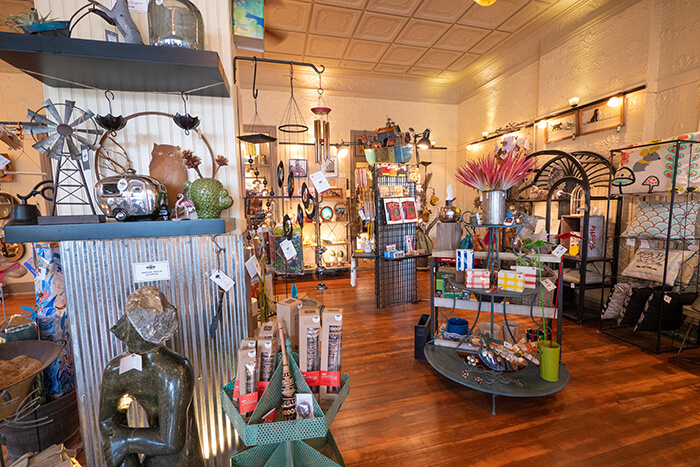 For the foodies in your life: Don't pass up the extra virgin olive oils, balsamics, and wine vinegars that make food stand out from the rest. In addition to the more than 100 varieties of extra virgin olive oils and balsamics, The Olive Branch also offers a tasting room, and if you're not sure, a gift card makes the perfect gift.
For your favorite chef: Check out the array of kitchen gadgets and goodies at Old Vine Kitchen Emporium.
For the young and young at heart: Blondie's Dolls Toy Shop features an assortment of German toys, games, and puzzles for all the little ones in your life. And mixed in with their freshly ground coffee beans, Espresso Laine has an assortment of toys and non-electronic games for all ages.
For those who love supporting small: Seasonal Treasures & Gifts has Missouri-made gifts, greeting cards, jewelry, and even a Christmas room filled with holiday-themed knick knacks and decor. Timeless Accents has linens, lace, and locally-made items. Or for that one-of-a-kind gift, pick up original artwork or a piece of nature inspired home decor at Topiaries.
For the travel enthusiast: Back Home Again has a selection of international gifts, from German beer steins to Lithuanian candle houses and more.
For your those who love to decorate (or for yourself): Ralph and Millie's has a variety of holiday and home decor, along with a fun selection of graphic tees that make the perfect stocking stuffers.
Don't forget the incredible gift selections at the wineries and distilleries that go beyond wine and spirits. If the person you're shopping for seems to have everything, a gift certificate to a winery, shop, for a special event or experience, or even for an overnight stay will show them just how much they mean to you.
Stop to Sip in Hermann
From hot cocoa to coffee, spiked drinks, spirits, and more, Hermann has the perfect place to rest and warm your nose and your toes.
Local coffee shops offer smoothies, espresso, seasonal coffees and lattes to kick off your day or for an afternoon pick-me-up. Stomp'n Grounds offers alcohol and non-alcohol coffee drinks. Relax and warm up at HogsHead Cigar & Whiskey Lounge as you sip on Colleen's Irish Coffee made with their own curated coffee blend. Or, stop by Lionheart Whiskey Co. for an (Rye)rish Coffee made with coffee aged in a rye whiskey barrel, bourbon cream, and their Single Barrel Rye Whiskey.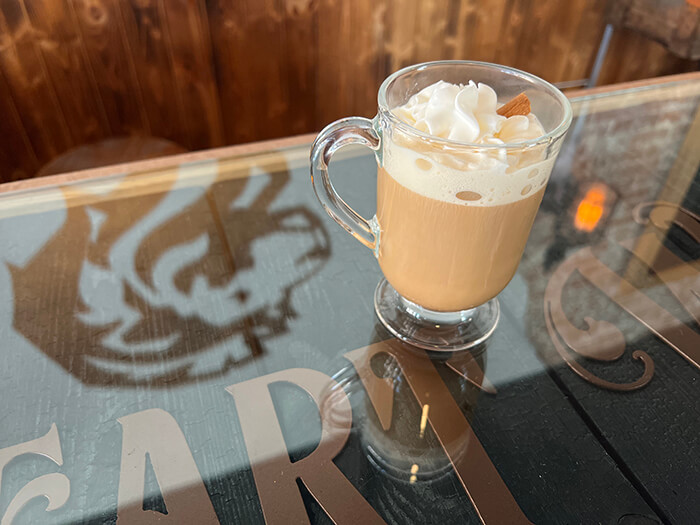 Set on a historic farm, Black Shire Distillery Tasting Room offers a delightful spiced hot toddy, spirits, and a rotation of other seasonal drinks.
Step into The Tasting Room at Übernachten for boozy hot cocoa available in several varieties such as Swiss Alps Chocolate Mint, Chocolate Covered Cherry, and Mexican Vanilla Cocoa. Evergreen is a cozy little parlor where you'll find spiked hot apple cider and handcrafted cocktails. There are dozens of other places to grab a drink while you're making your way around town.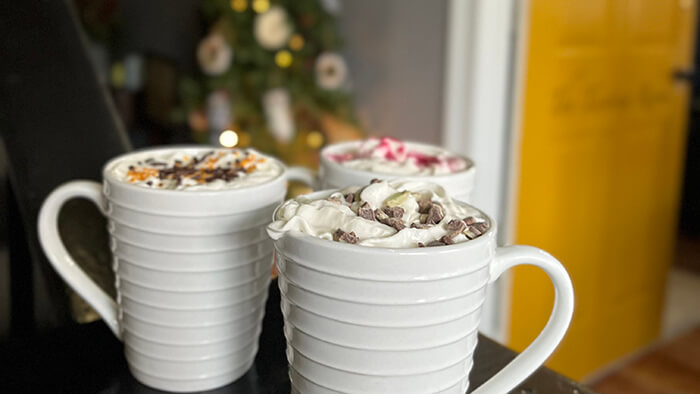 Join in on a Specialty Wine Trail
Hermann is always the perfect place to sip and savor, but if you've never been on a wine trail, you're missing out! Learn about local wines and enjoy special food pairings The second Saturday in December, visitors can enjoy the Hermann Say Cheese Wine Trail. All Hermann Wine Trail events require advanced tickets and make great gifts.
Enjoy Christmastime in Hermann
The holiday season is about family and friends, and celebrating your blessings. Crafts, treats, and carolers, gingerbread house competitions, house tours, and more all set the scene for fun and creating traditions in Hermann this holiday season. Check out the event calendar for the full schedule of events.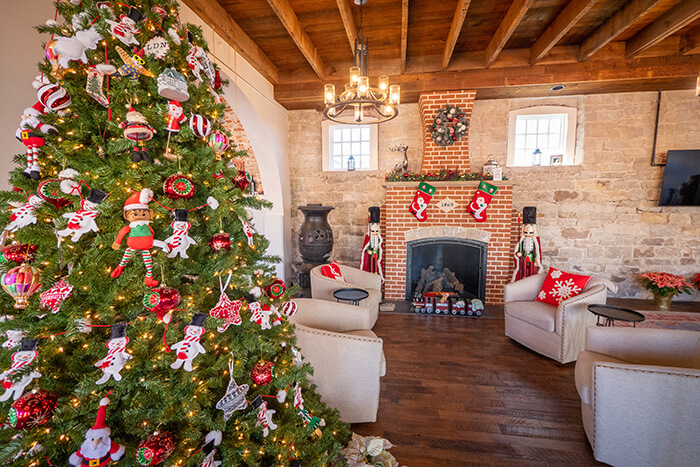 We can't wait to see you and share with you our beautiful German town at Christmastime!
Merry Christmas! Frohe Weihnachten!