New Year, New Traditions, Same Hermann!
December 6, 2021
Champagne, Bells, and Chocolate for the New Year in Hermann!
We welcome you to ring in the New Year with new events and traditions here in Hermann! The New Year holiday is such a celebratory event to reflect on the amazing year we have all had, but also the perfect time to start planning those romantic gestures for upcoming Valentine's Day.

Ring in the New Year at historic Hermann Museum
In Hermann tradition, the clock tower bell at Historic Hermann Museum rings in the new year. Visitors and locals alike are welcome to visit during a special late-night opening the final minutes of the year to participate the ringing of the 1890s school bell. Then plan a trip to return in March when winter-hours end to walk through the two story, 6+ room regional museum. Enjoy the fine displays focusing on key times in Hermann's past including a rich musical heritage, military items from the 19th & 20th centuries, steamboat and trade on the Missouri River, and the day to day life of a German American immigrants in the 19th and turn of the century.
The Piano Bar Disco Night
Grab your sparkly suit and bell-bottoms for a night to remember! Piano Bar Hermann is hosting an extravagant Disco Night for New Year's Eve. Tickets are $50 per person, and include a night of dancing, live music, and incredible food. With a menu consisting of prime rib or salmon and late night hors d'oeuvres, there is something for everyone. The event takes place on Friday, December 31st, from 6pm to midnight with a champagne toast to welcome in the new year! Space is limited with only 99 tickets. Find out more to reserve your ticket.
Concert Hall and Barrel Tavern December Deals
Get your fill of some amazing food courtesy of Concert Hall and Barrel Tavern during the month of December and for New Year's Eve! The authentic Hermann restaurant is serving up a host of daily dine-in and curbside options throughout the month of December, including New Year's Eve steak and seafood dinner specials from 5 – 9pm and a New Year's Eve Party from 9pm – 1am with a late night menu! Concert Hall and Barrel Tavern also offers amazing gift card stocking stuffers for those who love the gift of food. Learn more on their website here.
Live Music at Herman 1837 Cellar Bar
Grab a friend and head on over to the 1837 Cellar Bar for live music on New Year's Eve. The Wildhorse Creek Band is booked and features powerful three-part harmonies, dynamic, polished acoustic instrumentation, and a really fun show! There's no cover charge to enjoy the show and the Hermann 1837 Cellar Bar, a must-see Hermann destination because of its historical memorabilia, beauty, and storied history. The vintage stone, brick, and architecture of the Victorian Era creates a spectacular backdrop to ring in the new year. The menu specializes in Hermann area wines, Missouri craft beers, German beers, and a selection of mixed drinks. More information can be found here.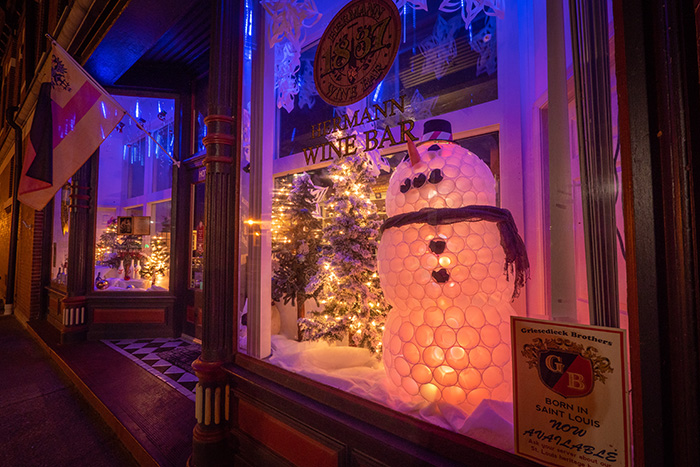 Never too early for Love
The holiday season comes and goes, but the feeling of being loved lasts a lifetime! Valentine's day is around the corner, and Hermann is the perfect destination to show your special someone just how much you love them. Enjoy a nice romantic trip in one of the several cozy and inviting accommodations including cottages, homes and inns, and even tree houses for those who are adventurous! And what is a romantic trip without wine? On February 19 and 20th, 2022, the Wine Trail opens once again for the Valentine's day Chocolate Wine Trail where couples can sample wine and chocolate pairings from different locations!
Plan Your Visit
This is a time for celebration and Hermann has everything you need to have the best start to the new year! Whether it's getting dressed up to dance the night away, or getting dressed down for a cozy weekend with your loved one, you can get both in Hermann. To plan your trip, explore our site or contact the Visitor Information Center at Amtrak at 573-789-0771.