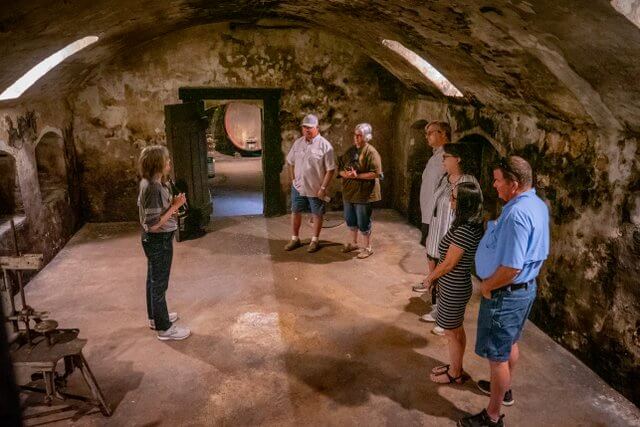 Hermann Wine Trails and a MO Spirits Expedition
February 9, 2023
Hermann is known for its wineries and distilleries, where the highest-quality wines and spirits, delectable food, and good friends all come together to create memories that will last a lifetime.
As you plan date nights, a girls or guys night out – or if you just need a break from the daily grind – let Hermann's businesses do the work of entertaining, be it with food and drinks, shopping, outdoor activities, or staying in.
Hermann Wine Trail Offers Food and Wine for All
The Hermann Wine Trail offers six annual events that are sure to please all palates, from those who love bacon, to farm-fresh food, berries, barbecue, and more. Advanced tickets are required and these are popular events, so plan ahead to ensure you can attend your favorite wine trails.
Chocolate Wine Trail: One of the most popular, the Chocolate Wine Trail is held the third weekend of February. Enjoy a sweet journey through the hills of the Hermann area as you sip and sample luscious wine and chocolate pairings. Tickets for 2023 are sold out, but start making plans for next year!
Wild Bacon Wine Trail: A spring favorite, the Wild Bacon Wine Trail combines the smoky, savory flavor of bacon perfectly paired with wine. Bacon macaroni and cheese, bacon bread pudding, and candied bacon-wrapped Medjool dates are just examples of the treats for your taste buds. Set for the weekend of May 6 & 7, visitors can stop at seven area wineries to try the pairings.
Farmers' Table Wine Trail: It may be set for Saturday, April 1, but the Farmers' Table Wine Trail is no joke. Participants can taste their way through seven wine and food pairings and meet local farmers behind the scenes. This event is a perfect pick-me-up leading into spring.
Berries & BarBQ Wine Trail: Mid-summer, on Saturday and Sunday, July 29 and 30, this wine trail is a refreshing burst of berries and barbecue – Missouri summer favorites. This trail offers delicious food, wine, and cool wine cellars that contrast the outdoor temperatures.
Holiday Fare Wine Trail: On the weekend of November 18-19, the Holiday Fare Wine Trail is a perfect way to get a big dose of holiday spirit. Enjoy festive food and wine pairings as you linger in the magical atmosphere of our Christmas Village reminiscent of nineteenth-century Germany.
Say Cheese Wine Trail: The final wine trail of the year, the Say Cheese Wine Trail will be held on Saturday, December 9. The trail offers traditional and unexpected wine and cheese pairings. For added fun, this event coincides with Hermann's popular Kristkindl Markt, an Old-World holiday market.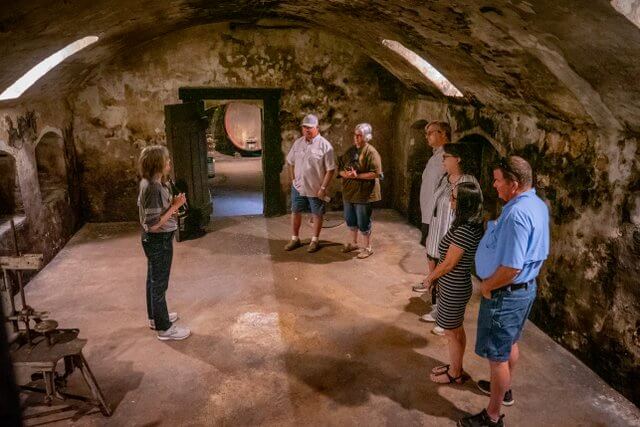 Rewards Uncorked: Get Rewarded for Visiting Missouri Wineries
Missouri Wines has rolled out a new loyalty program, Rewards Uncorked. A free, mobile-based program, where participants are rewarded for enjoying Missouri's wineries. Rewards include items like shirts and sweatshirts, wine tumblers, wine chilling bags and canisters, and more.
Participating Hermann wineries include:
Adam Puchta Winery: The country's oldest continuously owned family farm winery, Adam Puchta Winery offers wines that are proudly American, uniquely Missouri, and recognized for their consistency.
G. Husmann Wine Company: Named for the "Father of the Missouri Grape Industry," G. Husmann Wine Company's wine reflects the heritage and history, blending wines from Missouri and California. Visitors can taste a variety of red, white, and specialty wines.
Hermannhof Winery: With a proud German heritage dating back to 1852, Hermannhof Winery produces a full selection of wines from sweet to dry.
Stone Hill Winery: Missouri's oldest and highest awarded winery, Stone Hill Winery, offers wine tastings, daily guided tours, and a gift shop with regional goods and artisanal treats sure to delight all wine aficionados.
For full program details, visit the Missouri Wine website.
Journey Through the Missouri Spirits Expedition
If you love craft spirits and a taste adventure, the Missouri Spirits Expedition is an experience you won't want to miss. The expedition is a spirits trail with 35 craft distilleries that span the state of Missouri. Hermann is home to four Outfitters, where you can taste and learn more about each spirit.
Black Shire Distillery: Set on a historic farm, Black Shire Distillery crafts spirits from local ingredients, including locally-grown grain, aged in Missouri-made white oak casks. Whether you're looking for a seasonal drink or a perennial favorite, the distillery offers a lineup of spirits from bourbon to rye, blended whiskey, gin, vodka, and more, at its tasting room in downtown Hermann. Black Shire Distillery also offers a selection of artisan bitters, branded merchandise, and cocktail accessories.
Copper Mule Distillery: Distilled and bottled in Hermann, Copper Mule Distillery crafts heritage bourbon for sampling on what was once a mule farm. In addition to their mainstay, the distillery offers other bourbon-infused and inspired foods and spices, from barbecue sauce to rub, bourbon balls, bourbon bacon, and more. Visitors can also take a tour of the rack house and farm.
Fernweh Distilling Co.: With small batches, single barrel spirits, and an unforgettable view, Fernweh Distilling Co. offers guests a variety of whiskey and vodka, as well as a wildflower sherry-barrel-aged spirit. Fernweh is also home to a craft cocktail bar that provides a variety of spirits, cocktails, wine, beer, and tapas to enjoy.
The Tasting Room at Übernachten: Missouri's smallest craft distiller and Hermann's smallest bar have paired up to bring a memorable tasting experience to visitors. The Tasting Room at Übernachten offers guided tastings of Edelbrand Pure Distilling's European-style, dry and un-aged fruit brandies and bierbrands. Book your tastings online, or stop in for cocktails, flights, and small bites.
Wood Hat Spirits: Just north of Hermann in New Florence, Wood Hat Spirits uses locally grown grains, fruit, and nuts to produce award winning bourbon, corn whiskeys, and cordials. Wood Hat Spirits is the only wood-fired still in the country.
As you sample, collect stamps to earn rewards that lead up to a free bottle of Missouri Spirits Expedition Blended "MO Bourbon" Whiskey.
And, though they're not part of the Missouri Spirits Expedition, visitors shouldn't overlook LionHeart Whiskey Co. Located on a property with nearly two centuries of history, Lionheart Whiskey Co. offers its namesake small batch and single barrel whiskey, tastings, cocktails, and tours of the carriage house, which has been transformed into the bottling room.
Don't Miss Out on Other Hermann Area Businesses
While food and drink are a big part of Hermann's atmosphere, other businesses and attractions – from antique and toy shops to museums, spas, walking trails, and more – all make the quaint city a vibrant, fun place to visit time and time again.