Hermann is a Pet-Friendly Paradise
September 5, 2023
Pets are family, and in Hermann, we welcome your fur babies to tag along for the adventure. With many pet-friendly accommodations and activities, we're a paws-itively perfect place for your next get-a-way, whether it's a day, a weekend, or longer. Not only are there dog-friendly places to stay, but there are loads of activities where your best friend can tag along, from pet-friendly patios, to parks and trails, and even concerts at the amphitheater.
Explore the Great Outdoors with Man's Best Friend
The Village Dog Park is a haven for furry friends and their owners, offering a delightful space to unwind and socialize. Open from sunrise to sunset, the park features lush green spaces and shaded corners. This community-run dog park welcomes locals and visitors, fostering a friendly and inclusive atmosphere with separate areas for dogs of different sizes, so there's something for every pup to enjoy.
You won't want to miss Graham Cave State Park on your next visit to Hermann. This scenic location features a dog-friendly recreational site with five hiking trails for you and your best friends on 350 scenic acres. Pitch a tent to camp, or use the Loutre River boat ramp and get in some boating and fishing. Graham Cave and Graham Cave Trail are marked with interpretive exhibits detailing the cultural and natural significance of the site. Grounds are open from 7 a.m. to sunset daily, year-round.
Grab Fido and head to Hermann Riverfront Park. With plenty of outdoor space for a picnic or a stroll, the park also has a ramp for boats, canoes, personal watercraft, and more. You and your dog can walk across our bridge for a spectacular view, or venture across the river to share a recreational adventure on the Katy Trail, with a trailhead just north of Hermann. The Katy Trail is the longest developed rail-to-trails project in the country.
Pet-Loving Eateries, Shops, and Wineries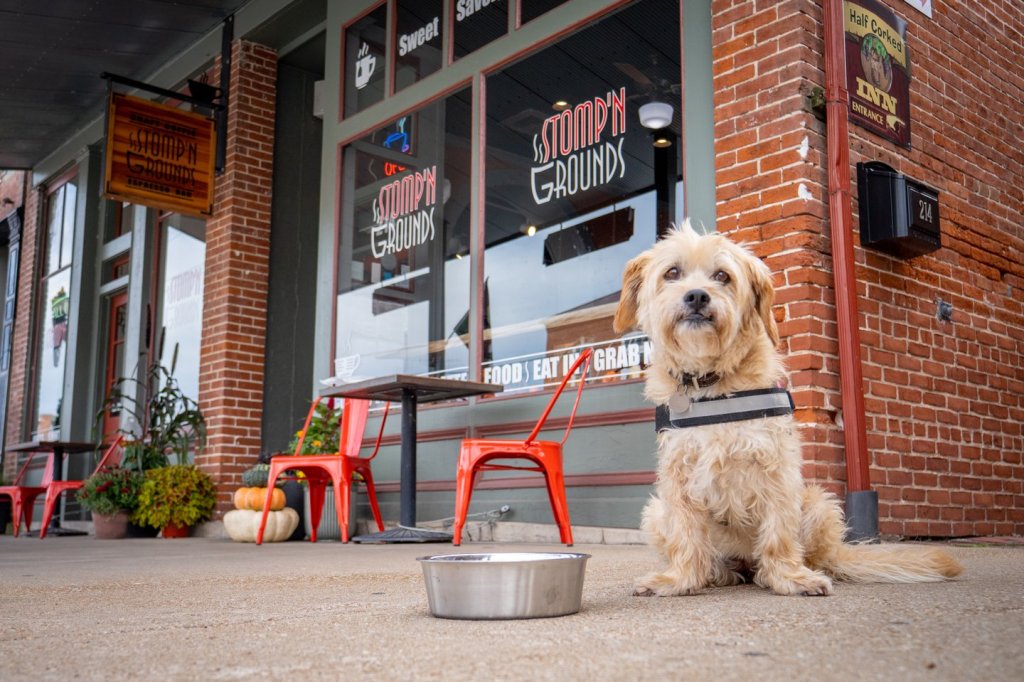 In Hermann, you'll find several pet-friendly businesses with snacks and supplies, and many offer a spot for your thirsty friend to get a drink. Hermann is the heart of Missouri Wine Country, and most wineries allow well-behaved pets in their outdoor space so you can sip and relax with your most loyal friend by your side. Here are a few you won't want to skip:
Grab a bite with your dog at Hermann Wurst Haus's dog-friendly patio. Wurstmeister Mike has even created unique menu items your four-legged friends will love. From smoked beef bones to scrambled eggs, dog treat bones dipped in peanut butter, puppy stew, and more, the "Wurst Doggie Menu" is a treat for all your furry friends.
Thirsty? Doxie Slush is a trendy, coastal-inspired dining spot located in the heart of downtown Hermann. Enjoy frozen cocktails, delicious food, and hang out with your four-legged friends on the dog-friendly patio.
Historic Stone Hill Winery has a great view of Hermann. Explore the cellars and winery, taste award-winning wines, dine overlooking the vineyard, and relax with your pets, who are always welcome on Stone Hills' spectacular grounds.
Pet-Friendly Lodging
From cozy cottages to luxury sweets, there are accommodations to meet your and your pet's taste. Here are just a few:
Hermann Hill River Bluff Cottages offers boutique hotel lodging for dog owners. Your special companion will get a comfy dog bed and a traveling food bowl to bring home. Human guests can enjoy romantic solitude with magnificent views of Norton Vineyard, the historic town of Hermann, and the Missouri River, or visit area pet-friendly wineries and distilleries.
The Captain Wohlt Suites welcome guests with Mary's famous chocolate chip and oatmeal cinnamon butterscotch cookies. Individual suites feature a private entrance with access to the main campus, and guests can enjoy beautiful outside lounging in the gardens. A chef-prepared breakfast is offered each morning, with garden-grown produce and fresh local ingredients.
Labby's Homestead offers the perfect location for guests and their pet. The early 1900s Rustic Farmhouse offers a place for you and your pups to relax and settle in after a long day out on the town.
Wine Alley Suites is perfect for your large group of friends and family, including your pets. The house on Wine Alley is newly remodeled with three bedrooms and two baths and is the perfect place for a weekend getaway. Two additional units are available across the courtyard, housing six people each. Located just off 4th and Market streets, Wine Alley is surrounded by shopping and eateries with something to please everyone.
See the full list of pet-friendly places to stay.
Plan Ahead for the Wurstfest Weiner Dog Derby
Every spring, Hermann's more than 160-year sausage-making history culminates with Wurstfest, a celebration of all things sausage. Visitors can take part in sausage sampling and kraut-making classes, enjoy German dancing, live music, and more.
Perhaps the most anticipated part of Wurstfest is the Weiner Dog Derby, a race that's sure to bring a smile to your face. In addition, sausage dogs and their counterparts (of all breeds) can compete in a dog costume contest and talent show. Next year's event is set for March 23rd & 24th, 2024. Accommodations fill quickly, so plan ahead for this fun and entertaining event.
Keep an eye on the events calendar for more details as they become available.
Need Help Planning Your Next Visit?
We're always here to help! Contact the Visitor Information Center at Amtrak Station by calling 573-798-0771 or emailing TourismServices@VisitHermann.com. Visit us online to use the free trip planner tool.