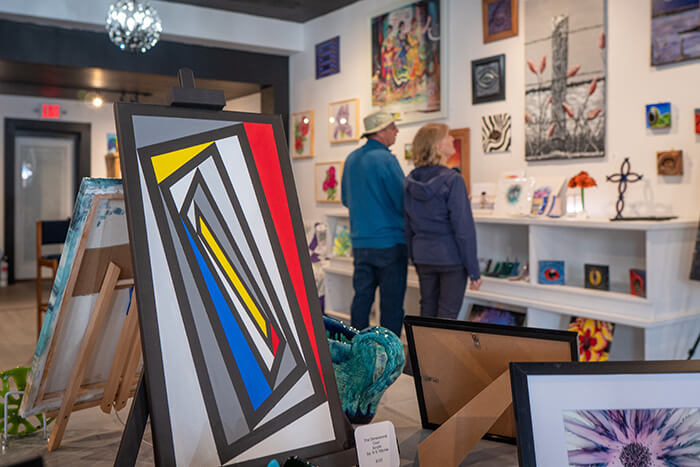 Everything You Need to Know About First Friday Art Walks in Hermann
March 31, 2022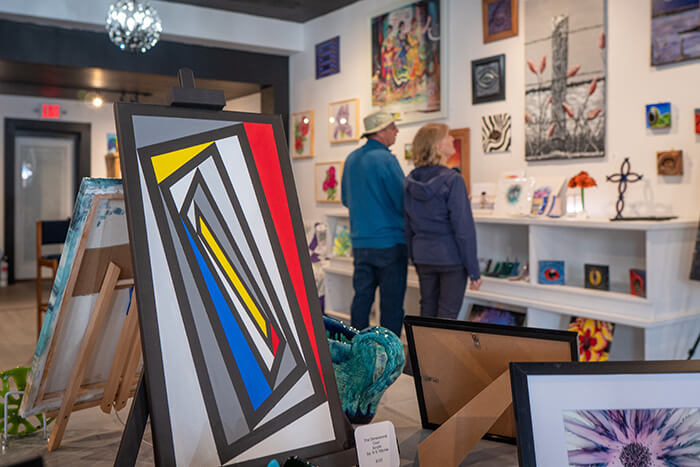 First Friday Art Walks in Hermann have returned for the 2022 season. Local businesses are opening their doors and making space on sidewalks for artists to showcase their work. On the first Friday of each month, explore by trolley, car, bike, or foot to experience the historic downtown district built in the riverside wine town.
Mark your calendar for the 2022 season:
April 1st

May 6th

June 3rd

July 1st

August 5th

September 2nd

October 7th
Here's everything you need to know about First Friday Art Walks in Hermann, Missouri:
Art on Every Corner
Between historic red brick buildings and paved downtown streets are sidewalks filled with art on display from local and traveling artists. Begin at the Visitor Information Center at Amtrak Station, 301 Wharf Street, and make your way south, or just find a place to hop off the trolley or park your car and wander through downtown Hermann!
First Friday Art Walks officially begin at 3 p.m. and many businesses and artists stay open until 7 p.m.
Stroll through participating businesses hosting artists throughout downtown this April, including:
Charleen Watson – Quilting; baby quilts available at Seasonal Treasures and Gifts
Shattered Glass – Glass at Stompin' Grounds
Pat Moore Baskets – Basket Weaving at Stompin' Grounds
John Wilding – Blacksmithing; Old time toys and puzzle demonstrations at Red Barn Frame Shop
The Scalawags – Live Music at Trolley Stop
Rebecca Smith – Pottery at Espresso Laine
Jane Sellier – colorful paintings at Tattered Mercantile
Lina Forrester – Intuitive Art at Time for Memories
Danielle Redman – whimsical Wood Burning and Clay Jewelry at Silver Owl
Local Foreign – Fiber Art rainbows and more at The Fancy Pheasant
Taylor Feighery – Live Country/Pop/Alternative Music at The Fancy Pheasant
David Hasty – landscape Photography at Übernachten
Richard Lee – Woodworking/Cutting Boards at Lionheart Whiskey Co.
Scott Schannuth – Woodworking/Bird Houses/Wine Racks, Misc. at Strassners
Renee Miller – artisan soap and watercolors at Saleigh Mountain Co.
Sue Moore – Pottery vessels at The Vine Boutique
Norma Steigman – Quilting at Eikermann & Associates
Becky Myers – Watercolor and Acrylic paintings at Miss Jessica's Jewels
Carter Gerlemann at Miss Jessica's Jewels
Josh and Joseph Robinson – oil and acrylic landscape paintings and baked goods at Market Street Scent Works
Angie Horacek – Textile Designs woven on looms at Sugar Momma's
Justin Martin – Glass Blowing at The Blank Canvas
Jeff Wissman – Illustrations at The Blank Canvas
Jeff Azevedo – Pipes and Strings at Midwest Trading
Suswana – abstract expressionist and impressionist paintings at Hermann's Attic Antique Mall
Find more details on participating venues and future exhibitors on the Hermann Missouri Arts Council Facebook page. If you're interested in participating as a guest artist, inquire by email: HermannMoArtWalk@gmail.com.
Strike a Pose
After sufficiently satisfying your craving for creative inspiration, explore another art form, strike a pose, and snag a selfie in front of the iconic historic murals and statues throughout Hermann. Several are located in between First Friday Art Walk exhibits. You can get a guide to Hermann's hidden gems here.
Extend Your Experience
Grab a table at one of the downtown restaurants. From German-inspired comfort food to New York-style hand-tossed pizza, there's something for everyone. Stick around for late-night live tunes and cocktails on the outdoor patios at 1837 Cellar Bar or The Piano Bar at the corner of Market and 4th Street.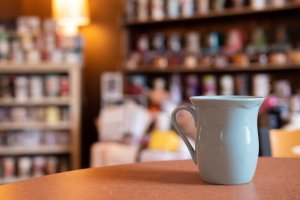 Many local lodging establishments offer a relaxing night's stay within walking distance of First Friday Art Walk displays. Others are just a short trip outside of the downtown district which can be accommodated by a trolley or Lyft ride if you've enjoyed your fair share of award-winning Missouri wines. 
When you wake, you can re-caffeinate and grab a sweet or savory breakfast treat at Espresso Laine, Stomp 'N Grounds, or Sugar & Spice Laura's Delights II. Before leaving town, be sure to browse the many shops for gifts and souvenirs. After all, Easter, Mother's Day and Father's Day are just around the corner! 
Parking & Transportation
Street parking downtown is great if you plan to park and walk around. You can also save yourself from parallel parking by leaving your vehicle at home and taking the train or riding the Katy Trail to Hermann! The Missouri River Runner stops on the north side of downtown, right between the Missouri River and the Information Center.
The Katy Trail runs along the north side of the Missouri River. You'll know you're close when you see the McKittrick trailhead. A wide-lane bridge with a walking path makes the crossing safe for bikers of all ages. Both are within walking distance of restaurants, First Friday exhibits, lodging, shopping, museums, and the best of Missouri wine and spirit experiences!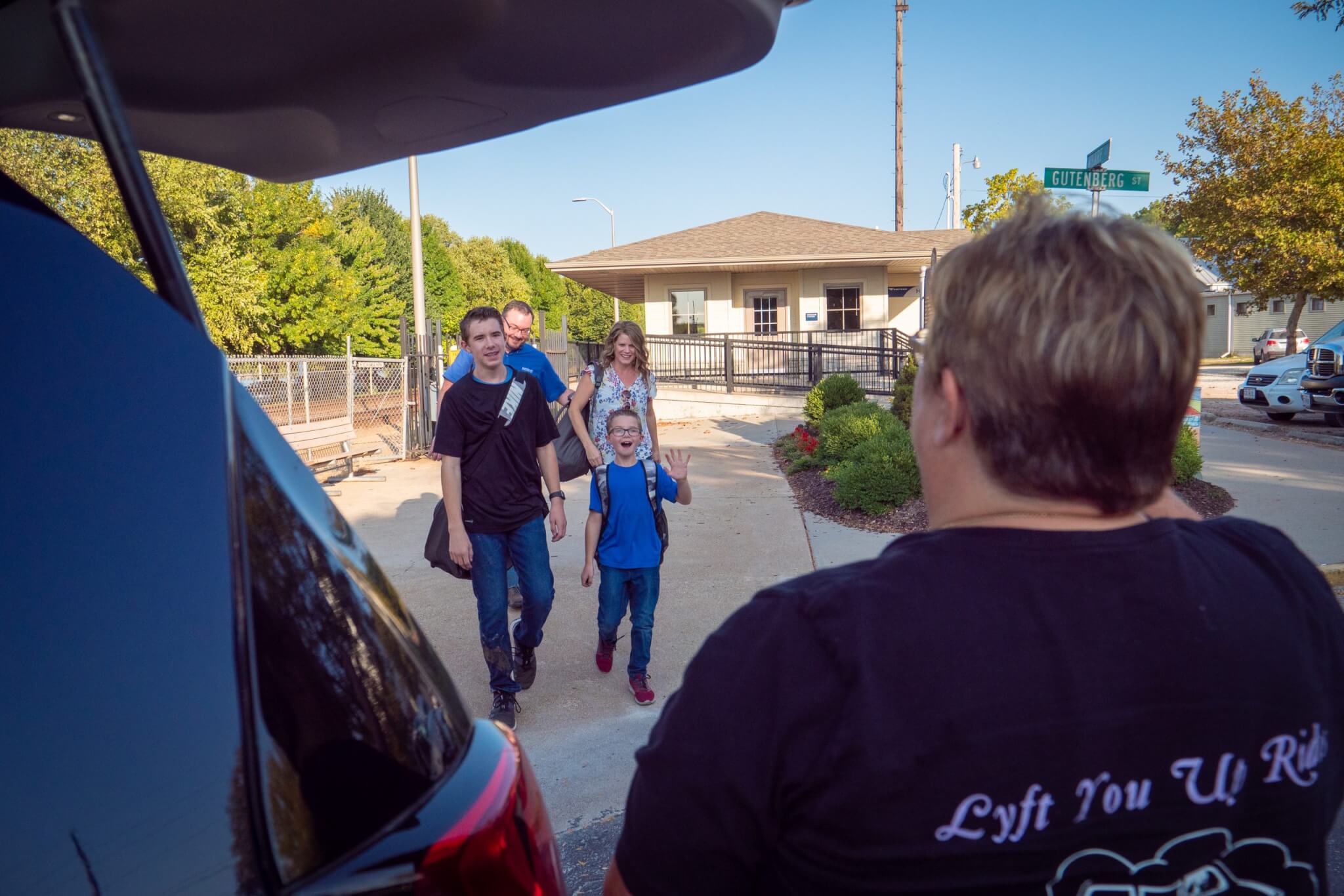 Plan Your Stay
Contact the Visitor Information Center at Amtrak Station with any questions you have about planning your stay in Hermann at 573-798-0771 or TourismServices@VisitHermann.com. You can also receive a digital copy of our Official Visitor Guide by subscribing here.