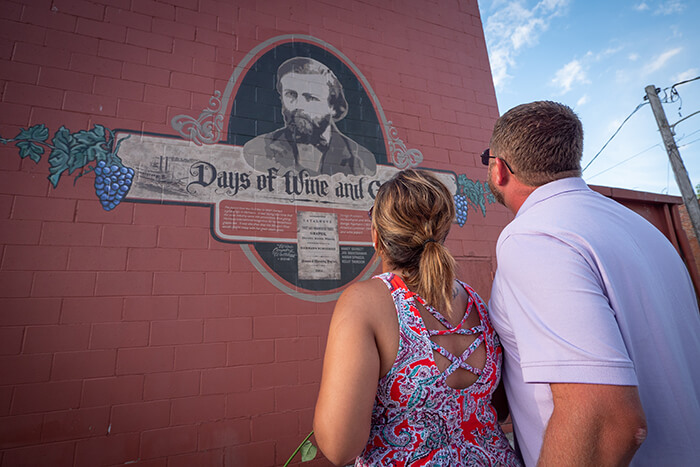 Hermann Murals: A Guided Walking Tour
March 10, 2022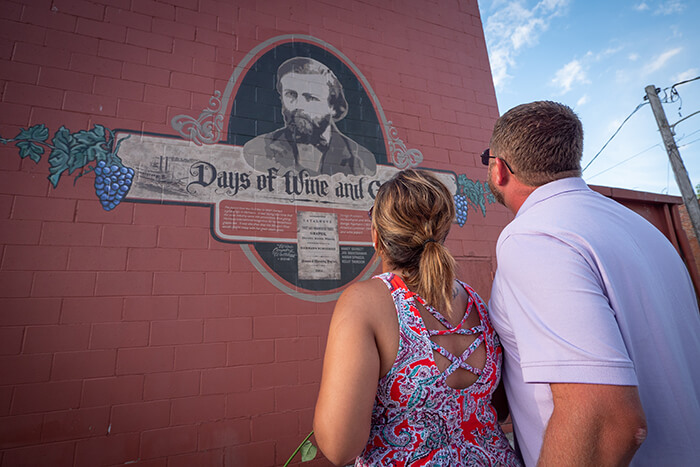 Discover Hidden Gems Around Hermann
It's that time of year again. Warmer weather will be on its way, birds chirping, spring flowers budding. It's the perfect time of year to take a stroll through Hermann. Hermann is full of historical culture, making it fun to explore each street and even the alleys. While exploring Hermann, many visitors enjoy the collection of murals sprawled across town.
Hermann has lots of murals, both indoor and outdoor. Each displays the town's history in a beautiful and meaningful way. As your local guides, we're here to give you insight on each mural, where to find them, and what fun attractions are near each one!
MISSOURI VALLEY ICE CREAM
About: In the 1950s, Berlener's Pharmacy was the favorite Hermann spot for ice cream, shakes, and malts. The vintage-style sign is painted on the side of the former home of Berlener's, evoking memories of a simpler time.
Where to find it: 219 East First Street (View from adjacent parking lot)
Attractions Nearby: Lewis and Clark Marker, Riverfront Park, Downtown Deli, Stomp'N Grounds, Hermann's Attic Antique Mall, Doxie Slush
GEORGE HUSMANN
About: On the alley behind Hermann's Antique Attic Mall, which fronts on First Street, is a large portrait painting of George Husmann. Husmann is known for his active role in founding the Missouri wine industry. This painting recognizes Mr. Husmann for his efforts in putting Hermann on the map as an important wine-producing town in the 1840s.
Where to find it: 220 East First Street (View from back alley)
Attractions Nearby: White House Hotel, Hermann's Attic Antique Mall, Festhalle, Wursthaus, G. Husmann Wine Co., Black Shire Distillery Tasting Room.
KIBE'S SHOES
About: This mural brings memories of old-fashioned shoe companies, with their shoe-fitting and repair services. Visitors will be reminded of handcrafted shoes and the cobblers that made them. This mural can be found on the side of the recently renovated Fancy Pheasant, previously The General Store at TypeStyles.
Where to find it: 209 Schiller Street (View from side alley)
Attractions Nearby: Ubernatchten, The Fancy Pheasant, Concert Hall, Silver Owl Specialty Quilt & Fabrics, Blondie's Dolls Toy Shop, Time for Memories, HogsHead Cigars, Buy the Book, Back Home Again, Historic Hermann Museum
EWALD BAKERY
About: In 1927, Nis Ewald, who had learned the bakery business in Germany, moved to Hermann. In 1938, Ewald Bakery was first opened to the public, offering "special bargains on pastries" to all in attendance. Ewald Bakery quickly became a cherished asset in the community. This mural, commemorating Ewald Bakery, is on the side of Sugar Momma's on Market Street.
Where to find it: 407 Market Street (View from side alley)
Attractions Nearby: Hermann 1837 Cellar Bar, Hermann Crown Suites, Sugar Momma's, The Blank Canvas, ​​Rachel's Rustic Room & Boutique, Jessica's Jewels/Seasonal Touches, Riverview Boutique, Market Street Scent Works, Missouri's Trading Post, Sharp Corner Tavern, Loose Caboose Saloon
Discover Free Walking Tours
Looking for other fun and relaxing ways to discover more about Hermann? The Hermann walking tours are also a great option for those looking to explore the rich history of this charming German town. Walking tours allow you to stroll at your own pace through Hermann's idyllic streets to learn about the early settlers and the hard work and perseverance that have made the picturesque town what it is today.
We hope that you enjoyed this mini mural guide. The next time you take a stroll through Hermann, stop by each of the murals to soak in the history!