Hermann Area Chamber of Commerce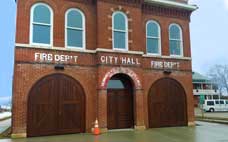 The Hermann Area Chamber of Commerce works to support the local business community and to improve the quality of life for all Hermann-area residents. The Chamber operates a Welcome Center that serves thousands of visitors annually and a state License Bureau that is known for efficient, friendly service.
Chamber Members
View the businesses that support the Hermann community. The chamber members include businesses in a long list of categories. Whether you are looking for accountants, hotels, places to eat, florists, health care providers, or anything in between, you'll find it here. You know Hermann is famous for its selection wineries – and you can find the contact information for all of them all in one convenient place.
Learn more about Hermann's chamber members.
Chamber Governance
Hermann's chamber governance is comprised of board members, chamber staff, welcome center staff, and chamber officers. Every member of the chamber plays a vital role within the organization and helps our local businesses and community thrive. Visit this page to see a complete list of the individuals that make up our chamber.
Learn more about Hermann's chamber governance.
Membership Benefits
Becoming a member of the Hermann Chamber of Commerce comes with its fair share of benefits. In addition to having your business name listed on our website, you will also have the luxury of being the first point of contact when people are looking for information about our community. Members also benefit from being one of the businesses at which residents can use Hermann bucks, further attracting crowds.
Learn more about Hermann's chamber membership benefits.
License Bureau
The Hermann Area license bureau provides driver's license renewals, written and driving tests, and more. Conveniently located on Market Street, all Hermann residents have easy access to the bureau and all of its services.
Learn more about Hermann's license bureau.