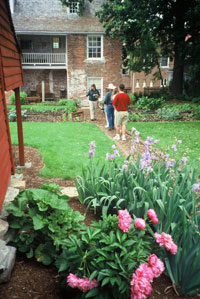 Deutschheim captures the culture and heritage of the Germans who migrated to Missouri in the mid- to late-19th century through exhibits and galleries of changing artifacts and photographs. Sponsored by the Missouri Department of Natural Resources.
POMMER-GENTNER HOUSE—Built in 1840,the Pommer-Gentner House, is a sterling example of high-style German neoclassicism. The house is furnished to reflect the earlier settlement period. The property includes a period garden and small half-timbered barn with 19th-century tools.
STREHLY HOUSE—Built in stages from 1840 to 1869, the Strehly House once housed a German-language newspaper. In 1857 Carl Strehly built a winery next to the house that now displays one of the few remaining carved wine casks in the Midwest.
April through October

Open Daily — 10:00 to 4:00

November through March

Open Thursday-Sunday — 10:00 to 4:00

Guided tours at 10:00, 12:30 and 2:30

Closed Thanksgiving, Christmas, New Years Day, and Easter