Happening in Hermann
Friday, August 1
Hermann Amphitheater

The Chamber's Big Screen Under the Stars series presents The Lego Movie, a computer-generated comedy in which a lowly Lego battles the forces of evil. Gates open at 7:15, show starts at dark. Lawn chair seating. Free admission.
Underwritten by Brian Grannemann Services, Inc. In lieu of an admission fee, donations to the School Backback Program are requested.
Friday, August 15
Hermann Amphitheater
Nashville comes to Hermann as rising country music star Becky Blackaby brings her high-energy performance to the Amphitheater. Show starts at 7:30. Lawn-chair seating. Donations accepted at the gate.
Sunday, September 7
11:30 a.m. to 3:30 p.m.
Held three times a year, the Wedding Trail is an opportunity for engaged couples and their families to see all Hermann has to offer for a Missouri Wine Country destination wedding, from spectacular venues to lodging choices.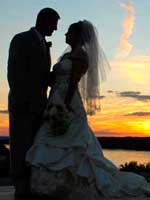 Hermann's Salute to our Military
Friday, Saturday & Sunday
September 12-14
Flags will be flying all over town as Hermann honors America's armed forces with a full weekend of special events and discounts for military personnel. Festivities conclude with a performance by the Air Force Orchestra at 3:00 p.m. Sunday at the Amphitheater.