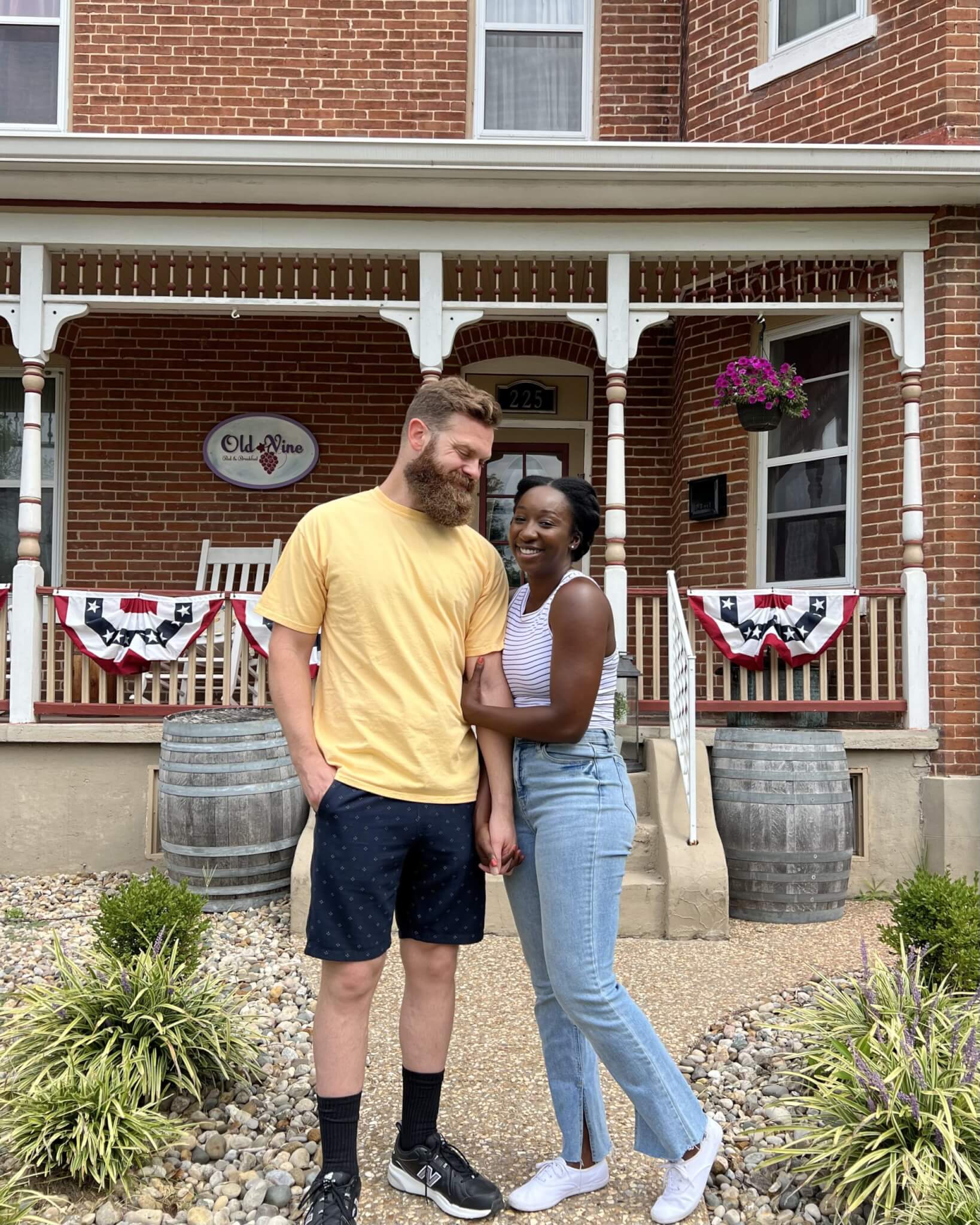 Wine for Lovers in Hermann, Missouri
The Chicago Couple – Jacquie & Ryan
This post is sponsored by Visit Hermann but all opinions are our own.
We've got another great romantic weekend Midwest getaway for you! You have to visit Hermann, Missouri, especially if you are a wine lover! Hermann is a such a cute village and has deep German roots. This means they have lots of amazing wineries, distilleries, sausage, bakeries, and even some museums. We had a blast and we highly recommend it as a great couples destination for the Fall and holidays! We stayed at the Old Vine B&B, but there are lots of cute bed & breakfasts and inns here.
Yes, the majority of our trip was centered around wine tasting and cocktails, but I promise there were lots of other great things to do, too! Check out our recommendations for a romantic retreat in Hermann, Missouri and then be sure you book your trip now to see the colors changing for autumn or a cozy winter getaway.
Old Vine Bed and Breakfast
Where to stay in Hermann, Missouri
Old Vine Bed and Breakfast, run by the friendliest owners, Chad and Mike, was extra cozy! We stayed in the Zinfadel room which featured a King Master bedroom, large full bathroom with jetted tub, Roku television, and a mini-fridge. They also have super fun add-ons like charcuterie boards, flowers, chocolate-covered strawberries, and a picnic pack! Our first morning we had a delicious breakfast and mimosas – the perfect way to start our day exploring Hermann! They book up fast, especially for Oktoberfest and around the holidays.
Things to do in Hermann, Missouri
Visit a winery, or two, or four…
Hermann is the heart and soul of Missouri wine country and has such a well-documented history. So naturally, we tried to visit as many great wineries and distilleries as possible! Here's our roundup:
Adam Puchta Winery – Founded in 1855, Adam Puchta Winery is the oldest continuously owned family winery in the United States. Ownership has been in the hands of the Puchta family for 7 generations! We had an elevated wine tasting experience in their intimate Press House accompanied by a farm-to-table charcuterie board. Lee was our wine steward and she taught us so much about the history of the Puchta family's award-winning wines and their 165+ years of wine-making history. We thoroughly enjoyed the experience. The wines were incredible and the carefully selected local cheese and sausages made for some really nice pairings. We can highly recommend stopping here if you visit. The experience is well worth the $30.
Stone Hill Winery – Our next stop was Stone Hill Winery, another Missouri winery rooted in family history. In 1979, Stone Hill's original carriage house and barn, where the hardworking horses and mules called home, was converted into the Vintage 1847 Restaurant. The winery's vast network of underground cellars is still among the largest in the world. They serve delicious German and American favorites. We left with full and happy bellies! And the wine was also wonderful! We ordered two wine flights since we missed the tasting room this time.
Hermannhof Winery – We walked to Hermannhof Winery for a tasting and decided to do a self-guided tour of the cellar. Rumor has it this place is haunted. You'll have to go for yourself to decide, but we can say we enjoyed the wine.  Hermannhof has live music, too. In fact, many of the places here offer live music, especially on the weekends!
Black Shire Distillery – Located in the Hofgarten. Black Shire Distillery has a beautiful patio area where you can enjoy your hand-crafted cocktails or tasting flights. We tried four of their spirits and sampled their blackberry lemonade. Yum!
G. Husmann Wine Company – G. Husmann Wine Company is also located in the Hofgarten and they have a nice range of dry style blends, like this "Captain Manwaring" Proprietor's blend of Missouri Chambourcin with California Cabernet Franc and Nebbiolo.
Fernweh Distilling Co. – Fernweh takes small batch and, in some cases, single barrel approach to bourbons, whiskies, and more. The name is a German word that translates to wanderlust, a desire to explore, a yearning for far off places. Fernweh has a full-service bar and restaurant with a focus on globally inspired bites and artisan cocktails. Their menu was so creative and fun. Sable was an awesome mixologist and made me a delicious lavender bees knees.
Outdoor Yoga
We started our Saturday morning by doing "Yoga on the Bluff" hosted by Hermann Hill, a boutique hotel and inn. It was a great way to warm up our bodies while overlooking beautiful views! The Hermann Hill resort is geared towards romantic getaways and has upscale accommodations. They have 20 premium suites and cottages and fun "choose your stay" options like adding on evening ice cream and cookies, maragaritas and snacks for two, and hot tub access.
Stroll the Town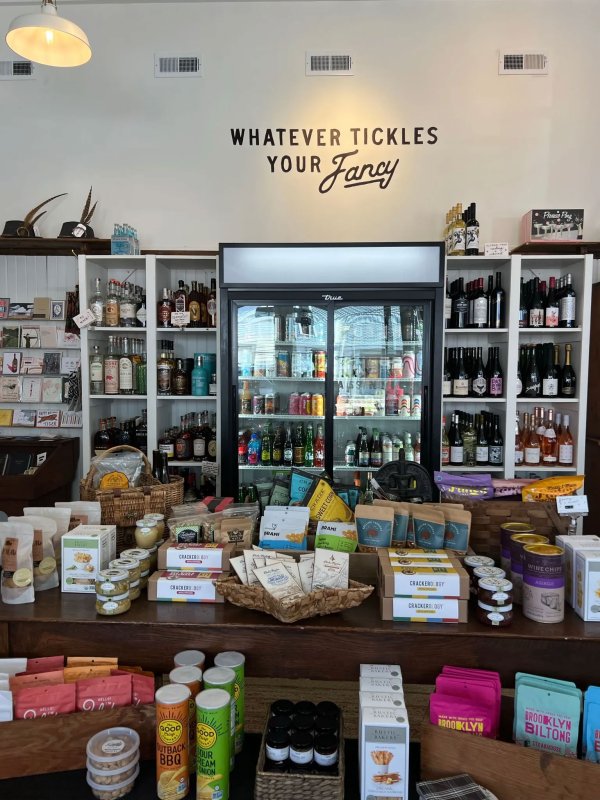 We always love exploring the main streets and downtowns when we visit a new place. Hermann is a picture book village and the historical district is a short walk from Old Vine B&B. We stopped into The Fancy Pheasant which had so many cute gift items, cocktail accessories, wine, craft beer, and goodies! There's lots of cute shops, cafes, and inns in this area.
Festivals
We happened to be in town during the Hermann Wine & Jazz Festival, but they have events year round! They celebrate Oktoberfest all October long, the annual Hermann Wine Trail celebration is in November, a Kristkindl Markt in December, a Chocolate Wine Trail in February, and three times a year, they offer a "Wedding Trail" that showcases all Hermann has to offer for a beautiful Wine Country wedding!
More places to eat and drink in Hermann, MO
Historic Sites and Museums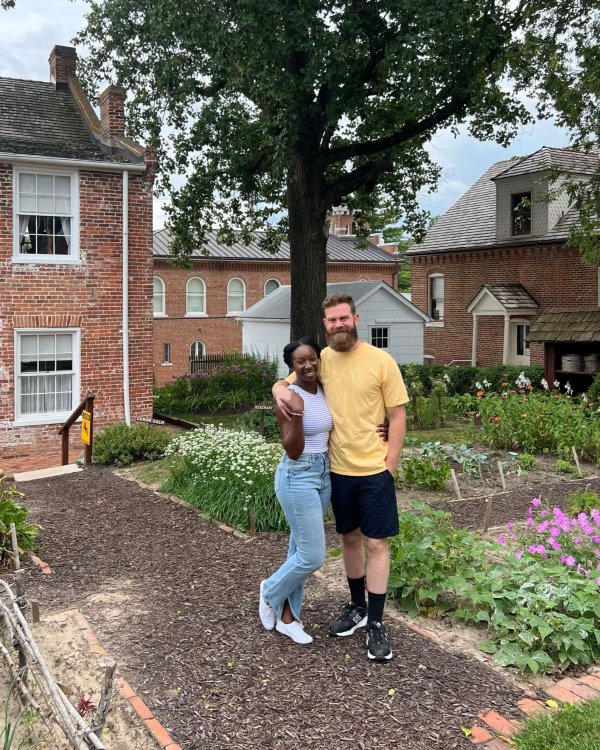 There are 12 historical sites and museums in Hermann! We visited the Deutschheim State Historic Site which preserves several structures dating from 1840-1890 that reflect the period when Germans first settled the Missouri River Valley that reminded them of home. It was also insightful to learn why so many German stellers volunteered to fight for the union during the civil war. There's also the Hermann Farm, the Historic Hermann Museum, and a Caboose Museum!
Hermann Wurst Haus – We had a great lunch at Hermann Wurst Haus where all the sausages and bratwurst are made in-house by "by three-time hall of famer, Wurstmeister Mike Sloan. Wurstmeister Mike has won more than 500 international, national, state and regional awards; including 14 best of show honors and 29 International awards from the German Butcher's Assoc. in Frankfurt, Germany." So you know this place is legit!!
Doxie Slush – They had so many fun frozen cocktails! We tried the Black Currant Cosmopolitan, Strawberry Amaretto Shortcake, and Chile Mango Margarita. They have a food menu (wings, coastal inspired bites, and seafood), wine and beer too! It's a super fun spot to add to your list of must visit places in Hermann.
One of the last things we did in Hermann was visit Stomp'N Grounds Espresso Bar for coffee and breakfast. It was good and we loved the atmosphere too!
Places we didn't get to visit but would love to try:
Thanks for reading all about Hermann, Missouri! I hope we've inspired you to check out this historic, charming Wine Country town!
Happy Roadtripping!
Jacquie & Ryan