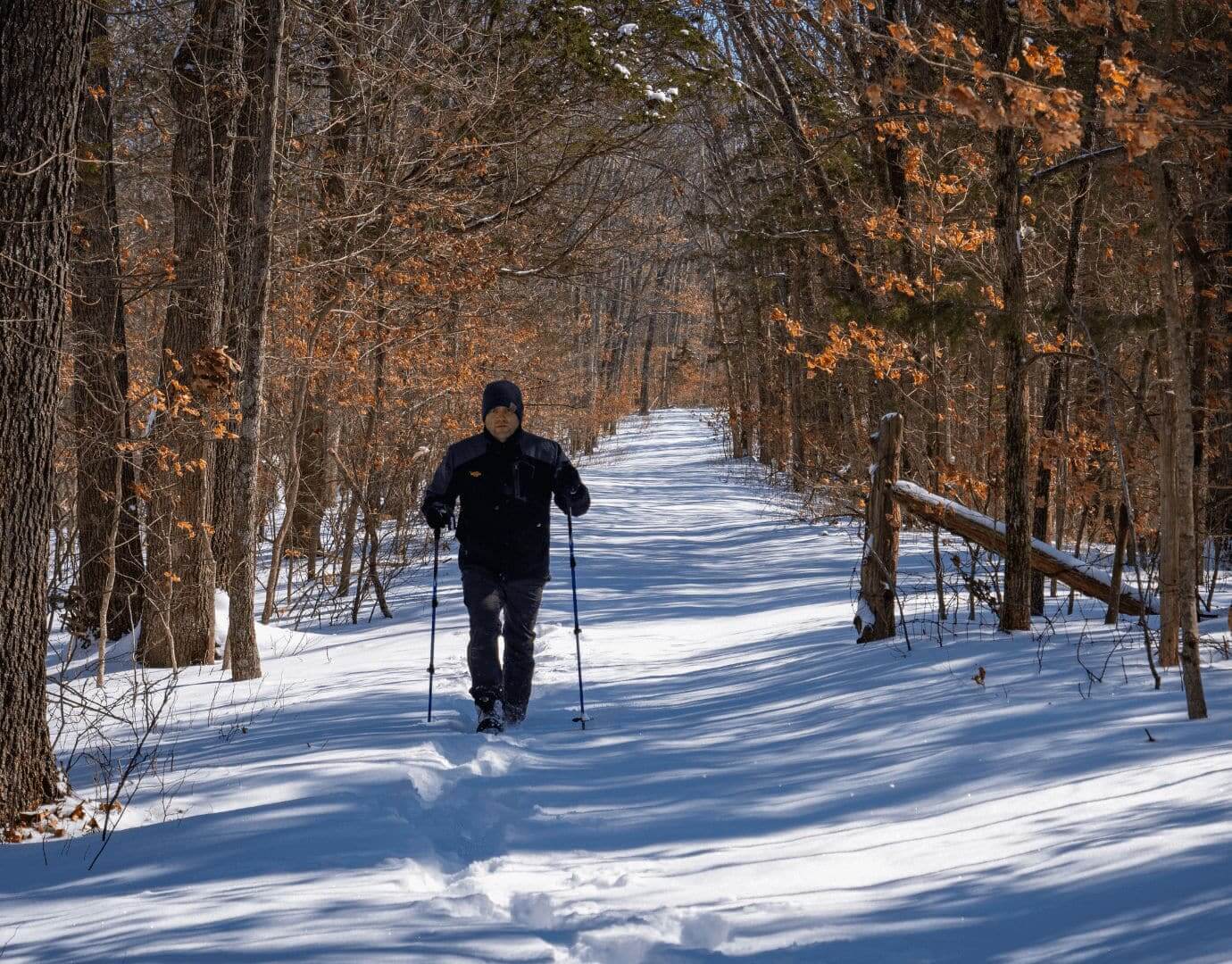 Walking in a Winter Wonderland: Explore Hermann, MO This Winter
December 15, 2022
Hermann is known for its summer and fall activities, but just because winter is the off-season, doesn't mean you can't enjoy a variety of activities. In fact, with a little planning, there are even some adventures best enjoyed when temperatures are cooler.
Lace Up Those Hiking Boots
Get a beautiful, pastoral view of the Missouri River, towering bluffs of dolomite rocks, and the floodplain, with a hike at Grand Bluffs Conservation Area. From 1891 to 1893, during the construction of the Missouri, Kansas and Texas railway (KATY), many similar bluffs were
blasted and quarried, but this one remains.

Despite harsh living conditions, a variety of flora and fauna can be found there, from eastern red cedars and chinkapin oaks to turkey vultures, cliff swallows and eastern woodrats. Giant Canada geese also have been spotted nesting on the cliffs. History also abounds here, as Lewis and Clark camped nearby during their 1804 expedition. A lookout has historical information, photo opportunities, and stunning winter views. Bare trees means visitors can see even more of the beauty of the bluffs.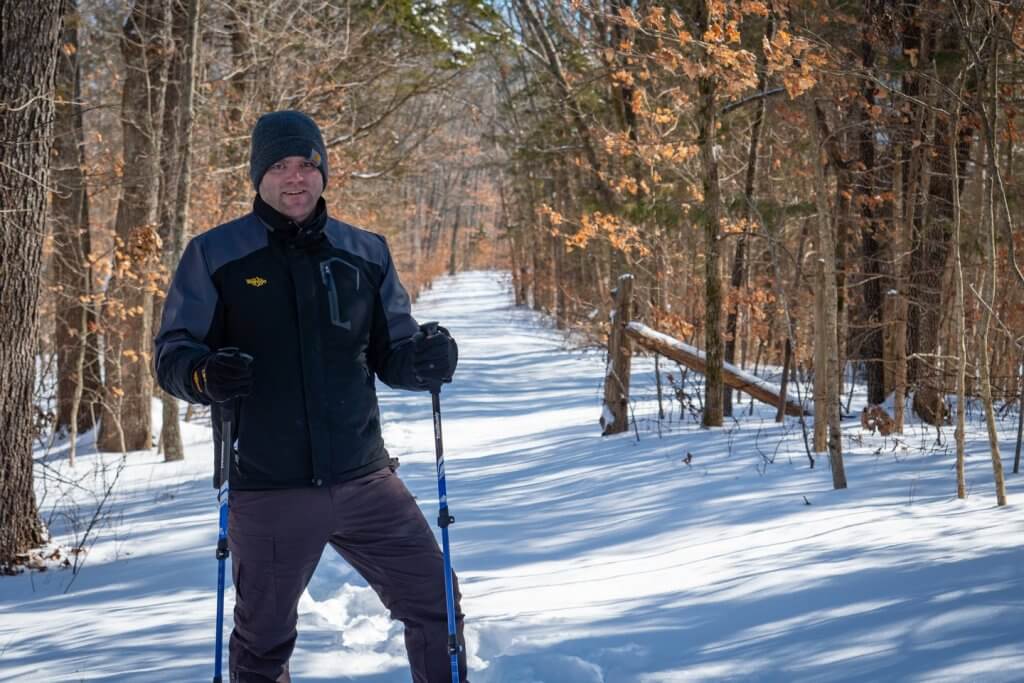 Get Up and GuidiGo
Take a guided tour of Hermann with the GuidiGo app. Just download the app on your phone, select a Hermann tour, and get exploring. Visitors can learn the history of various buildings, Hermann's founding, history, culture, and more — all dictated by local guides.
There's a tour of the Hermann riverfront, city parks, and a Bayer tour that takes visitors along historic Gutenberg Street to learn about George Bayer, one of the town's founders. Don't let the cold scare you off, there's plenty of places to duck into for a warm drink or a bite to eat along your tour.
Get Warm and Cozy
When you are ready to take a break and warm up, Hermann has many cozy spots perfect for sipping hot cocoa, cider, or whatever your heart (or taste buds) desire.

Local coffee shops, with expertly blended roasts, are a perfect spot to warm your fingers and toes, any time of day. Settle into the inviting space at Espresso Laine with a specialty coffee or latte and tasty pastry. Visit, read, shop for the perfect coffee mug or non-electronic toy, or play some games while you recharge. The baristas at Stomp'n Grounds Espresso Bar welcome locals and visitors alike for a variety of craft espresso, lattes, and coffee cocktails. In addition, they offer made-to-order breakfast and lunch options that are sure to have you ready for the rest of your adventure.
If a warm fire is what you need, look no further than Hermannhof Winery & Deli, which has indoor dining with a beautiful fireplace, along with a selection of fine wine. Open year-round, Hermannhof also offers locally produced sausages and artisanal cheeses to complement your selection.
Located on a former mule farm, Copper Mule Distillery offers daily tours and tastings. Their premium bourbon whiskey will warm you from the inside out. Enjoy the beautiful views as you browse the gift shop and sip specialty bourbon cocktails and snacks for a unique, distinct, and memorable experience.
Art Appreciation
Did you know that Hermann has a new art gallery? Located at the Hermann branch of the Scenic Regional Library, The Gallery is 2,000 square feet and hosts four three-month exhibits each year. Admission is free and open to the public.

The Blank Canvas Gallery & Studio is a fine arts gallery with a fully stocked studio. Visitors can view exhibitions of contemporary and fine art, showcasing the work of regional and national artists as well as Hermann's own artists. The Studio offers experiences from painting and acrylic pours, to kid's creations and craft events. Perfect for a one-of-a-kind Hermann souvenir or gift.
Dine Your Way
Keep the exploration going with "wines of the world." Bar Vin has a speakeasy style lower level complete with a pre-prohibition era cocktail list, games, and tapas-style small plates and desserts to enjoy after a long day.

Tin Mill Restaurant has beer, food, and wine for all, located in one of the oldest and most recognized buildings in Hermann. Formerly a grain elevator, then a farm distribution center, the three-story mill and ice house are now a unique place to enjoy drinks, desserts, and everything in-between.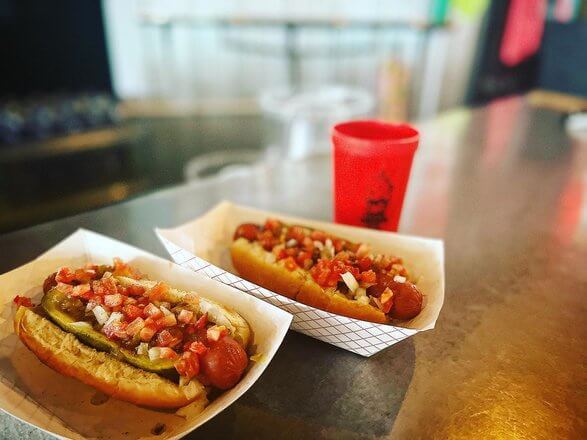 Hit a local dive! Sometimes there is nothing better than bar food and beer to end a day of exploring. Sharp Corner Tavern is one of the oldest establishments in Hermann, serving burgers, sandwiches, and an extensive list of side items. Loose Caboose is a great place to hang out, grab a bite and have a drink. A variety of foods from Chicago-style dogs to build your own nachos to pretzel bites are sure to satisfy your craving.
Plan ahead and Stay a Night or Two
To make the most of your Hermann experience, plan your itinerary ahead of time. We have made it simple by listing the business hours all in one place for you. You'll find that your day will quickly fill up and you will need another day!
Hermann's overnight accommodations boast oversize tubs, fireplaces, and the famous Hermann hospitality keep you warm year-round. The shopping district has antiques, boutiques, toys, art, and other unique gift shopping experiences. And, the memories you'll create will keep you warm until your next winter visit to Hermann.