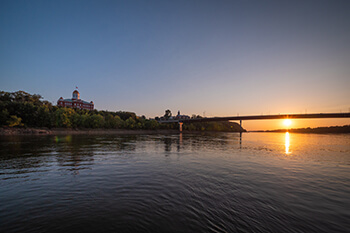 Visit Hermann Highlights
April 1, 2021
Missouri-Made Art You'll be in Awe of
Hermann has talented artists, from painters and sculptors to musicians and actors. The Hermann Arts Council sponsors and supports a wide variety of visual and performing arts programs. Be sure to experience First Friday Art Walks from April through December, or lose yourself in a performance at the Clara Eitmann Messmer Amphitheater or the Showboat Community Theatre. Individuals, couples, and small groups can also spark their creativity and make their own masterpiece at The Blank Canvas. If viewing is preferred, you might enjoy the gallery and diverse menu at UnColor Wine Bar & Gallery. There are several indoor and outdoor murals to capture the gorgeous history of the village. Learn more about current arts and theater events over on our calendar here.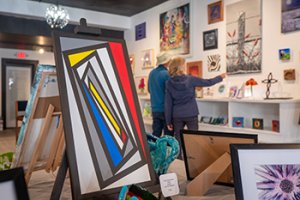 Little Wedding Spaces Perfect for Tying the Knot in 2021
Say "I do" in picturesque Hermann and start the life you always dreamed of with your partner. Planning happens year-round with engaged couples and their families. Visit local venues, ranging from elegant to rustic, to find the perfect setting for your wedding. Vendors can assist with rehearsal dinners, ceremony details, and everything in between! And with over 300 guest rooms to choose from, your guests are sure to find something that fits their budget.
We have something for celebrations big and small, dramatic and intimate, outdoors or in. Plan your big day and your honeymoon stay using our list of vendors here.
Company Retreat Ideas When You Want to Impress Your C-Suite
Invigorate your group with a compelling team-building experience! Fully-equipped presentation spaces with high-speed connectivity are fit for teams large or small. Private meeting spaces are available for more intimate conversations, workshops, or brainstorming sessions. Plus, with over 300 guest rooms in the area, accommodations suitable for your group's needs can easily be arranged for multi-day retreats. Start planning your itinerary, finding venues, and planning the entire experience with the help of our Tourism Services team.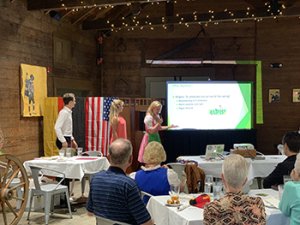 Charming Weekday Activities for Group Travel in 2021
For professional Group Tour Directors, our Tourism Services team offers assistance with planning Hermann itineraries. With abundant opportunities for group travelers available, we will help find the right activities for your guests. Whether planning a day-trip, a multi-day stay, or just stopping in for just a few hours along the way, we can help you build a custom itinerary that will delight your clients and leave them with many happy memories.