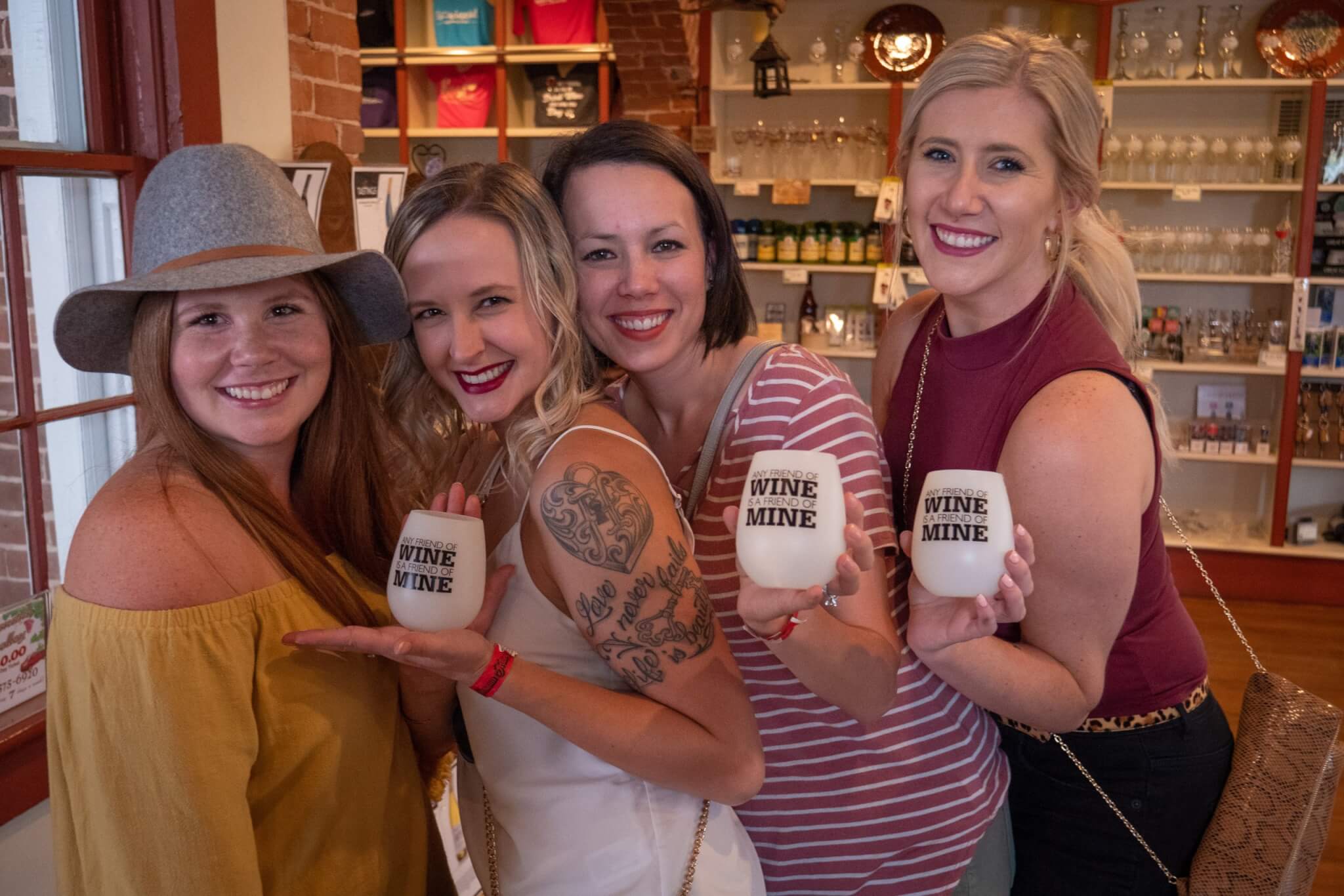 The Ultimate Girl's Getaway in Hermann
May 23, 2022
It's been far too many days, weeks, months, and possibly years since you've put your worries aside and spent some quality time with your best girlfriends. Taking a trip with your best gals, whether for a bachelorette party, a birthday celebration, or just a weekend away for no reason at all, simply embodies the word "joy." It's time to get together, reminisce, and create new memories that last a lifetime!
And the best part? Having a girl's getaway doesn't have to mean traveling far. If you're looking for a charming small-town weekend getaway full of history, beautiful brick buildings, sweeping river views, and nearly a dozen wineries, Hermann is the perfect choice.
This gorgeous small town is set in the Missouri River bluffs and approximately a little over an hour west of St. Louis. If you're looking to plan a girls getaway trip soon, then look no further to find all of the possibilities Hermann has to offer.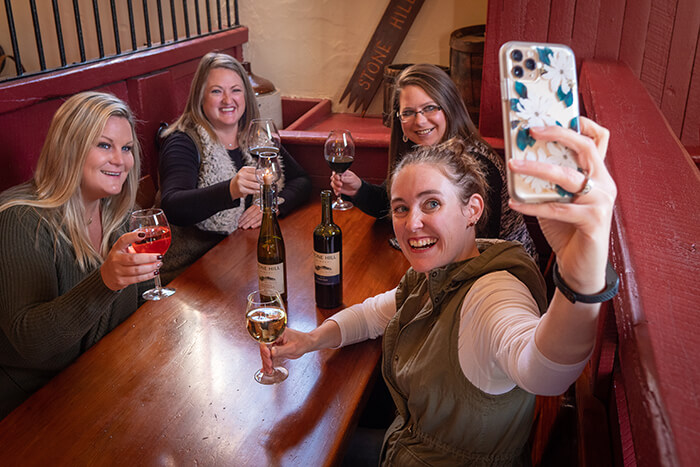 Explore the Wineries
In and around Hermann, there are plenty of wineries, and you can't go wrong with any of them! Enjoy tastings, tours, picnic areas, and stunning river or hillside views.
ADAM PUCHTA WINERY
1947 Frene Creek Road
Perched on the banks of Frene Creek, Adam Puchta Winery is the oldest continuously owned family winery in the United States. For over seven generations, the Puchtas have strived to bring you balanced, quality, Missouri-made wines. Live music, special events, and hospitality make guests feel like family.
DIERBERG – STAR LANE – THREE SAINTS TASTING ROOM
338 E 1st Street
A variety of California wines from Dierberg Estate Vineyards and Star Lane Vineyards, as well as Three Saints wines from the Dierberg family's vineyards in Santa Barbara County, are available for tasting and purchase.
G. HUSMANN WINE COMPANY
302 East First Street
Named in honor of George Husmann, considered the Father of the Missouri Grape Industry, G. Husmann Wine Company offers visitors a variety of red, white, and specialty wines for tasting and purchase.
HERMANNHOF WINERY
330 East First Street
Hermannhof Winery offers views of cellars and buildings on the National Register of Historic Places, and a tasting room for Hermann wines. Deli food, including locally-made German sausages, is available. Music is often heard on the outdoor patio in the summer.
LOST CREEK VINEYARD
21356 Gore Road
The vineyard is located on a scenic, pastoral property overlooking the Missouri River Valley and adjacent to the KATY Trail. Friendly, knowledgeable staff members introduce visitors to over twelve acres of Chardonel and Noiret grapes, as well as to made-on-site Lost Creek wines, soft drinks, beer, and a variety of snack items.
OAKGLENN VINEYARDS & WINERY
1104 Oak Glenn Place
Originally the site of a winery founded in 1859 by George Husmann on a ridge overlooking the Missouri River just east of Hermann, OakGlenn Vineyards & Winery still grow some of Husmann's original Norton grapes. The wine list includes red, rosé, and white wines ranging from dry to sweet. Beer, soft drinks, and mixed drinks are also available. In the summer, live music events play Saturday and Sunday afternoons on the outdoor patio.
STONE HILL WINERY
1110 Stone Hill Highway
Missouri's oldest and highest awarded winery sits high on a hilltop with an impressive view of the town of Herman. Free, daily guided tours take visitors through the largest series of cellars in North America and showcase how award-winning wine is made. Wine tastings and a large gift shop with regional goods and artisanal treats await visitors. Visitors can explore the historic winery and cellars, taste award-winning wines, dine in the Vintage 1847 Restaurant, and relax while enjoying Stone Hill.
If you want to add a bit of fun to your winery expedition, you can also hop aboard the Hermann Trolley. One of the best ways to ensure safe travels between destinations, and create unforgettable times with your friends!
Whiskey or beer more to your liking? Be sure to check out the distilleries and breweries in town too!
Seek Adventure
If you're seeking some movement and adventure during your Hermann girl's getaway, Hermann offers plenty of choices. Consider a bike or a hike down the nearby Katy Trail, or trek to the top of Grand Bluffs for an unbeatable view.
Create Missouri River memories with Paddle Stop. Their voyager canoe is a stable vessel that seats up to 10 and has a captain who will take the reins with steering and instructions on a leisurely trip along a picturesque section of the Missouri River. For an extra special end to your day, check out the Full Moon Paddle and experience the sun set and moon rise on the river.
Are you more of a thrill seeker? Soar through the trees at heights up to 250 feet at Eco Adventure Ziplines, which utilizes living trees and the natural contours of the land to provide an eco-friendly zipline adventure. Open only on weekends for 2022, so make your reservations early.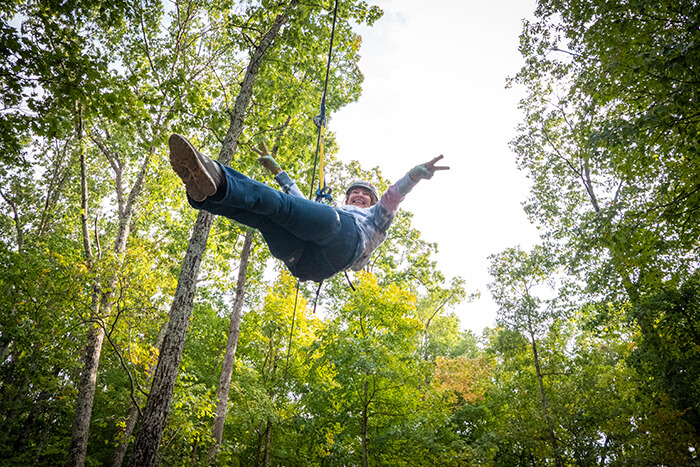 Find Your Inner Yogi
Disconnect from day-to-day stress and experience yoga on the stunning bluffs of the Missouri River or among the beautiful winery scenery.
Start your Saturday on the bluffs with overlooking Hermann and the Missouri River at Hermann Hill. Breathe in the fresh air and re-center as you bask in the extraordinary view. Yoga on The River Bluff, is open to the public and mats provided. $10 per person donation to the Hermann Food Pantry is optional.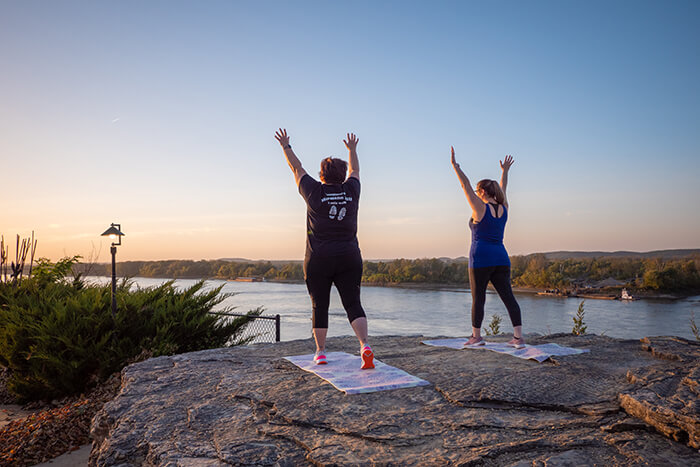 Take your girls out to the unique and memorable experience of Goat Yoga at Adam Puchta Winery! Part Yoga, Part Animal Assisted Therapy. Get ready for an unexpected experience that will leave you feeling relaxed and with a smile on your face. No yoga experience needed. Check the Calendar of Events for the next opportunity!
Schedule a Spa Day
Hermann is a great spot to relax and unwind with a scheduled spa getaway. Massages, facials, reflexology, and aromatherapy are all available at Hermann Hill, a wonderful boutique hotel. There are also other great treatments such as bodywork, paraffin waxes, toning facials, and infrared sauna treatments available at Massage for Your Health. Or take the relaxation home with you with help from Market Street Scent Works. Here are a list of all the spas that Hermann has to offer you and your girls!
EDEN SPA
2070 Village Lane
Eden Spa, a premiere spa in Hermann, offers customized massages to suit every client's need, from chronic illness, oncology, stress/anxiety, and relaxation, no matter the age.
KNEADING OASIS
314 Market Street
Dedicated to promoting wellness in life through experienced and professional massage therapy. Kecia says, "It's my life passion, besides a calling, to be able to provide needed therapy, whether it's pampering, de-stressing, or therapeutic, I'll give it my all to bring you sweet relief." By Appointment Only.
HERMANN HILL SPA
711 Wein Street
Customized massage in guestrooms or at the state-of-the-art spa. Options include couple's massages, facials, foot reflexology, stress fix, deep-tissue massage, Katy Trail biker's massage, and massage for the mother-to-be.
MASSAGE FOR YOUR HEALTH
1011 Market Street
Massage for Your Health offers many types of massages, including Swedish, Myofascial Release, Lymphatic Drainage, Craniosacral, and Hot Stone. Visitors can also benefit from Reflexology, Raindrop Technique, De-Stressing Technique, and Paraffin wax for hands/feet as well as from a sauna and a float room.
TAKE IN SOME ART
Despite its small size, Hermann has a vibrant and well-developed arts and culture scene, complete with its own arts council that supports both visual and performing arts. From April through December, the town holds First Friday Art Walks on the first Friday of each month. You can also get your art fix by strolling through Hermann's murals, which show early town life. They're painted alongside buildings on First, Schiller, and Market streets, as well as within the Gasconade County Courthouse.
You can even get creative and make your own art at one of the guided classes at The Blank Canvas or stock up on supplies to take home from Quilting Bee Fabrics and Silver Owl Specialty Quilt & Fabric!
EXPLORE ALL THE SHOPS
Who doesn't love some good retail therapy? Hermann has an assortment of shops for you and your girls to browse around. You might find the piece for which you've been searching – or the piece you didn't know you needed! If it's time to add little bling or spruce up your look, check out these shops that offer women's fashion:
MISS JESSICA'S JEWELS
314 Market Street
Miss Jessica offers visitors Paparazzi Accessories. She says they are "always fabulous, always fashionable, and always $5."
RACHEL'S RUSTIC ROOM & BOUTIQUE
411 Market Street
Rachel's Rustic Room & Boutique specializes in vintage, farm house, industrial furniture, home décor and women's clothing.
RIVERVIEW BOUTIQUE
406 Market Street
With live sales every Monday and Wednesday featuring new arrivals, this boutique ships a wide variety of trending clothing, shoes, and accessories all over the USA and Canada.
SEASONAL TREASURES & GIFTS
226 East First Street
Gifts, including wall décor, greeting cards, purses, baby items, clothing, men's items, hats, and jewelry, as well as a Christmas room.
THE VINE BOUTIQUE
106 Schiller Street
Women's and children's clothing boutique featuring the latest fashion trends, along with jewelry, purses, soaps, lotions, and accessories. The Vine also carries a large selection of home décor featured by T & T Home Designs and a great selection of unique gifts.
If you want to bring home a souvenir to remember your unforgettable girl's trip, then check out a few of these gift and souvenir shops!
BACK HOME AGAIN
307 Schiller Street
Gift shop offering unusual gift and décor selections, with a European flair and a great selection of teas, jellies, and salsas. German steins fit right in with the culture in Hermann, and various international gifts include Russian nesting dolls, German weather stations, and Lithuanian candle houses.
MISSOURI'S TRADING POST
413 Market Street
A family-owned store featuring Missouri artists and quality crafters. A place to find gifts, décor, and clothing, including handcrafted, custom designs, as well as furniture, jewelry, spices, signs, baskets, pillows, soaps, flower arrangements, Myra bags, and holiday décor.
TERRAFLORA BOTANICALS & GIFTS
217 East First Street
Full-service florist, featuring botanicals, home décor and gifts, Inis beauty products, and ladies' clothing. Floral delivery to Hermann and nearby area.
TIME FOR MEMORIES
207 Schiller Street
Hand-crafted items such as jewelry, baskets, quilts, dolls, pillows & signs. Shoppers can find things Grandma had or made – such as Afghans, shawls, China, teas, jams, jellies, and teapots. Original art by local artist, Karen Steiner, including oils, watercolors, acrylics, pastels, and colored pencil. Art classes offered for all ages.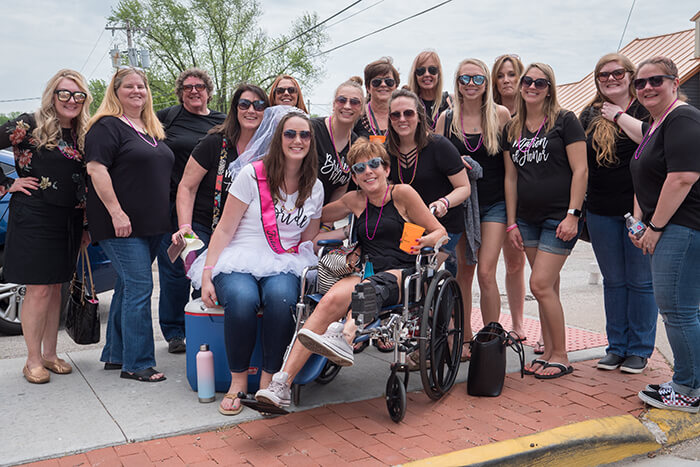 PLAN YOUR STAY
Start planning your overnight stays at VisitHermann.com where you can search over 150 Lodging Establishments! You can filter by check-in/out dates, occupancy, and amenities. This is the BEST way to make sure you find lodging in Hermann and at the best available price, as you are booking direct!
Contact the Visitor Information Center at Amtrak Station with any questions you have about planning your girl's getaway in Hermann. You can call 573-798-0771 or email TourismServices@VisitHermann.com. You can also receive a digital copy of our Official Visitor Guide by subscribing here. Happy traveling!