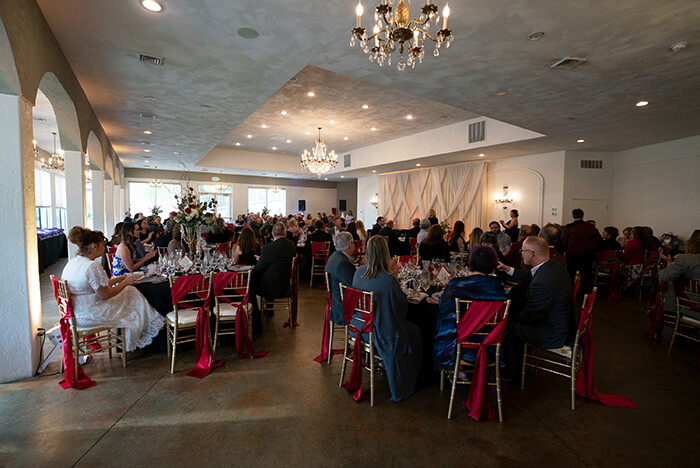 Missouri Wine MVPs Celebrate In Person
June 1, 2021
April 23, 2021—The Missouri Wine MVPs gathered at Hermann Hill for a fantastic night celebrating fine wine and friendship. Attendees were excited to once again don their finest dresses & suit jackets to honor the special occasion. After all, not just anyone was invited to attend.
Seats were reserved for guests who have traveled and sipped all across Missouri wine country. Missouri Wine MVPs earned their invitation as part of the Missouri Wine MVP program—an initiative from the Missouri Wine and Grape Board. The program was implemented in fall 2016, encouraging wine lovers to explore Missouri wine country and earn rewards, such as tickets to the banquet. Anyone over 21 years of age can become a member at missouriwinemvp.com.
Earning points is easy. Whenever a guest visits a participating winery, they simply ask for a Missouri Wine MVP ticket. Enter the code on the Missouri Wine MVP website and track points. Winery visitors can start saving tickets before they create a MVP login. Points can be redeemed for an extensive collection of rewards and perks. Choose from sipping essentials like a wine tapa glass cover, vacuum pump, vino-to-go tumbler, and carrier. MVPs could decide to use points on exclusive experiences like tours, tastings, and winery shopping discounts.
Participation in the Missouri Wine MVP program is voluntary for both participants and wineries. A full list can be found here. Check it out and recognize Hermann area favorites including:
Adam Puchta Winery
Curling Vine Winery
Endless Summer Winery
Hermannhof Winery
Lost Creek Vineyard
Martin Brothers Winery
OakGlenn Vineyards & Winery
Robller Vineyard
Stone Hill Winery
White Mule Winery
The event was a night to remember! Hermann Hill created a wonderful atmosphere which can be seen in some of the event photos below. Thank you to all who attended!
Schedule your winery tours and tastings today to start earning points.
View Wineries >