The Showboat's Inspiring Play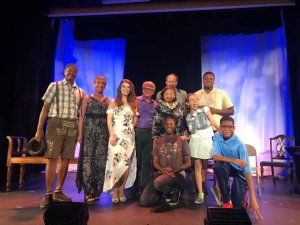 On July 20th, the Hermann Showboat Theatre offered residents and visitors a unique opportunity to see firsthand, a high-quality live theatrical production showcasing a piece of history, uniquely tied to the Missouri River Valley and its strong German heritage. Playwright Cecilia Nadal's work, "An Amazing Story: German Abolitionists of Missouri," was, in part, inspired by her visit to Hermann's Deutschheim State Historic Site, where she learned about the German immigrant abolitionists of the area.
The fascinating production, co-hosted by the Showboat's many volunteers and local sponsors, focused on the little-known history of German immigrants and enslaved African Americans in mid-19th century Missouri. Oppression experienced in Europe brought German immigrants to the Missouri River Valley and caused them to empathize with the African Americans. Their understanding of the enslaved people's plight and their fight for their freedom unified members of the two diverse communities in a unique way.
Prior to the play's opening act, Nadal stated, "My hope as you watch this play, is that you will admire these incredible men and women, both African American and German, and that there is something that will touch you for us to go to that higher level of fighting for a democracy which is as it should be."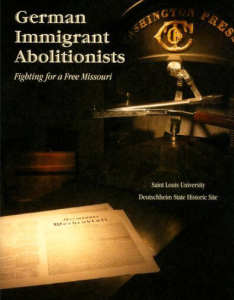 Hermann appreciated the opportunity to host Nadal's exceptional production, and its unique ties to the area made the experience even more memorable. If you're interested in visiting Deutschheim State Historic Site, you can find it in Hermann at Second and Market Streets. Open year-round, it is a great place to learn about the rich history of the German immigrants who came to America, seeking freedom and opportunity.
Guided tours include the Hermanner Wochenblatt newspaper, featured in the play, and its editor, an outspoken opponent to slavery. Visitors to the Deutschheim visitor center can purchase "German Immigrant Abolitionists: Fighting for a Free Missouri," a publication of Deutschheim written by Dr. Sydney Norton of St. Louis University, that shares the story of German immigrants and their fight against slavery in Missouri.
To learn more about Deutschheim State Historic Site, click here. Read what Cecilia Nadal wrote about the play on her Gitana Productions website here.