First Day of Forever
December 20, 2021

Get Married In Hermann, MO
Are you searching for the perfect location to host your dream wedding? Plan to have it in Hermann! Tucked in the heart of Missouri wine country, historic Hermann's scenic vineyards, lush woodlands, and rolling hills provide the perfect backdrop for an elegant, picturesque, countryside wedding. Accompanied by the gorgeous scenery, Hermann is also home to an assortment of luxurious accommodations including: local restaurants, shops, and lodging options that are sure to make you and your guests feel at home. Whether you're looking for something small and intimate or something scenic and grand, Hermann is sure to provide you with everything that you're looking for on your special day.
The Venues
When you plan a Hermann wedding, there is one thing that you can always count on: a venue with a view. Hermann offers a variety of wedding venues that showcase the heart of wine country. With plenty of options to choose from, you and your partner are sure to find something you will both adore. Dreaming of a riverside wedding at sunset? Check out venues like Hermann Hill. Prefer something more rustic? Sweet Clover Farm Events has you covered. However you imagined your big day looking, Hermann is sure to have the wedding venue that will make all of your dreams come true. Find the complete list of current venues on our website here.
The Town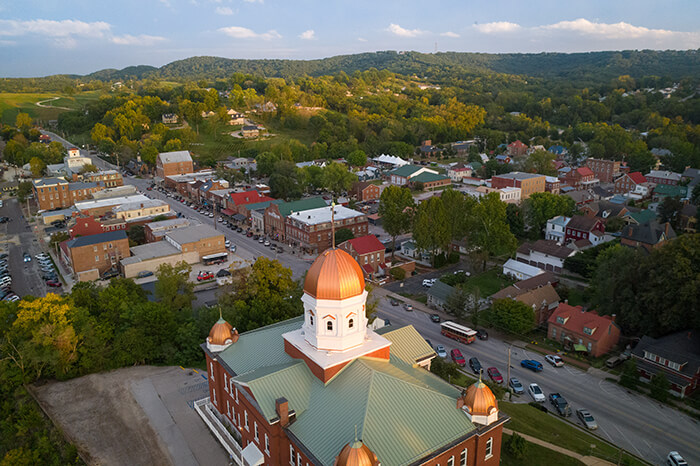 You're not the only one who will enjoy your Hermann wedding; your guests are in for a treat as well! Historic, downtown Hermann is home to an assortment of local shops and restaurants that will immerse your guests in local lively culture! Swing by local favorites such as Vintage 1847 restaurant for a taste of German fare, or invite your guests to extend the after party to the Hermann 1837 Cellar Bar or The Piano Bar for live music and drinks after your reception. Your guests are sure to be impressed with the charming allure of Midwest hospitality!
The Accommodations
Lodging is another reason why Hermann is the ultimate destination for your all-in-one dream wedding. Herman offers more than 300 different guest rooms in all price ranges. Your family, friends, and guests are able to choose from a plethora of options, ranging from laid-back lodges, to tree top cottages, or even cozy bed and breakfasts. Whatever they decide, your guests are sure to feel right at home. Explore Hermann lodging here.
Hermann Wedding Trail
Are you eager to discover more about Hermann weddings? Be sure to attend the Hermann Wedding Trail on January, 15th 2022. Held three times throughout the year, the Hermann Wedding Trail is a great way for engaged couples and their families  to explore everything Hermann has to offer for their special day. You and your partner will spend the afternoon discovering a wide variety of wedding vendors including florists, bakers, caterers, and more to discover how a Hermann wedding is right for you! Interested in attending? You can learn more about the Hermann Wedding Trail here.