Christmastime in Hermann: Honoring Old Traditions & Creating New
November 6, 2023
In Hermann, Christmas isn't just a holiday – it's a season woven with threads of cherished, age-old traditions, many of which came with settlers who immigrated here from Germany.
As the wintry weather settles in and the promise of twinkling lights, garland, gingerbread, and cherished time with friends and family takes root, Hermann is the perfect place to embrace old traditions and create new ones.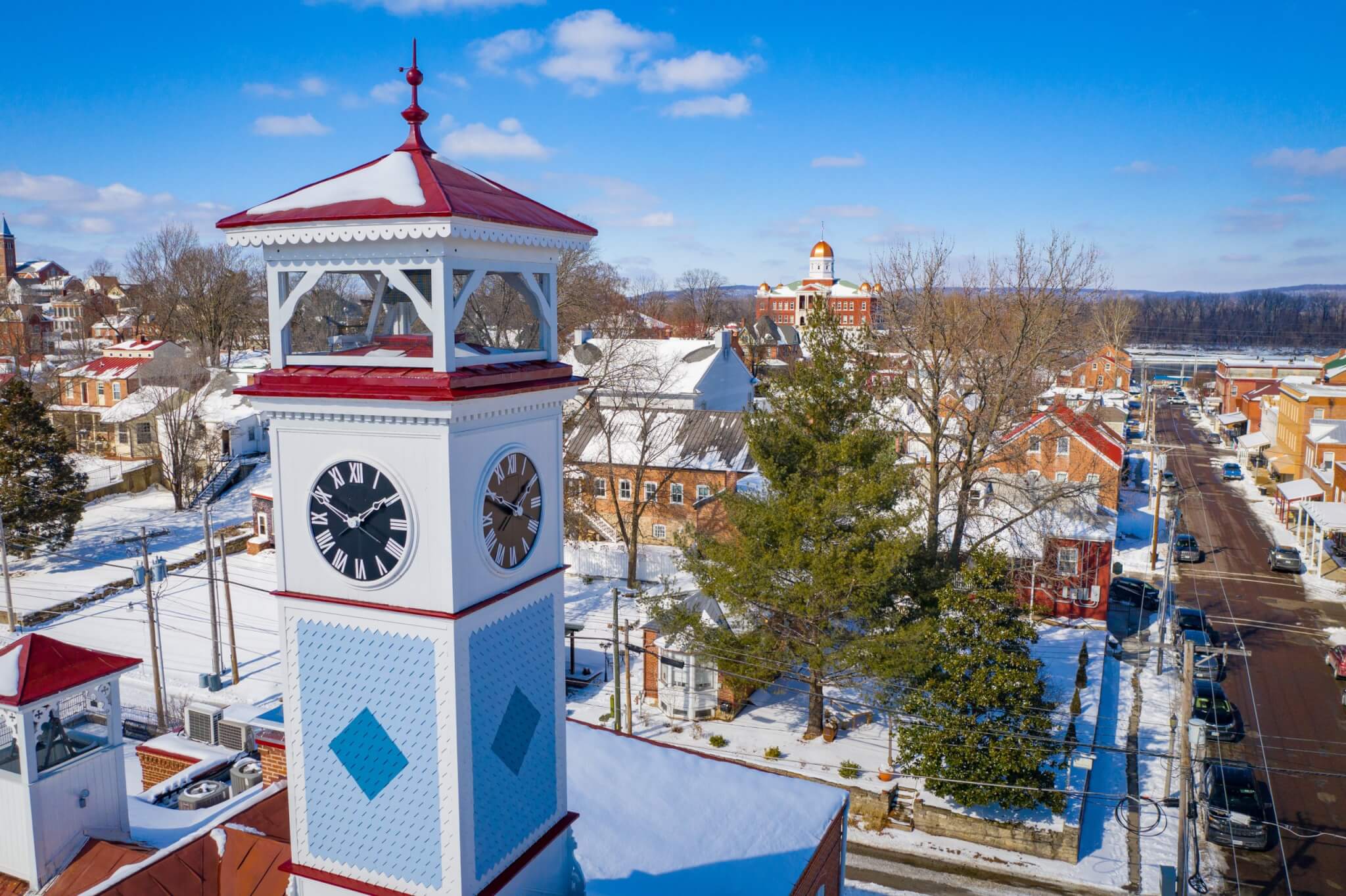 From the enchanting melodies of holiday music to the joyous shopping atmosphere, unforgettable dining experiences, and an abundance of Christmas spirit, Hermann offers something for everyone to enjoy during this festive season.
In Hermann, the fun begins with a traditional Lantern Parade just after Thanksgiving and ends with the annual ringing of the bell in the Clock Tower to usher in the New Year. We've made planning easy with a schedule of all the upcoming holiday events. Below are a few activities you won't want to miss.
Children's Lantern Parade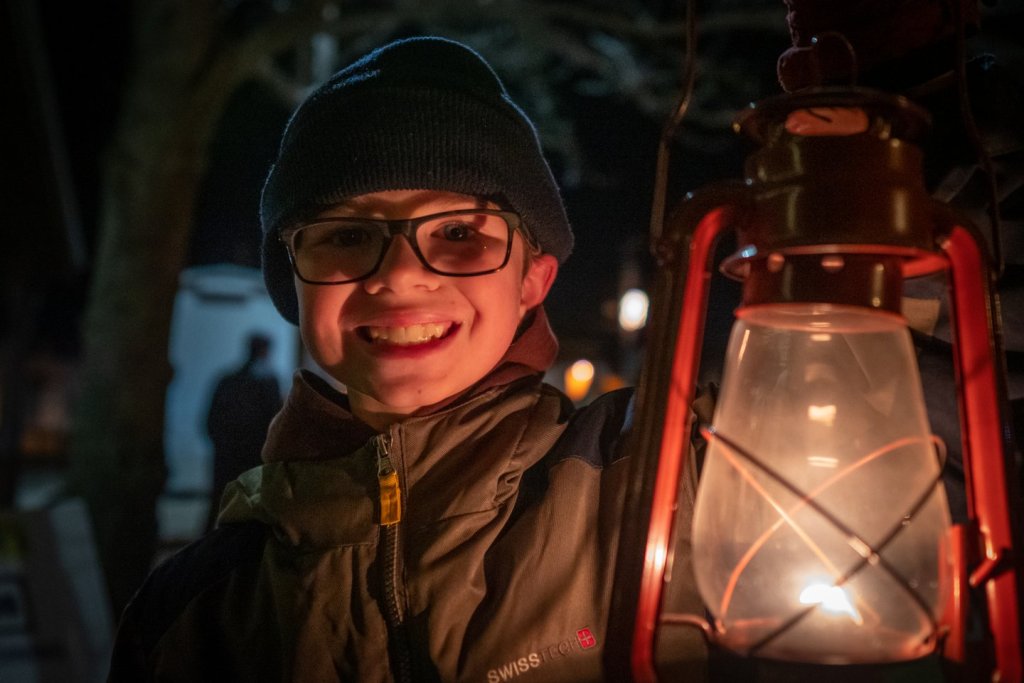 Join us to jumpstart Hermann's Christmas season Friday, November 24 with the annual Children's Lantern Parade. This tradition is inspired by the legend of a compassionate knight who shared his lantern with a beggar in the bitter cold, instilling in our youngest generation the significance of being beacons of hope during the darkest nights.
All are invited to craft and bring lanterns made from tin cans, tiki torches, paper lanterns on poles, kerosene lanterns, or any other imaginative creation you can conjure.
Illuminate the night in a spectacular display of light and cheer. Witness a dazzling array of Christmas lights, enjoy everyone's favorite seasonal carols, and savor holiday treats.
Embark on a Holiday House Tour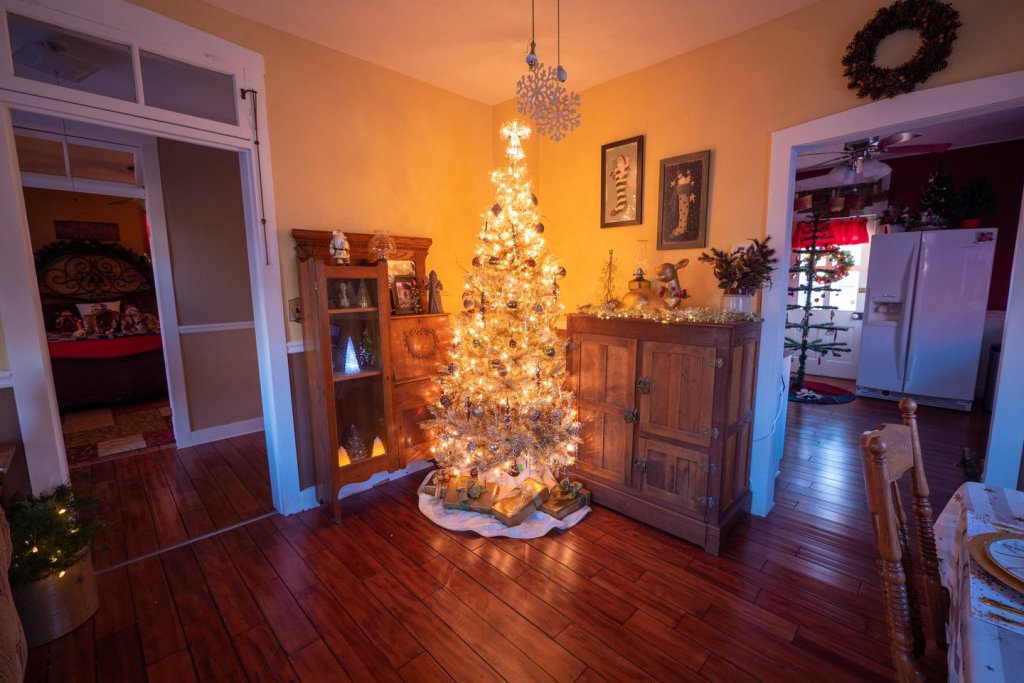 Set for Saturday, December 2nd, the Hermann Holiday House Tour is an annual favorite. Take in the sights of beautifully decorated homes, the smell of cinnamon, cider, and pine, and the sounds of Christmas melodies as you walk through a selection of homes decked for the season. Tickets for this family-friendly event sell fast, so reserve your spot soon.
Christmas Tablescapes at the Rotunda
Visit the historic Rotunda Saturday and Sunday, December 2-3 and December 9-10, to be enchanted by the dazzling display of Christmas Dinner tables. Whether your taste leans toward elegance or you embrace a cozy country charm, these beautifully set tables will ignite your inspiration. This experience promises delight for the entire family to cherish.
Be a Part of the Hermann Holiday Tradition
Join us for Weihnachtsfest – or "Christmas festival" at the Deutschheim State Historic Site. Step into a charming 1840s German American home adorned with classic Christmas decor at an open house on Saturday and Sunday from December 2 to December 12, 2024.
Visitors can sample traditional German Christmas cookies and see antique feather trees, fragile hand-blown ornaments, delicate Scherenschnitte, sugar ornaments and antique toys on display. A traditional outdoor Christkindlmarkt cart selling Springerle molds, German pop-up cards, ornaments and books will be set up at the entrance on Second and Market streets (weather permitting).
Take a Holiday Tour of Hermann Farm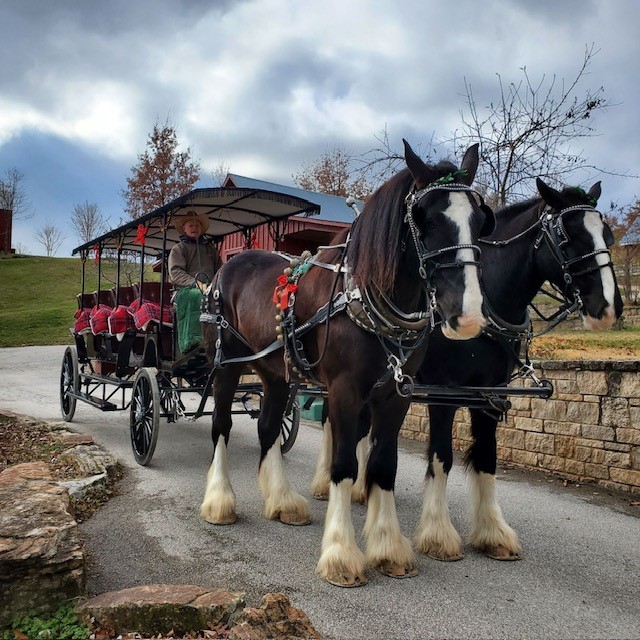 The holidays are a special time at Hermann Farm, where German traditions are celebrated with tours of historic buildings, decorated in period style. Join us for a festive, informative, 1.5-hour tour of the historic Hermann Farm via a four-seat surrey pulled by magnificent draft horses. Enjoy snacks and refreshments at Hermann Farm Distillery as the final attraction on the tour.
This tour is offered at 10:30 PM & 1:00 PM on Friday-Sunday, December 1-3 and December 8-10. Tickets can be purchased online.
Hermann Farm will also be offering 1/2-hour carriage rides through the Farm as well as the Shire Experience at various times from November 30 through December 10.
Shop the Christmas Markets
Enjoy Christmas crafts, treats, carolers, and mulled wine at the annual Kristkindl Markt at Hermann's Stone Hill Winery, renowned for its rich history and award-winning wines. The free event is Saturday and Sunday, December 2-3.
Christkindl Markt at Hermannhof evokes the ambiance of European Christmas markets. Set for Saturday and Sunday, December 9-10, these markets are cherished for their authenticity, hospitality, and the joy they bring during the holiday season.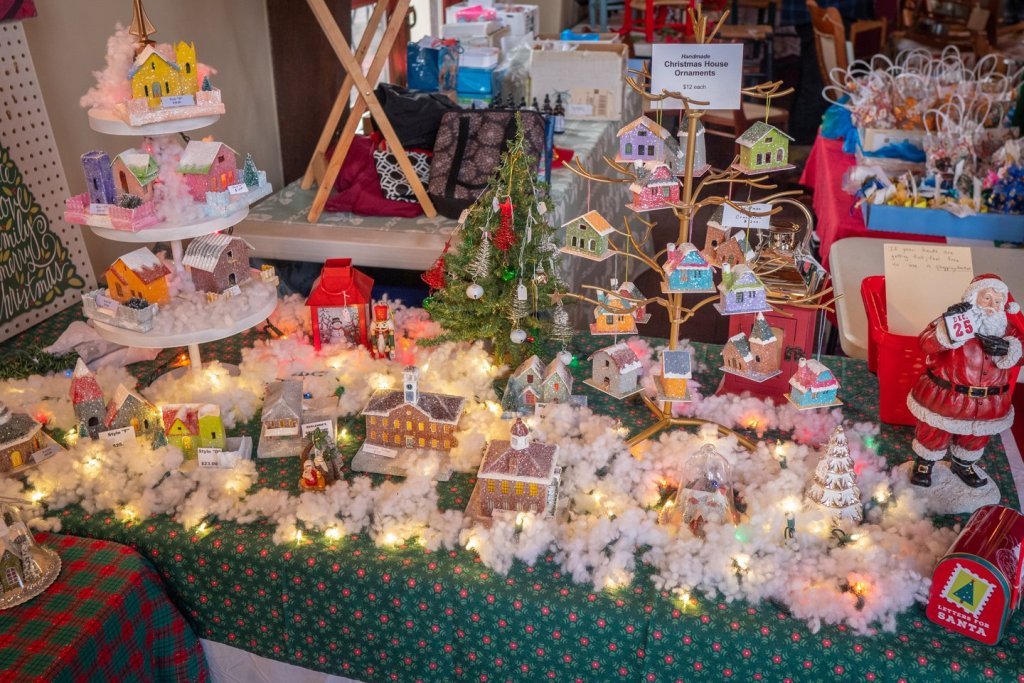 Visit Jolly Ole' St. Nick
Better known in Germany as "Weihnachtsmann," Santa Claus will be at Sugar Momma's on Sunday, December 17th. Stop in for a heartwarming tradition that adds a touch of magic to the holiday season. Bring letters, take a photo with Santa, and indulge in your favorite holiday treats!
Check Out the Antique Springerle Exhibit
For only the second time, the public can visit a special exhibit of antique hand carved Springerle molds on display in the Visitor Center at Deutschheim State Historic Site.
Springerle is a German cookie served during the Christmas season. Anise flavored Springerle cookies have been molded and baked in the southern region of Germany for at least a millennium. The carved motifs reflected the interests of people at the time and were used to tell stories. This unique collection features treasures like an intricate 18th-century double-sided mold, charming child's rolling pins, and 19th-century motif molds.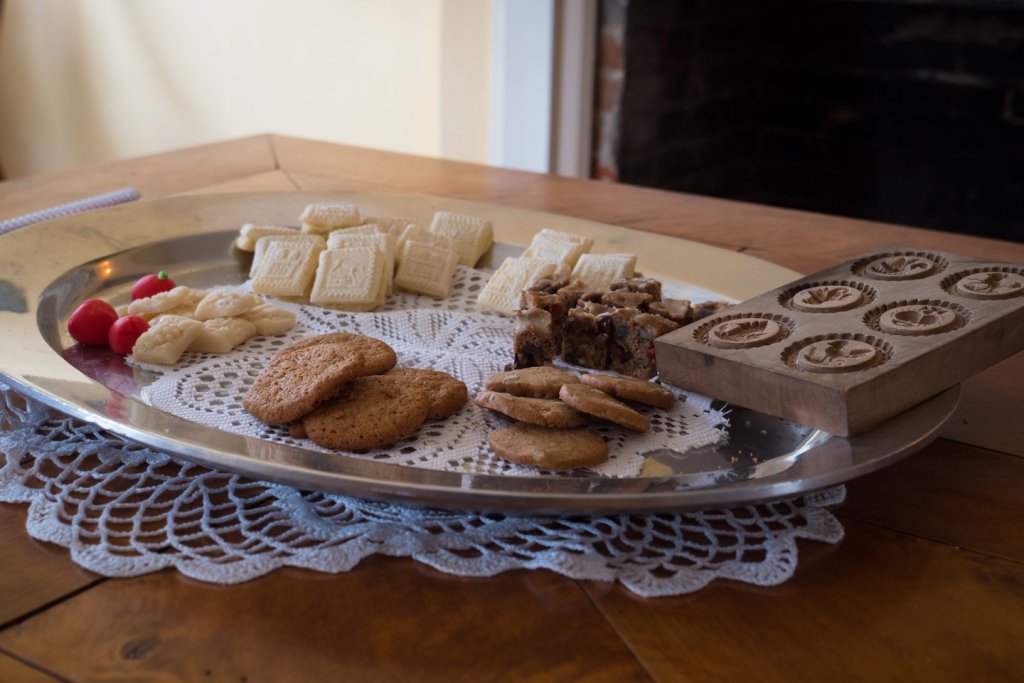 The Antique Springerle Exhibit will be showcased every Thursday through Sunday from December 1 to December 31.
Enjoy Sweet Treats on the Annual Cookie Walk
Hermann's Annual Cookie Walk, Friday and Saturday, December 15-16, is an opportunity to enjoy the season's simple pleasures, savoring delicious treats as you walk through the town collecting cookies from our participating businesses. Tickets are $20, and one ticket represents one cookie walk collection bag. This year's event features at least 20 participating businesses, which means you'll get at least 20 cookies per ticket.
Delight Your Senses Food, Music, and Entertainment
Helping round out November and building holiday spirit, the Sounds of Starkenburg Concerts and Christmas Market are scheduled for Saturday, November 25th. Take in a pipe organ concert with guest vocalists and musicians at the historic St. Martin's Church Museum in Starkenburg. Guests also can purchase savory soup and desserts at the soup supper.
Get ready for an evening of interactive entertainment at The Most Wonderful Crime of the Year: Murder Mystery Comedy! Professional actors will bring a thrilling story to life on Saturday, December 16th at the historic White House Hotel.
Dive into the action, interact with intriguing characters, uncover clues, and piece together the puzzle in this comedy-filled murder mystery that guarantees a night of non-stop fun and excitement. This event is for adults ages 18 and older, and it's the perfect excuse to don your most festive, over-the-top holiday attire – think ugly sweaters, in-law-gifted garb relegated to the back of the closet, and garish color clashes.
Whether you're a seasoned detective or a first-time sleuth, the evening is sure to be a memorable one.
Friday, December 8, is the Great Stone Hill Beast Feast. A fundraiser for the Leukemia and Lymphoma Society (LLS), 100 percent of the money raised, including ticket sales, will be donated to the LLS. The night will feature wild game appetizers, dinner, raffles, silent and live auctions!
Holiday Spirits in the Air
Whether you're sipping mulled wine, toasting with champagne, or trying festive cocktails, the holiday season invites the enjoyment of unique drinks and social gatherings. With a variety of wineries, bars, and distilleries, Hermann has the perfect place for family and friends to celebrate.
A Marshmallow World- Holiday Pop-Up Bar experience will be held Friday and Saturday nights, November 24 through December 31. Join Evergreen for a unique and festive experience to bolster the holiday season! Escape the hustle and bustle of the holidays and relax in a cozy winter wonderland while sipping holiday-inspired cocktails and beverages.
Embark on a whiskey adventure on the Hermann Whiskey Trail Saturday and Sunday, December 2-3. Paid guests (tasting or non-tasting) can enjoy complimentary rides on the Hermann Trolley to journey between six unique whiskey stops. Receive a commemorative glass and get the chance to win a grand prize when you visit all the stops.
Santa Rampage is a fun pub crawl where over 120 "Santas" join in the fun to benefit the Community Christmas charity and help provide toys and clothes to local children in need. The event takes place Saturday, December 9 at Celebration Hall at the Tin Mill Restaurant. After the crawl, there will be dancing and a silent auction.

Indulge in a delightful wine and cheese pairing experience on the Say Cheese Wine Trail, featuring classic and creative combinations. This annual event occurs on Saturday, December 9. Tickets can be purchased online or by calling the Hermann Chamber of Commerce. This limited opportunity allows you to explore seven area wineries. The ticket price does not include transportation to the wineries.
Whether you're ready to celebrate classic traditions or forge new ones, Hermann is the perfect place to revel in the holiday magic.