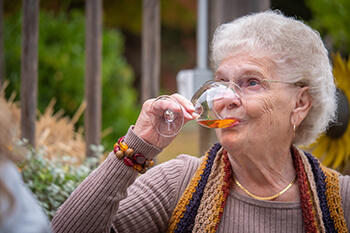 Headlines & Grapevines Volume 14
April 1, 2021
35+ Hermann Wines Perfect for Pairing with a Delicious Easter Dinner
Find the perfect wine pairing for your Easter celebration this year!

Try a twist on a traditional Easter brunch drink with Hermannhof Winery's Brut Reserve or Stone Hill Winery's Blanc de Blancs. Splash a favorite berry wine on top with Adam Puchta Winery's Berry Black or Endless Summer's Blueberry or Blackberry.

Snacking on some salty or savory finger foods while the kiddos are hunting for eggs? Try pairing Martin Brothers Winery Dry Wildflower Mead or Orange Blossom Mead with salted nuts, meats and soft cheeses. If you're ready to devour those colorfully dyed hard boiled eggs, try a Traminette with deviled eggs! Hermannhof Winery has a sweet Traminette while Röbller Vineyard & Winery's Traminette is an off-dry.

Wines to Pair with Protein
The best wine to pair with your main course depends on which protein you'll be serving. Going with a ham? The Chambourcin from Stone Hill Winery (dry) or Lost Creek Vineyard (semi-dry) are great choices. Try a dry to semi-dry rosé this year. Hermannhof Winery has a dry Vin Gris and Curling Vine Winery has a semi-dry Ultimate Rosé.

What wine pairs well with lamb? Three varieties to consider are Chambourcin, Norton, and Pinot Noir. The Chambourcin found at Adam Puchta Winery is dry, named Situation Red, while Curling Vine Winery's dry is simply called Chambourcin. Nortons from Hermann, Missouri include Adam Puchta Winery's Vintner's Reserve Norton and Cross J Vineyard Norton from Stone Hill Winery. If you prefer a Pinot Noir, you may also like a bottle from Dierberg & Star Lane Vineyard or Le Trompier Noir, a pinot noir inspired wine from Röbller Vineyard.

Pair a new wine with duck this Easter. Try the Norton from Hermannhof Winery or the 1818 Reserve Norton from Röbller Vineyard. Dierberg & Star Lane Vineyard also has a lovely Syrah available. 

Round out your Easter dinner menu with some veggie side dishes. If you have asparagus or spring peas with mint, you can pair a Vidal Blanc from OakGlenn Vineyards (semi-dry) or Hermannhof Winery (dry). If you're planning to serve creamed spinach or roasted vegetables, a Chardonel makes a delightful pairing. Try the dry Chardonels from Lost Creek Vineyard or Curling Vine Winery this spring.
Wines to Pair with Sweets
According to WCFCourier.com, 76% of Americans bite the ears off their chocolate bunny first. If you find yourself enjoying a white chocolate bunny this year, you may find yourself pairing it with a Sherry from Curling Vine Winery by the name Savvy. Stone Hill Winery also offers a Cream Sherry. If you prefer a sweet sparkling wine, give OakGlenn Vineyards & Winery Temptation a try.

Concord wine is an excellent choice to pair with the famous Reese's peanut butter cups (think PB&J). Grab a bottle of Stone Hill Winery's Concord or Hermannhof Winery's Stags Wood Red. If the infamous bunny fills your eggs with the famous Cadbury eggs, you'll want to pour yourself a sherry or port-style dessert wine like the Adam Puchta Winery Anniversary 1855 Sherry or White Mule Winery's Mule Shine.
Dark chocolate desserts like chocolate torte or flourless cakes are complemented by port or port-style wine like the Stone Hill Winery's Port or Adam Puchta Winery's Signature Port. On the other side of the spectrum, lighter desserts like cheesecake or lemon meringue pie pair better with a Vignoles. The Vignoles by Adam Puchta Winery is a semi-sweet while Stone Hill Winery's Reserve Vignoles is a dry wine.
Whether you're planning a multi-course Easter feast or just want to have a few bottles on hand in case company stops by another time this spring, you're sure to find a diverse selection of wines in Hermann! Plan your visit and tasting tour today to find your favorites. View area wineries here.
Brand New Menu Items to Rejoice About This Spring
Trees and flowers are budding and beginning to bloom. We're celebrating new flavors, menu items, and businesses right here in Hermann! 

Looking for a sweet or savory treat to get your day started on the right note? Be sure to stop in and welcome Sugar & Spice Laura's Delights II to Hermann! This bakery is conveniently located on Market Street and offers a variety of fresh donut and pastry options in addition to hot, made-to-order breakfast or lunch items. Enjoy some coffee and breakfast in their dining room or take it to-go.

Doxie Slush is open again and has four  new frozen flavors on their extensive menu. They are: German Chocolate Bushwacker, Peach Tea Mint Julep, Spiced Carrot Margarita, and Kiwi Cucumber Smash. Having trouble deciding which goes with your favorite coastal inspired dish? Make it a flight and get three 7oz pours for only $15. It's also worth noting there are a variety of gluten free options and outdoor dining available on their downtown patio. View local eateries here.
Top 7 Last-Minute Easter Gift Ideas Your Little Ones Will Love
Each year, the Easter bunny gets credit for delivering millions of eggs. Children dream of chocolate bunnies while parents scramble to assemble baskets and fill eggs, sometimes hiding them in the wee morning hours to avoid pets finding them first! 
Looking for some last minute basket fillers? Check out our top seven last-minute Easter gift ideas for school-age youth and younger:
Playmobil Toys – Blondie's Dolls

American Girl (or 18" doll) clothes – Blondie's Dolls

Melissa & Doug toys – Espresso Laine

Fashion Jewelry – Jessica's Jewels

Cards & Games – Espresso Laine

Candy and Treats – Sugar Momma's

Fresh made Chocolates – Ricky's Chocolate Box
Find a list of local shops on our website here.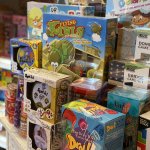 Just in Time for Warmer Weather: Apricot Sour, Blackberry Sour, and Imperial Coconut Stout at Tin Mill Brewery
Located in the heart of historical downtown, Tin Mill Brewery in the landmark 100 year old tin mill. The majority of beers are brewed in accordance with Reinheitsgebot, the German Purity Law of 1516. Ingredients are imported front the world famous Hallertau region of Germany, where their authentic copper brewing kettles originate. 
Stop by the Lager House to enjoy fine beers and take the self guided tour around the mill. You'll enjoy seeing the history at your own pace with a beer in hand. Sit and enjoy some tasty lunch or play a few games outside in the beirgarten. Just in time for warmer weather you'll find Apricot Sour, Blackberry Sour, and Imperial Coconut Stout
— which makes a great grown-up float! See a full list of breweries and distilleries here.
Historic Hermann Museum is Devoted to Sharing Hermann's History
Originally built in 1871, what was previously the German School building now serves as the location for the Historic Hermann Museum. The museum is home to an extraordinary collection from Hermann, Missouri's past. Every day items are on display alongside arts, crafts, fine works, instruments, and photographs. The River Room pays homage to the rich culture of the area. Every other day, volunteers come in to hand-wind the old 1890 clock tower mechanism so locals can enjoy the [nearly] on the hour chimes. The museum is scheduled to re-open with safety protocols in place on April 9th, 2021. You can preview the collection in the video below:
Bike to the Grand Bluffs for Amazing Views of Missouri's River Valley
Air up those tires, gear up and head down the Katy Trail this spring! Over half of the trail follows the Lewis and Clark path up the Missouri River. From Hermann, you can cross the Missouri River on the bridge's dedicated bike lane and connect with the Katy Trail. Heading West you can bike approximately 13 miles and arrive at Grand Bluffs Conservation Area.
You'll be greeted by towering bluffs of dolomite rock rising 300 feet above the Missouri River floodplain. Missouri Department of Conservation describes the area as being home to, "slow growing, twisted-formed and ancient eastern red cedars and chinkapin oaks grow from cracks and crevices and along cliff ledges and associated dolomite glades. Turkey vultures, cliff swallows, and eastern woodrats may nest in rocky crevices, under overhangs and rocks and along cliff edges. Giant Canada geese have been known to nest on these cliffs, safe from predators." 
Looking down from the top of the bluffs Heckman Island can be seen immediately below. Now a productive farmland in the floodplain it was named after a steamboat captain who lived in the area. Historically, Meriwether Lewis and William Clark's expedition camped along the banks of the Missouri River just 3/4 of a mile away on May 29, 1804. Explore the great outdoors in and around Hermann this year. Start planning your trip here.