Tours
tours
Tours for groups of 10 or more are available on Sweetie, the Hermann Crown Suites trolley. A narrated 75-minute tour explores Hermann's history, architecture and happenings. For information or to schedule a tour call 573-486-2662.
109 West Second Street, Hermann 65041
573-486-2200
Deutschheim captures the culture and heritage of the Germans who migrated to Missouri in the mid- to late-19th century through exhibits and galleries of changing artifacts and photographs. The site includes the restored Pommer-Gentner and Strehly houses, a four-square demonstration garden and a gift shop. Guided tours are offered at 10:00, 12:30 and 2:30 p.m. $5 for adults, $3 for ages 6-17.
April through October — Open daily, 10:00 to 4:00

November through March — Open Thursday-Sunday, 10:00 to 4:00

Closed Thanksgiving, Christmas, New Years Day, and Easter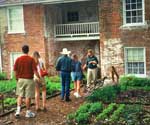 489 South Highway 19 New Florence, MO 63363
314-326-0140
Glide through more than a mile of ziplines at heights up to 250 feet for amazing views of nature. Two courses provide an ecologically friendly adventure that requires minimal walking. Family friendly. Reservations required.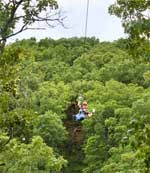 526 East First Street, Hermann 65041
573-486-FARM | contactus@hermannfarm.com
Experience farm life in 1850s Hermann on a 200-acre living history farm. Once the home of George Husmann, world-renowned pioneer in the American wine industry, Hermann Farm is now an open-air museum dedicated to preserving and presenting the unique agricultural, social, and economic history of the German immigrants who settled the lower Missouri River Valley in the mid-1800s. The farm's beloved Shire horses are a favorite attraction.
Self-guided walking tours of First Settlement Village are available from 11:00 to 5:00. Adults $8, ages 3-15 $5. A daily guided tram tour departs at 1:00 p.m. (additional fee). It is recommended that visitors call ahead (573-486-FARM) to check tour availability.
Open from the end of April through the end of October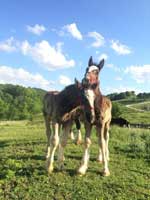 Located in the 1871 German School Building, the Historic Hermann Museum is home to extraordinary treasures from Hermann's past. Special collections include the kinder room, heritage room, Schwighauser room, river room, Els room and music room. The town clock, which has faithfully tolled the hour since 1890, is on display. The museum's gift shop features German heritage items, from toys to rare books. Tours are $5 for adults and $3 for ages 6-18. Children 5 and under free.
Open the third weekend of March through October

Monday-Saturday — 10:00 to 4:00

Sunday — Noon to 4:00

Closed Wednesday
1110 Stone Hill Highway Hermann 65041
573-486-2221
Stone Hill Winery offers free 30-minute tours of its magnificent arched wine cellars, thought to be the largest in North America. VIP and group tours available.
Sunday — 11:00 to 4:00

Monday-Friday — 10:00 to 4:30

Saturday (May-October) — 10 to 6:00

Saturday (November -April) — 10:00 to 5:00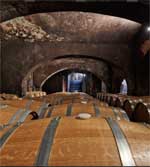 5319 Highway ZZ, Gerald, MO 63037
636-667-1174
Experience Missouri Wine Country by horse-drawn wagon or carriage. Full-day excursions are offered to the historic railroad town of Rusebud and White Mule Winery. Private bookings available.