Hermann Museums
Explore Hermann's fascinating history. After more than 175 years, we've got some great stories to tell.
museums
109 West Second Street, Hermann MO 65041
573-486-2200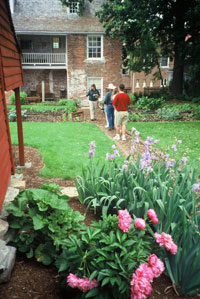 Deutschheim captures the culture and heritage of the Germans who migrated to Missouri in the mid- to late-19th century through exhibits and galleries of changing artifacts and photographs. Sponsored by the Missouri Department of Natural Resources.
POMMER-GENTNER HOUSE—Built in 1840,the Pommer-Gentner House, is a sterling example of high-style German neoclassicism. The house is furnished to reflect the earlier settlement period. The property includes a period garden and small half-timbered barn with 19th-century tools.
STREHLY HOUSE—Built in stages from 1840 to 1869, the Strehly House once housed a German-language newspaper. In 1857 Carl Strehly built a winery next to the house that now displays one of the few remaining carved wine casks in the Midwest.
April through October

Open Daily — 10:00 to 4:00

November through March

Open Thursday-Sunday — 10:00 to 4:00

Guided tours at 10:00, 12:30 and 2:30

Closed Thanksgiving, Christmas, New Years Day, and Easter
312 Schiller Street, Hermann MO 65041
573-486-2017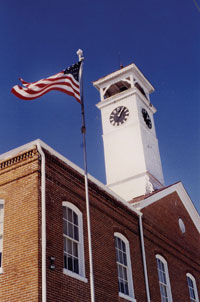 The Historic Hermann  Museum at the corner of Fourth and Schiller streets houses a diverse collection of objects that reflect the history and heritage of the Hermann area. Learn "why and how" settlers immigrated to Hermann from the 1830s well into the 1900s.
Located in the heart of the historic district, the museum is housed in the German School building, which was constructed in 1871 and served as Hermann's elementary school until 1955. The town clock has been operating continuously since 1890.
Highlights of the museum tour include:
HERITAGE ROOM—Handmade wooden grape crusher/wine press, wine bottles and a large variety of wine and beer labels all prior to Prohibition. A pre-Civil War weaving loom. An apple butter kettle and stir, Hermann shoe factory memorabilia. Display cases filled with early memorabilia and an arrowhead collection.
RIVER ROOM—Hermann was one of the busiest ports on the Missouri River. This room has an outstanding collection of photographs, data, instruments and boat models, plus, the original 7-foot pilot wheel and replica of the pilot house of the Pin Oak steamer, ca. 1888. More than 30 boats were built here and weekend excursions were regular family affairs.
KINDER ROOM—Depicts an early school classroom, historical kitchen and Victorian parlor. Dolls, toys and furniture, ca. late 1800s.
MUSIK ROOM—Collection of old musical instruments, early Hermann Band photos and uniforms. Formerly the Principal's office.
LEGACY ROOM—Story and statue of Hermann, Germany's first hero, who stopped the advancement of Rome. Beautiful needlework and clothes. Rare collection of handmade textile printing blocks. Antique quilts. Original handwritten 12 Apostles' Band music books.
ELS ROOM/TOOL ROOM—Hand-carved six-piece master bedroom set ca.1898 created by Louis Els. Many antique tools, a work bench and primitive furniture from the Friedrich Rohlfing family and a Schnitzelbank.
SCHWEIGHAUSER ROOM—Framed illustrations of Grimm's Fairy Tales, local redware pottery, an ornate church pump organ, Dresden pipes, immigrant trunk, a slave quilt and children's toys.
CLOCK TOWER GIFT SHOP—Unique souvenirs, gifts and books on early Hermann immigrant history, river boat history, German cooking and Hermann/Arminius, the man, and the battle that changed history.
Open April through October
Monday, Tuesday, Thursday, Friday & Saturday — 10:00 to 4:00
Sunday — Noon to 4:00
Closed Wednesday

Also open festival weekends and first two weekends of December
Gasconade County Courthouse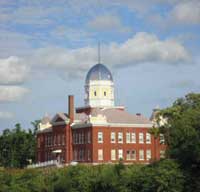 Dedicated on July 18, 1898, the Gasconade County Courthouse is thought to be the only courthouse in America built entirely with private funds. Hermann resident Charles D. Eitzen, a self-made millionaire, willed $50,000 to Gasconade County for construction and furnishing of a new courthouse.
Rising magestically above the river, the courthouse today remains little changed from its original design. Murals by area artists depicting the history of Gasconade County were added as a part of a centennial celebration in 1998.
Open to the public during normal business hours.
315 Schiller Street, Hermann MO 65041
573-486-4028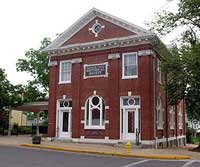 Located in the former Farmers & Merchants Bank building across the street from the Historic Hermann Museum, the Archives Center houses a wealth of historical and genealogical information. Experienced volunteers are on hand to assist researchers.
Tuesday-Thursday — 9:00 to 5:00
Saturday — 9:00 to Noon
526 East First Street, Hermann MO 65041
573-486-FARM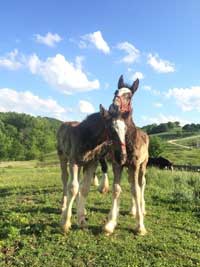 Experience farm life in 1850s Hermann on a 200-acre working farm, living history center, and National Landmark. Once the home of George Husmann, world-renowned pioneer in the American wine industry, Hermann Farm is now an open-air museum dedicated to preserving and presenting the unique agricultural, social, and economic history of the German immigrants who settled the lower Missouri River Valley in the mid-1800s.
Farm attractions include tours of the restored Husmann home, shire horses, white mules, and tram rides to the farm's distillery log house and office, sweet springs, trading post, Schuetzenhalle, tinsmith shop, broom maker's shop, woodwright area, and gardens. Sponsored by the Dierberg Educational Foundation.
Closed during the winter
Riverfront Museum
Wharf Street
573-486-5973
Hermann history, memorabilia, pictures, movies and more. For guided tour call 573-486-5973.
Starkenburg, MO
573 236 4390 | pastor@historicshrine.org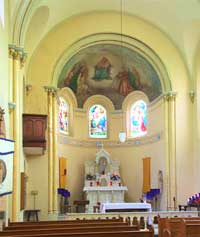 Placed on the National Register of Historic Sites in September of 1982, the Shrine of Our Lady of Sorrows attracts visitors of all denominations. Its history dates to 1847 when the first German settlers arrived on the north side of the Missouri River. They named their new town Rhineland because it reminded them of their homeland.
Shrine grounds open daily — 8:00 a.m. to Dusk 
232 East Wharf St., Hermann MO 65041
573-486-3200 | vickie@whitehousehotel1868.com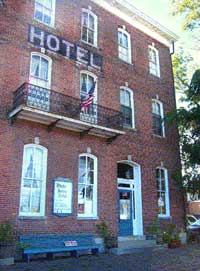 The 36-room White House Hotel is a privately owned three-story brick building, built in 1868. Guided lantern tours featuring actors in period costume may be reserved for groups of 15 or more.
Open May through June and September through October