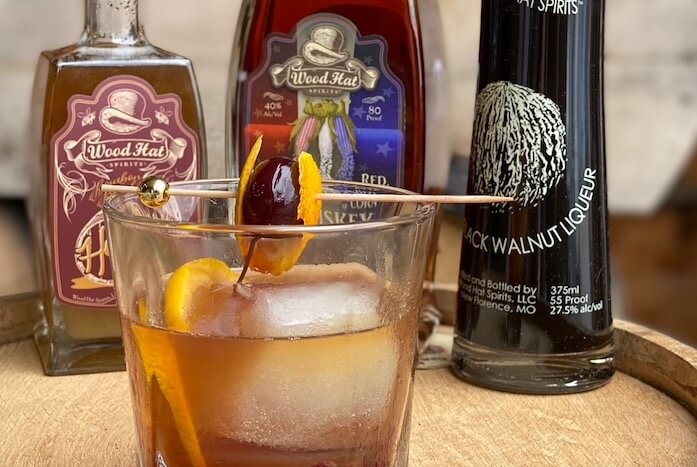 Make: Wood Hat Spirits Old Fashioned
July 2, 2021
Simple with a sweet kick, the Old Fashioned is an iconic cocktail perfect for sipping beside a bonfire on a warm summer night. Everyone has their twist on this classic drink but the essential ingredients are similar across the board. We've asked local distillery, Wood Hat Spirits, to share the recipe for their ever-popular Honey Black Walnut Old Fashioned.
Wood Hat Spirits is one-of-a-kind, offering a true "field to glass" experience. What does that mean? Well, their spirits are fermented, distilled, and aged onsite using the only wood-fired still in the country. They're a local legacy and certified as a true Craft Distillery by the American Distilling Institute.
Tag @VisitHermann on Facebook, Instagram, and Twitter with your handcrafted cocktail and make all your favorite cocktails using local Hermann spirits!
Honey Black Walnut Old Fashioned
Ingredients
2 oz Wood Hat Spirits All American Corn Whiskey or Bloody Dapper Bourbon
1 maraschino cherry
1 orange slice
1/2 oz honey simple syrup
Splash of Wood Hat Spirits Black Walnut Liqueur
Instructions
Muddle the cherry, orange slice, honey syrup, and Black Walnut Liqueur in the bottom of a rocks glass. Add ice and top with whiskey or bourbon. Stir, garnish with an orange peel twist, and enjoy.
Honey Simple Syrup
Ingredients
1/3 cup Wood Hat Spirits Bourbon Barrel Aged Honey
1/3 cup white sugar
2/3 cup water
Instructions
Add all ingredients to a sauce pan, warm gently until dissolved.