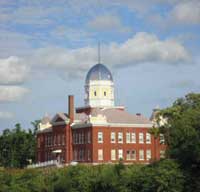 Dedicated on July 18, 1898, the Gasconade County Courthouse is thought to be the only courthouse in America built entirely with private funds. Hermann resident Charles D. Eitzen, a self-made millionaire, willed $50,000 to Gasconade County for construction and furnishing of a new courthouse.
Rising magestically above the river, the courthouse today remains little changed from its original design. Murals by area artists depicting the history of Gasconade County were added as a part of a centennial celebration in 1998.
Open to the public during normal business hours.