To submit an event to this web site, please contact:
Tammy Bruckerhoff
tourism@hermannmo.com • 573-486-5400
_____________
CLICK HERE for live music and night life in and around Hermann.
Historic Hermann Museum Tours and German Bake Sale
December 7 - December 8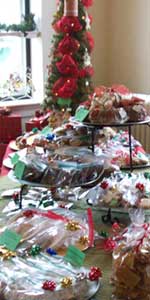 The Historic Hermann Museum in the 1871 German School building presents Ein Blick in die Vergangenheit, A Look into the Past. Tour highlights include costumed docents and 19th-century decorations. The popular German bake sale features traditional holiday treats. Enjoy music and mulled cider. Tours of museum rooms are $5 for adults, $3 for students, free for children 5 and under. Free admission to bakery and gift shop. Sponsored by Historic Hermann.