To submit an event to this web site, please contact:
Tammy Bruckerhoff
tourism@hermannmo.com • 573-486-5400
_____________
CLICK HERE for live music and night life in and around Hermann.
The Farmers' Table Wine Trail
April 4 | 10:00 am - 5:00 pm
$30.00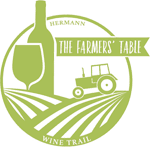 April 4th, 2020
Meet the local farmers behind the food as you taste your way through seven delectable wine and food pairings on the scenic Hermann Wine Trail. Advance tickets required. Purchase tickets online at HermannWineTrail.com or from the Hermann Welcome Center, 800-932-8687. Sponsored by the Hermann Wine Trail and Missouri CommonGround.