Antique Springerle Exhibit
Deutschheim State Historic Site, 101 West 2nd Street, Hermann, Missouri
573-486-2200
December 1, 2023 to December 31, 2023
every Thursday, Friday, Saturday, Sunday
10:00 am - 4:00 pm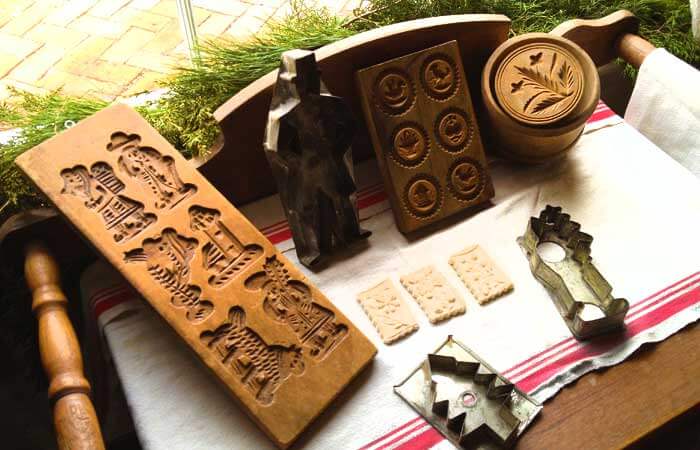 A special exhibit of antique hand carved Springerle molds is on display in the Visitor Center at Deutschheim State Historic Site this month. It is the first time the public will be able to view this collection.
The collection includes antiques, such as a remarkably detailed double-sided mold that was carved in the 18th century, as well as a child's Springerle rolling pin and 19th-century molds depicting various motifs.
The exhibit is on temporary loan from Hermann resident Linda Walker Stevens, who has baked Springerle for Deutschheim's yearly Weihnachtsfest open house for the past three decades.
Springerle will again be featured during this year's celebration and replica molds, as well as flavoring oils and the traditional Hartshorn leavening agent, are available for sale in the gift shop.
Anise flavored Springerle cookies have been molded and baked in the southern region of Germany for at least a millennium. The earliest examples were large and were often given as gifts or love tokens. The carved motifs reflected the interests of people at the time and could tell stories for the majority population who could not read. Religious subjects were especially common.
Smaller Springerle cookies, referred to as Kuchen, became readily available from bakeries at the beginning of the 19th century when sugar and other ingredients became less expensive.
Visit the exhibit during Weihnachtsfest or during regular hours (closed December 25) for a true taste of German culinary history.
There is no admission fee for events and exhibits sponsored by Missouri State Parks and Deutschheim Verein.
For more information on state parks and historic sites, visit mostateparks.com. Missouri State Parks is a division of the Missouri Department of Natural Resources.