Hermann Garden Tours
Held each year the first weekend of June, the Garden Tour gives visitors a chance to visit lovely gardens in and around Hermann. This year marks the event's 22nd anniversary.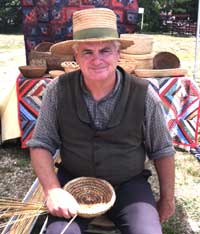 Town & Country Garden Tours
Saturday and Sunday, June 4-5

9:00 a.m. to 5:00 p.m.
The Town Tour is a walking tour of lovely hidden gardens in the Historic District, including a number of pocket gardens. The Country Tour is a driving tour to magnificent country gardens in the hills around Hermann. Gardens open at 9:00 a.m. and close promptly at 5:00.
Tickets
Town Tour or Country Tour … $10

Town and Country Tour Combo … $15
Tickets may be purchased at the Historic Hermann Museum parking lot, located at the corner of Fourth and Schiller streets, Saturday from 9:00 to 4:00 and Sunday from 9:00 to 2:00.
Plant Sale and Flea Market
The Garden Club's popular plant sale and garden-inspired flea will be held at the Historic Hermann Museum parking lot. The plant sale will include many native Missouri wildflowers, herbs and perennial cultivars. This year's flea market will feature unique planters filled with flowers.
Deutschheim Demonstration Garden
Deutschheim's German four-square Gemusegarten is planted with heirloom varieties, as the 19th century German immigrants would have done, incorporating flowers among the vegetables for beauty and for practicality. A bee skep maker will be at work, tour guides will be in period costume, and there will be handouts on 19th-century gardening.
Luncheon and Auction
A silent auction and luncheon will be held at the Rotunda Building in the City Park on Friday, June 3. Reservations are required. Call or email Bartow Molloy at 573-294-6242, bartowmolloy@centurytel.net.
_______________________
Slide show photos courtesy of Jack Wendelton and Alice Calhoun