Christmastime in Hermann
Christmastime is magical in our German village, where holiday traditions date back centuries. In this photo Jack Cady portrayed Pelze Nichol, a German version of Santa Claus.
christmastime-in-hermann
The Sounds of Starkenburg
Saturday, November 25
St. Martin's Church Museum, Starkenburg
1:00, 3:30 and 7:00
This free concert is a Hermann holiday tradition. Performers include organist Barry Bierwirth, the St. Paul UCC Handbell Choir, vocalists Carrie Tilly and Campbell Hemeyer, and cellist Keely Uthlaut. There will be sing-alongs during the concert. Soup supper and country store in Valentine Hall from 2:00 to 6:30 p.m.
Open Daily
Highway 94 seven miles east of Hermann
A great family outing. Enjoy a hayride to the field to pick out and cut the perfect tree. Back at the barn, warm up with cocoa and homemade goodies. Santa visits on weekends. Located on Highway 94 east of Hermann. Open daily, 9:00 a.m. to dark, starting the weekend before Thanksgiving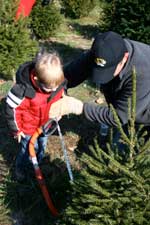 Children's Lantern Parade
Friday, November 24
Starting at First & Gutenberg
Hermann's Christmas season officially opens with a Lantern Parade through the historic district, beginning at First and Gutenberg and ending at the Gerald Engemann Memorial Park. In Germany, the traditional Festival of Lanterns celebrates the generosity and compassion of Martin of Tours, a German knight who gave half his coat to a beggar. Festivities include the lighting of the city Christmas tree, carol singing, refreshments and a special release of lanterns, weather permitting. Costumed figures will join the children, including Santa and Mrs. Claus, Victorian carolers and members of the Hermann Community Chorus. All ages welcome. For information call Sheri Hausman, 573-486-2024. Sponsored by the Hermann Arts Council in partnership with the Hermann Area Chamber of Commerce.
Saturday and Sunday, December 2-3
Stone Hill Winery
A traditional German Christmas market in Stone Hill's heated Pavilion. Crafts, Christmas goodies, carolers, hot soups and mulled wine. Saturday 10:00 a.m. to 5:00 p.m., Sunday 10:00 a.m. to 4:00 p.m. Sponsored by Stone Hill Winery. Free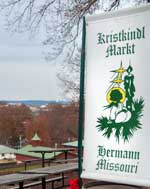 Saturday, December 2
2:00 to 7:00 p.m.
Tour Hermann homes decked out for the holidays, then enjoy refreshments at Venue 115. Purchase tickets ($10/person) at the Welcome Center, 312 Market Street. Sponsored by the Hermann Area Chamber of Commerce.
First two weekends of December
Deutschheim State Historic Site
Experience a 19th-century German Christmas celebration at Deutschheim State Historic Site. The Pommer-Gentner House is decorated with greenery and lit by lamplight. Its historic rooms feature Christmas trees decorated with authentic German ornaments. Visitors are invited to sample traditional German Christmas cookies and to learn how Christmas customs of the German immigrants became American traditions still celebrated today. A special Christmas gift shop features springerle molds and rolling pins, recipe books, imported German pop-up cards, and a selection of unique books for Christmas gift giving. Hours are 10:00 to 4:00, Saturday and Sunday.
First two weekends of December
Historic Hermann Museum, Fourth & Schiller
Historic Hermann presents "Ein Blick in die Vergangenheit—A Look into the Past." Tours of museum rooms are $5 for adults, $3 for students, free for children 5 and under. A German bake sale features traditional holiday baked items. Free admission to bake sale and gift shop. Hours are 10:00 to 4:00 Saturday and noon to 4:00 Sunday.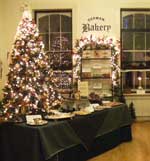 Christmas Tablescapes
First two weekends of December
City Park Rotunda Building
The historic Rotunda Building in the city Park sparkles with elaborate Christmas table displays. Warm cider and Christmas carols add to the festivities. 11:00 a.m. to 4:00 p.m. Group tours available by appointment. $5 admission. Sponsored by the Gasconade County Historical Society.
Enjoy the simple pleasures of Christmas past at the beautifully decorated 1847Husmann House, 1790 trading post, Schuetzen Halle, broommaker, tinsmith and woodwright shops. Costumed guides, Father Christmas, Shire draft horses, a bonfire and refreshments add to the fun.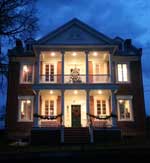 Saturday, December 2
Saturday, December 16
Historic district holiday tours depart every half-hour from the corner of Gutenberg and First streets, near the Amtrak station. Walk-ups welcome but reservations suggested. $10 per person. Children 3 and under on laps free. Private rides available. For information call 636-667-1174.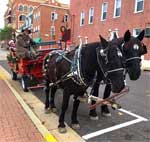 The Spirit of CHRISTmas at Starkenburg
December 7, 8, and 9
St. Martin's Church at Starkenburg
Mezzo-soprano Carrie Kirchhofer-Tilly sings holiday favorites and Jonie Loehnig plays selections on the 1860 Pfeffer pipe organ at the beautiful St. Martin's Church, six miles west of Hermann. Concerts are from 2:30 to 3:30 p.m. Enjoy sing-a-longs during the performance and refreshments and a vendor market afterward. Bus tours and groups please contact Kay at 573-690-7779. Adults $7, ages 18 and under $3.
Saturday and Sunday, December 9-10
Hermannhof
The riverfront Festhalle and open-air Hofgarten evoke the ambience of European Christmas markets. 10:00 a.m. to 4:00 p.m. Sponsored by Hermannhof Winery. Adults $5, children 15 and under free.
Saturday and Sunday, December 9-10
Cheese and wine pairings, from classic to creative, at seven stops on the scenic Hermann Wine Trail. This event coincides with many holiday happenings in Hermann, including the popular Kristkindl Markt at Hermannhof Winery. Saturday 10:00 to 5:00, Sunday 11:00 to 5:00. $30/person. Advanced tickets required.