Christmastime in Hermann
Christmastime is magical in our German village, where holiday traditions date back centuries. In this photo Jack Cady portrayed Pelze Nichol, a German version of Santa Claus.
christmastime-in-hermann
Saturday and Sunday, December 10-11
Hermannhof Winery
The riverfront Festhalle and open-air Hofgarten evoke the ambience of European Christmas markets. 10:00 a.m. to 4:00 p.m. Sponsored by Hermannhof Winery. Adults $5, children 15 and under free.
First two weekends of December
Historic Hermann Museum, Fourth & Schiller
Historic Hermann presents "Ein Blick in die Vergangenheit—A Look into the Past." Tours of museum rooms are $5 for adults, $3 for students, free for children 5 and under. A German bake sale features traditional holiday baked items. Free admission to bake sale and gift shop. Hours are 10:00 to 4:00 Saturday and noon to 4:00 Sunday.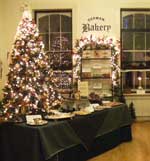 First two weekends of December
Deutschheim State Historic Site
Experience a 19th-century German Christmas celebration at Deutschheim State Historic Site. The Pommer-Gentner House is decorated with greenery and lit by lamplight. Its historic rooms feature Christmas trees decorated with authentic German ornaments. Visitors are invited to sample traditional German Christmas cookies and to learn how Christmas customs of the German immigrants became American traditions still celebrated today. A special Christmas gift shop features springerle molds and rolling pins, recipe books, imported German pop-up cards, and a selection of unique books for Christmas gift giving. Hours are 10:00 to 4:00, Saturday and Sunday.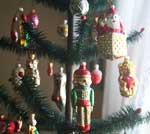 Christmas Tablescapes
First two weekends of December
City Park Rotunda Building
The historic Rotunda Building in the city Park sparkles with elaborate Christmas table displays. Warm cider and Christmas carols add to the festivities. 11:00 a.m. to 4:00 p.m. Group tours available by appointment. $5 admission. Sponsored by the Gasconade County Historical Society.
First two weekends of December
Enjoy a 19th-century Christmas at Hermann Farm. Tours include the historic Husmann House, Schuetzenhalle, 1790s trading post and cabin homestead, all delightfully decorated for the season, plus shire horses in harness bells, music, storytelling, exhibits, a strolling Father Christmas, a German Belsnickle, winter tram rides, cookies and pioneer punch, a bonfire and the Mercantile gift shop. Tour hours are 10:00 to 5:00. Walk-ins welcome. Call 573-486-3276 to schedule a group tour. Adults $18, children $9 (ages 3-15).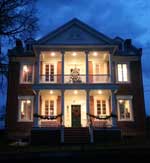 56th Annual St. George Christmas Bazaar
Sunday, December 11
St. George Church & Gym, West Fourth Street
All-you-can-eat Christmas dinner, games for children, pictures with Santa, Mrs. Claus's mercantile, live and silent auctions, and raffles. 11:00 a.m. to 3:30 p.m. Dinners are $10 for adults, $9 for seniors, and $5 for children age 5-10.
Saturday and Sunday, December 10-11
Cheese and wine pairings, from classic to creative, at seven stops on the scenic Hermann Wine Trail. This event coincides with many holiday happenings in Hermann, including the popular Kristkindl Markt at Hermannhof Winery. Saturday 10:00 to 5:00, Sunday 11:00 to 5:00. $30/person. Advanced tickets required.
Saturday & Sunday, December 10-11
1:00 to 5:00 p.m.
Experience the joy of the season with a nostalgic horse-drawn carriage ride, complete with sleigh bells! Rides depart every 20 minutes from the corner of First and Schiller. $10 per person. Children 3 and under on laps free. Reservations suggested. Call 636-667-1174, or book online at WineCountryWagonRides.com.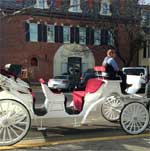 Sunday, December 18
Santa comes to Sugar Momma's at 407 Market Street from 1:00 to 4:00 p.m. Be sure to bring your letters before he heads back to the North Pole!
Open Daily
Highway 94 seven miles east of Hermann
A great family outing. Enjoy a hayride to the field to pick out and cut the perfect tree. Back at the barn, warm up with cocoa and homemade goodies. Santa visits on weekends. Located on Highway 94 east of Hermann. Open daily, 9:00 a.m. to dark, starting the weekend before Thanksgiving