From venues with dramatic views to more than 300 guest rooms in all price ranges, Hermann is the perfect setting for an unforgettable Wine Country wedding.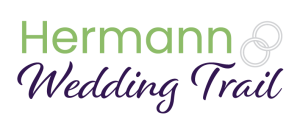 Held three times a year, the Wedding Trail showcases all Hermann has to offer for a beautiful Wine Country wedding. During the Wedding Trail, engaged couples and their families have an opportunity to tour wedding and reception venues at their own pace. Along the way, they can meet with wedding vendors and explore lodging options.
Wedding Trails
11:00 a.m. to 3:00 p.m.
Registration at Visitor Information Center
9 a.m. to 4 p.m.
Wedding Venues
❤  = Wedding (ceremony) Venue
🥂 = Reception Venue
🍽  = Rehearsal Dinner Venue
4th Street Pizza 🥂 🍽
113 East 4th Street
573-486-2642
fourthstreetpizza.com

Concert Hall and Barrel Tavern  🥂 🍽
206 East 1st Street
573-486-5065
concerthallandbarrel.com
Fernweh Distilling Co. ❤ 🥂 🍽
The Loft at Fernweh Distilling Co. 
4 Schiller Street
573-486-2970
fernwehdistilling.com
Hermann 1837 Bar 🥂 🍽
403 Market Street
573-486-2662
https://hermanncrownhotel.com/hermann-1837-cellar-bar/
Hermann Fraternal Order of Eagles 🥂 🍽
410 Market Street
573-486-5721
Hermann Hill Weddings  ❤ 🥂 🍽
165 Highway 100
314-800-3295
hermannmoweddings.com
Hermann Wurst Haus 🥂 🍽
234 East 1st Street
573-486-2266
hermannwursthaus.com/catering
Inn at Hermannhof   ❤ 🥂 🍽
Hermannhof Festhalle
237 East 1st Street
573-486-5199
innathermannhof/weddings.com
Loose Caboose Saloon 🥂 🍽
113 West 5th Street
573-340-8344
facebook.com/hermannloosecaboose
Lost Creek Vineyard  ❤ 🥂 🍽
21356 Gore Road
636-932-4142
lostcreekvineyardmo.com
Sage Mountain Recreation Area  ❤ 🥂 🍽
567 Gaugh Lane
612-685-5834
sagemountaincamping.com/weddings
Shrine of Our Lady of Sorrows ❤
197 Highway P, Starkenburg/Rhineland
573-236-4390
historicshrine.org
Stone Hill Winery ❤ 🥂 🍽
1110 Stone Hill Highway
573-486-2221
stonehillwinery.com/weddings-hermann
The Piano Bar 🥂 🍽
101 East 4th Street
573-539-8313
pianobarhermann.com
Tin Mill Restaurant    🥂 🍽
Celebration Hall
315 East 1st Street
573-486-5546
innathermannhof.com/Weddings
Valentine Hall 🥂 🍽
197 Highway P, Starkenburg/Rhineland
573-236-4390
valentinehall.org
Vinchester Inn   🥂 🍽
129 East 3rd Street
573-486-4440
vinchesterinn.com/the-north-star
Vintage Restaurant at Stone Hill Winery 🥂 🍽
1110 Stone Hill Highway
573-486-3479
stonehillwinery.com/weddings-hermann
Wedding Vendors
Catering
Hermann Wurst Haus
234 East First Street
573-486-2266
hermannwursthaus.com/catering
Cakes & Desserts
Sugar and Spice Laura's Delights II
308 Market Street
573-486-3333
sugarnspicebakery.com
Sugar Momma's
407 Market Street
573-486-5263
sugarmommashermannmo.com
Flowers
Terraflora Botanicals & Gifts
217 East First Street
573-486-9007
terraflorahermannmo.com
Photographers
Camera Creations Photography & Design Studio
636-357-3176
cameracreationsds.com
Salons & Salon Services
Head Hunter Salon
415 Market Street
573-486-3606
Hair only
Joella's Beauty Bar
311 Market Street
573-232-1212
Hair, Updos, Makeup, Brows, Lashes
joellasbeautybar.com
Tanglez
422 West 18th Street
573-486-2880
Hair, Nails, Botox, Brows
facebook.com/tanglezsalonllc
Spas
Eden Spa
2070 Village Lane
573-550-3555
edenspahermann.com
Hermann Hill
711 Wein Street
573-486-4455
hermannhill.com/spa
Kneading Oasis
314 Market Street
573-694-8807
facebook.com/kneadingoasis
Massage for Your Health
1011 Market Street
573-486-0199
massageforyourhealth.com
Amtrak Missouri River Runner
amtrak.com for tickets
Hermann Crown Suites Taxi & Van Service
403 South Market Street
573-486-2662
Hermanncrownhotel.com/transportation
Hermann Trolley
636-575-6920
hermanntrolley.com
Lyft You Up Rides
314-608-3202
facebook.com/HermannRides
Wine Country Wagon
636-667-1174
Horse-drawn Carriage Rides
winecountrywagon.com
Other Services
HogsHead Cigars & Fine Tobaccos
Mobile Cigar Bar
301 Schiller Street
573-486-2035
hogsheadcigars.com/mobile-cigar-bar-for-events
Wedding Information Services
Hermann Visitor Information Center at Amtrak
301 Wharf Street
573-789-0771
hermannweddings.com