From venues with dramatic views to more than 300 guest rooms in all price ranges, Hermann is the perfect setting for an unforgettable Wine Country wedding.
The Hermann Wedding Trail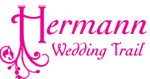 Held three times a year, the Wedding Trail showcases all Hermann has to offer for a beautiful Wine Country wedding. During the Wedding Trail, engaged couples and their families have an opportunity to tour wedding and reception venues at their own pace. Along the way, they can meet with wedding vendors and explore lodging options.
Wedding Trails
11:00 a.m. to 3:00 p.m.
Saturday, January 16, 2021 (If snowed out, makeup date is January 17.)
Further Wedding Trail dates to be announced
Wedding Venues
W = Wedding Venue
R = Reception Venue
RD = Rehearsal Dinner Venue
Alpenhorn Gasthaus W R RD
179 Highway 100 East
Bank Bar & Venue 115  W R RD
(Closed/ For Sale)
115 Schiller Street
Bay-Bethel Hall W R RD
1593 Presbyterian Church Road, Bay
573-539-8200
Cedar Creek Hotel & Event Center W R RD
1401 Olive Rd, New Haven
573-237-3672
Concert Hall and Barrel Bar & Tavern  R RD
206 East 1st Street
The Cottage W R RD
1185 Highway H
Hermann 1837 Wine & Craft Beer Bar R RD
403 Market Street
Hermann City Park Rotunda W R RD
Upper City Park
Hermann Hill Weddings W R RD
165 Highway 100
Hermann VFW Post R RD
108 Highway 100 West
Hermann Wurst Haus R RD
234 East First Street
Hermannhof Winery W R RD
237 East First Street
HogsHead Cigars & Fine Tobaccos R RD
301 Schiller Street
Inn at Hermannhof W R RD
237 East First Street
Little Piney Lodge W R RD
19 Little Piney Lane
Lost Creek Vineyard W R RD
21356 Gore Road
Shrine of Our Lady of Sorrows W
197 Highway P, Starkenburg/Rhineland
Stone Hill Winery W R RD
1110 Stone Hill Highway
Sweet Clover Farm Events W R RD
1969 Epple Road
The Loft at Fernweh Distilling Co. R RD
4 Schiller Street
Tin Mill Restaurant/Celebration Hall R RD
(Closed at this time)
315 East First Street
UnColor Wine Bar & Gallery R RD
114 East Fourth Street
Valentine Hall R RD
197 Highway P, Starkenburg/Rhineland
Vintage Restaurant at Stone Hill Winery R RD
1110 Stone Hill Highway
Wedding Vendors
Catering
Hermann Catering
573-291-3646 or 573-291-4004
Hermann Wurst Haus
234 East First Street
Swiss Meat & Sausage Company
2056 Highway 19 South, Swiss
Flowers
Creekside Nursery
169 Highway 100 West
Terraflora Botanicals & Gifts
217 East First Street
Photography
Fricke Studio
313A Elm Street, Washington, MO 63090
Wilding Studio
523 West Ninth Street
573-486-5544
A variety of transportation for wedding parties and guests is available in Hermann.