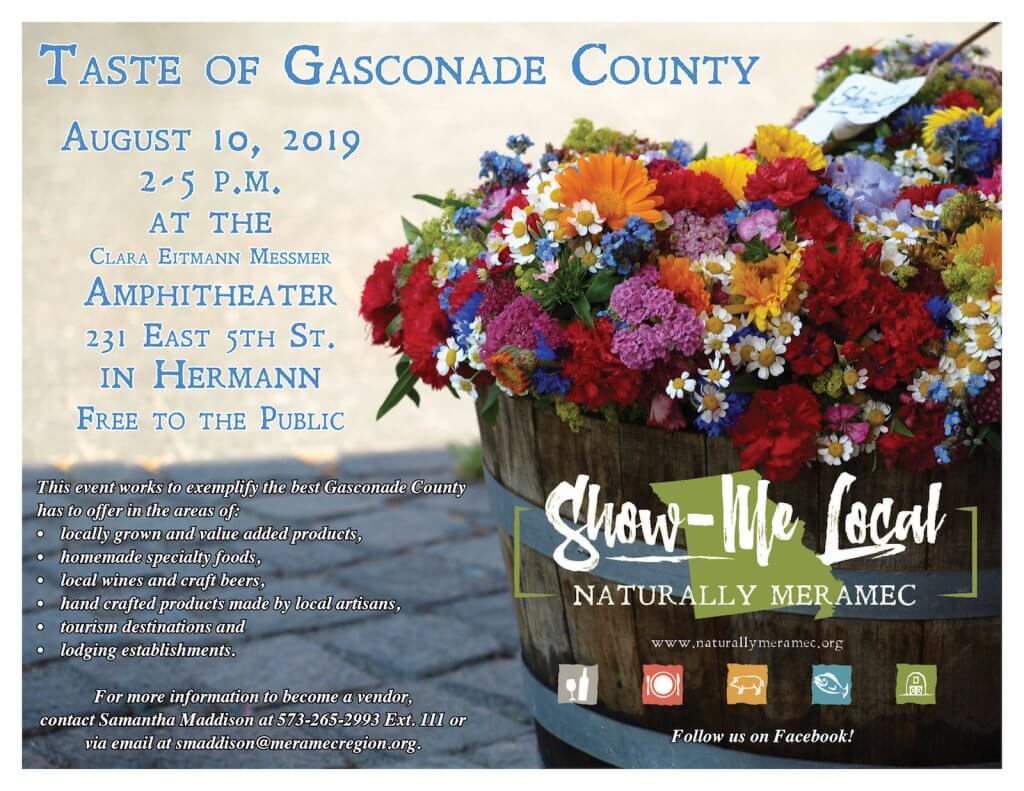 Experience the rich and enticing flavors of Gasconade County at this year's Taste of Gasconade County event hosted by Naturally Meramec, a group of businesses promoting local products and services from Missouri's Meramec Region. The Naturally Meramec Consortium works to cultivate the area's agriculture, tourism, and culinary businesses, with the hope that, by working with each other, the businesses and tourism in the Meramec area grow. The event, taking place Saturday, August 10, at the Clara Eitmann Messmer Amphitheater, will showcase the best Gasconade County has to offer in several areas from locally-grown products and beverages to pieces created by local artisans and even lodging and tourist destinations. Free to the public, you can check out the event from 2pm to 5pm that day.
For those interested in participating in the event, area businesses can register to be vendors, showcasing their local products or services. This event is a unique opportunity for you to feature your locally-owned business and support the Hermann area's recognition for creating exceptional products and providing the best lodging and tourism services.
Spend a few hours experiencing Gasconade County's best
The Taste of Gasconade event is the perfect opportunity for visitors and locals alike to browse and experience the variety of products and services available in this area. You'll be able to explore and purchase locally-grown products and produce, homemade specialty foods, some of the area's best local wines and craft beers, and beautiful, hand-crafted pieces made by local artists. You'll even be able to learn about interesting and exciting Missouri tourist destinations (perfect for a day trip or weekend with your loved ones!) and relaxing, unique lodging experiences in the area. Check out Taste of Gasconade County on Facebook for more information on the event and to stay in the know. If you're interested in being a vendor for the August 10th event in Hermann, email smaddison@meramecregion.org for more information and their vendor application form. Don't forget to check out Taste of Gasconade County at the Clara Eitmann Messmer Amphitheater August 10th to see all the exceptional products and services Gasconade County has to offer!