The story of Port Wine is a colorful and varied one. From its creation as 'Portuguese Wine' in 1174, through political and commercial alliances over the centuries, to the abbreviation of its name "Porto" and later "Port," this beverage has largely stayed true to its origins despite a lengthy history of extrinsic change. One can only imagine the stories shared over a glass of this classic, fortified wine through the years.
Port Wines Tune Your Tastebuds for Something Different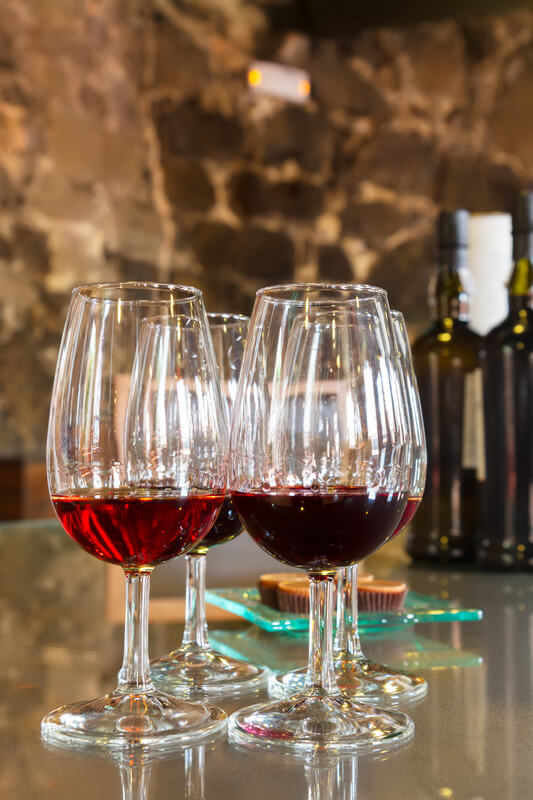 Port wine hails from Spanish Portugal and is the most widely recognized, fortified wine produced. Fortified wine contains a distilled spirit—commonly brandy. In addition to the higher alcohol content, fortified wine boasts a one-of-a-kind balanced flavor. The wine is typically red, though white ports also exist (AND can be found in Hermann!) The taste of a Port wine can be sweet, dry or semi-dry. Port wine ranges from light to hearty, which is what makes a tasting so intriguing. Quality standards for Port exist, of course, but winemakers practice flexibility and creativity with fortified winemaking each vintage unique.
This sweet wine possesses elements of berry fruit, spices such as cinnamon, and often a complex and palate-pleasing caramel or chocolate flavor. Noting the color, aroma, and viscosity of Port wine is definitely part of the allure in tasting it. Port is frequently appreciated as a dessert wine but could most definitely be the drink of choice for food pairings, a cold night huddled around a campfire or as a stand-alone sip in the afternoon as dinner is being prepared.
Experience Port at a Hermann Winery
Ready to try some of this revered Port wine? Pick an afternoon or weekend, browse and book incredible choices for Hermann lodging and map out your day, hitting a few titans of wine in the Hermann Rhineland. You'll find several wineries have dedicated efforts to harness the beauty and taste of this celebrated vino, Port wine.
Is your curiosity peaked yet? Enjoy these Signature Port descriptions from some of our local Port wine-makers!
"Exhibits the style of ruby character ports known for their rich, fruity quality. An emphasis on ripeness, depth, and smoothness, it pairs well with fine dark chocolate desserts."

"With an emphasis on tradition, our port is made from the finest Norton grapes. Fortified with aged grape brandy. Silky smooth with a long, full finish."

"A dense, rich port with stunningly powerful blackberry and cassis flavors. Enjoy it now or let it age in the bottle for a few years. Highly revered, this award-winning port is available in limited quantities."
Port wine survived and flourished through progressions in rule, modernization of culture and advancements in technology. The merit of true stability is still met today, as you can find a perfect glass of recognizable sweet Port wine in many wineries across the country. Visit Hermann to be introduced to our rendition of this rich favorite!
Let your imagination treat you to thoughts of post-dinner discussions that span the centuries as you sip a glass of this soul-warming beverage. You might even be convinced that your bottle just arrived in the town via ship from Portugal.
Visit Hermann Wine Country and enjoy tasting a wine both new and ancient—Port wine is an indulgence from a far-away time and place produced right here in Hermann.