Third Annual Hermann Motorcycle Rally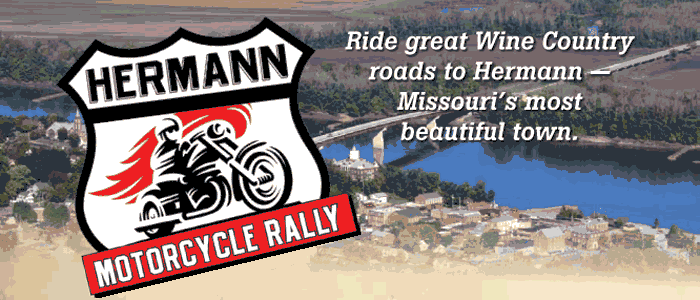 Motorcycle riders and enthusiasts rally in Hermann for music, good food and good times.
When
Saturday, June 8, 2019 — 11:00 to 5:00
Where
Hermann Amphitheater, corner of Fourth and Gutenberg streets.

Bike Parking (closed to traffic)

East Third from Schiller to Gutenberg
East Fourth from Schiller to Gutenberg
Gutenberg Street from Third Street to Fifth Street

Show bikes park on East Fifth Street, between Schiller and Fifth (on the south side of the Amphitheater.)
Highlights
Live Music 12:00 to 4:00
Best of Show awards
Food stand
Vendor Booths
Games — Pin the Washcloth on the Clothesline, Tennis Ball Roll, Plank Race, Balloon Toss
Beer Garden
Vendors
Adam Puchta Winery
Hermann Catering
Hermann VFW
Thunder Roads Magazine
More listed soon!
Sponsors
Vendor Forms
http://hermannmo.com/wp-content/uploads/2019/02/20190213121941.pdf