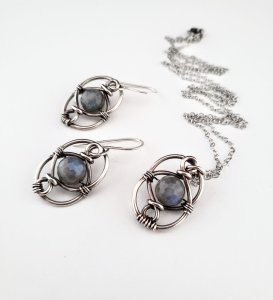 Although often known for its wineries, the charming town of Hermann also has a fantastic shopping district for visitors and locals to explore. Here you'll find great options for gift giving, home decor, and even unique, artisan jewelry.
As the perfect stop for one-of-a-kind designs, Amayeli has been Hermann's own artisan jewelry company since 2009. Created when owner Billie Hackett's creative outlet warranted more dedication than just being a "hobby," it began as an Etsy shop. As Billie's success grew, she went from assembling the jewelry to creating each piece from scratch and even learned the art of metalsmithing. Currently, you can find Amayeli in several Hermann shops—Midwest Trading Post, The General Store, and Stomp'N Grounds. Pieces are even available at The Elizabeth Collection, a New York City boutique!
As a member of the Artisan Group, Billie's work has even been featured on television shows like The Voice, Vampire Diaries, and The Young and the Restless. Her pieces have also been sent to celebrities like Renee Zelleweger, Stephanie Drapeau, Wendy Williams, and Selena Gomez. Just think—you could be the owner of a high-quality piece as well!
Unique, artisanal pieces made by hand
Amayeli, whose name means "island" in Tsalagi, the endangered language of the Cherokee nation, ties to owner Billie's Native American heritage. The unique and beautiful name gives customers a hint of what they can find in the store—stunning, one-of-a-kind pieces that artfully combine the rustic look inspired by the Hermann countryside with a delicate, feminine feel. Each handcrafted piece at Amayeli starts with wire, metal, or flatware. Since Billie cuts her own metal, no piece is prefabricated. Copper, Sterling Silver and Gemstones make up some of the pieces' beautiful adornments. Amayeli's jewelry ranges from bold statement pieces to classically-styled pieces intended for everyday wear. Visitors to Hermann can check out her store in the Midwest Trading Post to find a unique piece to commemorate their getaway!
Personalized, custom jewelry just for you
Though Amayeli offers many one-of-a-kind pieces to choose from both in-store and online, you can also request custom-made items, like those that are hand stamped, to make your special piece even more meaningful. If you stop in and don't see the perfect piece you're looking for or imagining, Billie can consult with you about what you're specifically looking for, and work to create something truly special for you or a loved one.
A beautiful piece from your memorable Hermann experience
If you're in Hermann, a piece from the Amayeli collection serves as a perfect memento of your experience in Missouri's beautiful Wine Country. Amayeli's pieces showcase a great variety of styles, so you'll be able to find a necklace, ring, bracelet or set of earrings that perfectly complements your style. Check out Amayeli in Hermann to see Billie's beautiful art and to support a thriving small business owner who strives to honor her heritage and love for Hermann with spectacular pieces. Visit Amayeli's website to see available jewelry and to contact Billie about having a custom piece made for you! Follow Amayeli on Facebook and @amayeli on Instagram and Amayeli Artisan Jewelry on Pinterest to see behind-the-scenes jewelry crafting and even more stunning photos!