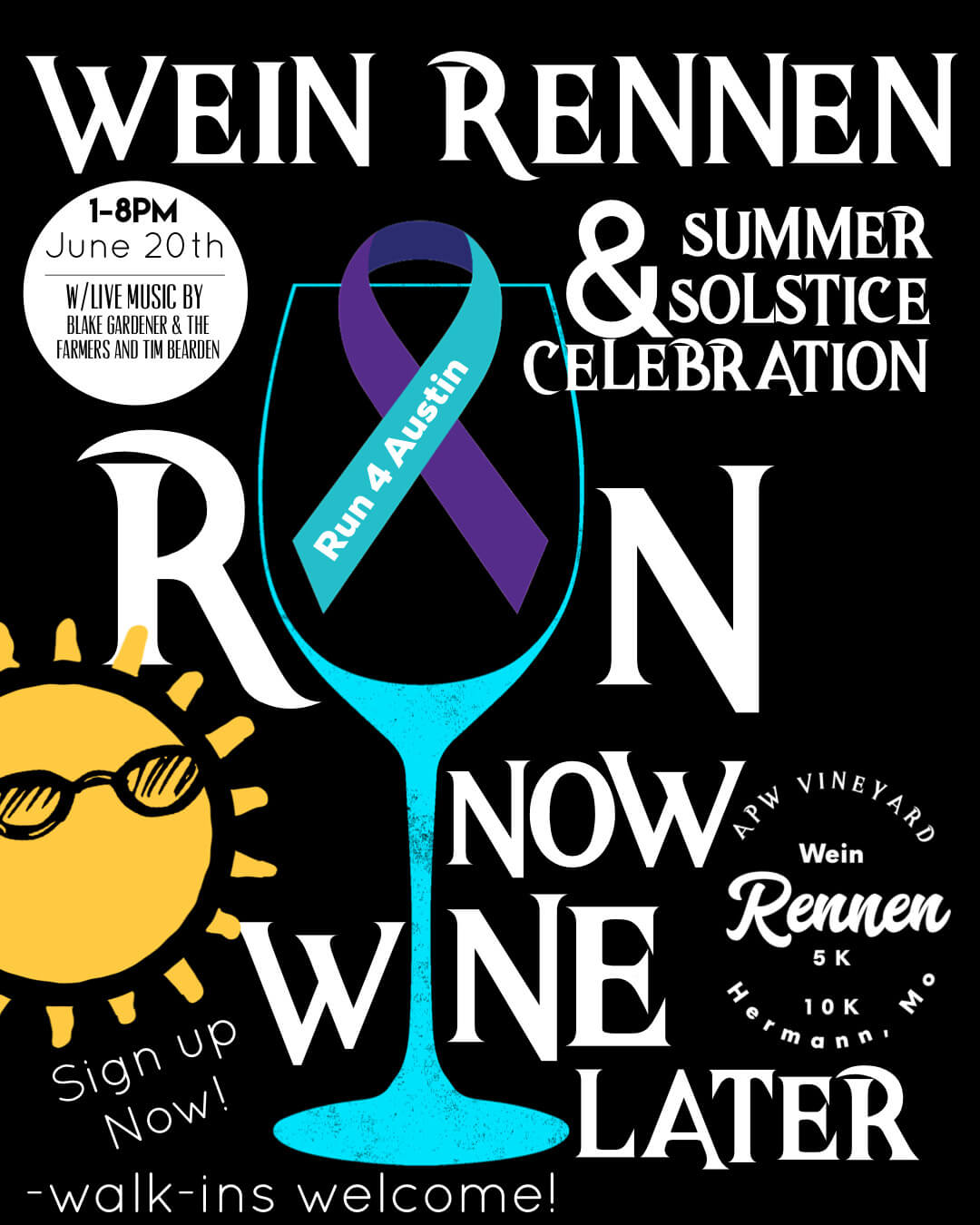 June 20, 2020 | 10:00 am - 8:00 pm
Wein Rennen 5k/10k & Summer Solstice Celebration @ Adam Puchta Winery
Join us for our 2nd annual Rennen Um Den Wein & Summer Solstice Celebration and a full day & night of live music! Tunes will be kickin' from 10:30 in the morning till 8 pm at night!!! Race for the wine, during the Summer Solstice, through the vineyards of Adam Puchta Winery. You'll climb steep hillsides, weave through a labyrinth of grapevines, and sprint past the old homestead-all while conquering obstacles (both natural and man made) along the way.
Choose from the Vignoles 5K or Norton 10K.
Entry fees include the race, race shirt or tank top, an APW swag bag, a wine tasting at specific points during the race, and more. Race starts at 4:30 pm. Prizes for best dressed individual, couple, and group, so start planning now!
Blake Gardner & the Farmer's will help us kick off the race and celebrate the Summer Solstice in style. They perform 10:30-1:30 to start the day, Tim Bearden will play from 1:30-5 and BG&tF will take the stage again from 5-8 pm when the race concludes with an amazing after party which includes more live music, wine and wine slushies will be flowing, and more. Our 1855 Cellar Bistro will be open to help you refuel. Walk, run, or just sip with us!
*Registration is available the day of the race.
-As always, music is free to attend.