To submit an event to this web site, please contact:
Tammy Bruckerhoff
tourism@hermannmo.com • 573-486-5400
_____________
CLICK HERE for live music and night life in and around Hermann.
River & Lights Festival
August 14, 2015 | 5:00 pm - 9:00 pm
FREE!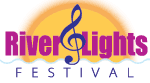 Enjoy an evening of live music, food and drink at Riverfront Park the second Friday of every month. Sponsored by the City of Hermann and the Hermann Arts Council.