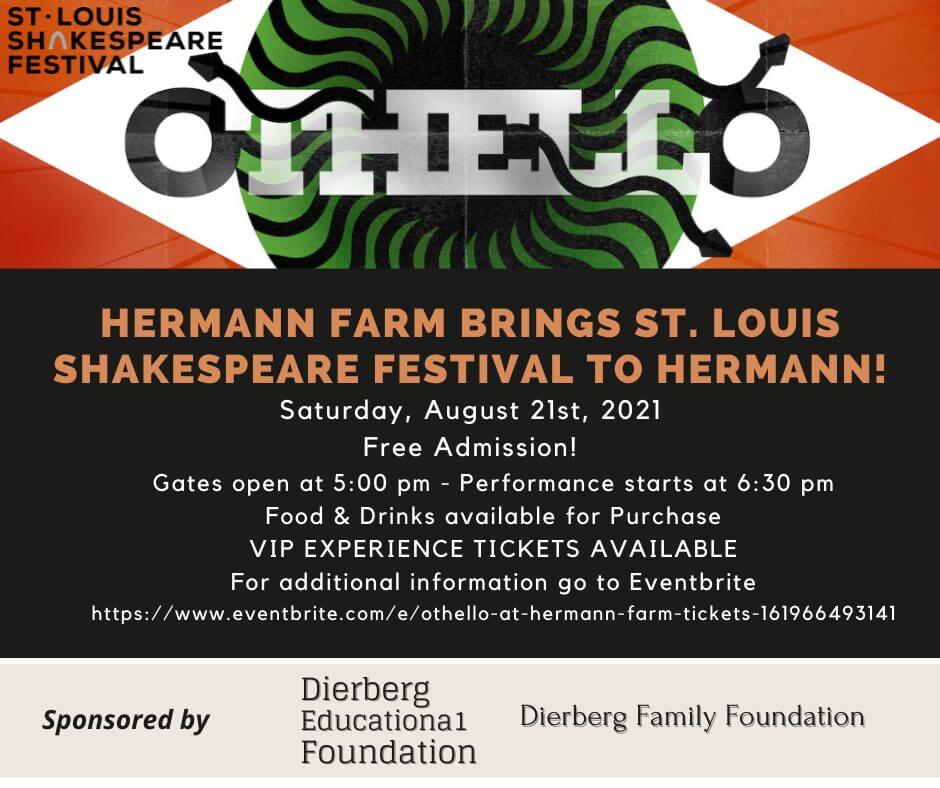 August 21, 2021 | 5:00 pm - 9:00 pm
Othello at Hermann Farm
St. Louis Shakespeare Festival is bringing TourCo to Hermann Farm on August 21, 2021, for a free performance of Othello.
This is one of Shakespeare's best-known tragedies, in which Othello, a Moorish nobleman and Venetian general, has secretly married Desdemona, the daughter of a high-ranking Venetian statesman. Iago, whom Othello has passed over for promotion, exacts revenge by tricking the high-ranking general into believing his wife has betrayed him.
The play will begin at 6:30pm and the story will unfold under the stars at Hermann Farm, a 200-acre historic farm and museum with viticulturist George Husmann's 1847 Greek-revival home as its centerpiece.
Admission is free and open to the public. The farm gates will open at 5pm. Families are welcome, although the play is best for those 12 and up. Food, beer and wine will be available for purchase prior to and during the show. Please note that outside alcohol is not allowed on the farm.
Anyone attending the performance and wishing to stay the night at the Inn at Hermannhof will enjoy a discounted rate by mentioning St. Louis Shakespeare when making their reservation at 573.486.5199.
VIP EXPERIENCE TO BENEFIT ST. LOUIS SHAKESPEARE — A limited number of VIP tickets will be sold with a portion of the proceeds benefiting St. Louis Shakespeare Festival. Tickets are $175 per person and include a private cocktail and hors d'oeuvres reception held at Black Shire Distillery prior to the play, reserved seating for the performance, an Othello-themed insulated picnic tote filled with everything you need to enjoy the show: a picnic dinner, bottle of wine, wine glasses, bottle opener and a picnic blanket. Also included with your ticket is a post-play dessert reception with the cast and crew.
Reserve VIP tickets through Eventbrite: http://eventbrite.com/…/othello-at-hermann-farm-tickets…
This performance is presented by Hermann Farm and sponsored by the Dierberg Educational Foundation and the Dierberg Family Foundation.