To submit an event to this web site, please contact:
Tammy Bruckerhoff
tourism@hermannmo.com • 573-486-5400
_____________
CLICK HERE for live music and night life in and around Hermann.
Libation U at the Bank Bar
June 11, 2015 | 7:00 pm - 9:00 pm
$20.00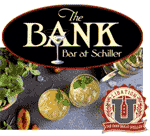 The Bank Bar offers a fun and informative libation class every second Thursday of the month. This month's class explores the use of fresh herbs and other garden bounty in cocktails. Class size is limited, reservations recommended. Call 573-486-1010.