To submit an event to this web site, please contact:
Tammy Bruckerhoff
tourism@hermannmo.com • 573-486-5400
_____________
CLICK HERE for live music and night life in and around Hermann.
16th Annual Children's Lantern Parade
November 29 | 6:30 pm - 8:00 pm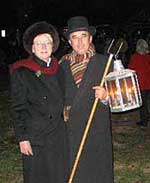 Hermann's Christmas season officially opens with a Lantern Parade through the historic district, beginning at First and Gutenberg and ending at the Gerald Engemann Memorial Park, where Pelze Nichol will arrive, courtesy of Wine Country Wagons. All ages welcome. For information call Mary Brennell, 314-766-0012.