To submit an event to this web site, please contact:
Tammy Bruckerhoff
tourism@hermannmo.com • 573-486-5400
_____________
CLICK HERE for live music and night life in and around Hermann.
Deutschheim Weihnachtsfest
December 14 - December 15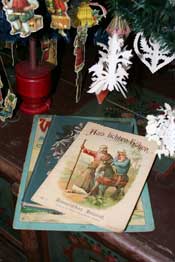 Experience a 19th-century German Christmas celebration at Deutschheim State Historic Site. The Pommer-Gentner House is decorated with greenery and lit by lamplight. Its historic rooms feature Christmas trees decorated with authentic German ornaments. Visitors are invited to sample traditional German Christmas cookies and to learn how Christmas customs of the German immigrants became American traditions still celebrated today. A special Christmas gift shop features springerle molds and rolling pins, recipe books, imported German pop-up cards, and a selection of unique books for Christmas gift giving. Hours are 10:00 to 4:00 on both Saturday and Sunday.