To submit an event to this web site, please contact:
Tammy Bruckerhoff
tourism@hermannmo.com • 573-486-5400
_____________
CLICK HERE for live music and night life in and around Hermann.
Contra Dance at Harvest Table
May 25 | 7:00 pm - 9:00 pm
$10.00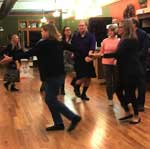 Fun for young and old alike. No experience necessary—a caller will tell you what to do and when to do it. Enjoy twirling and laughing with a partner you come with or someone you meet at the dance.