To submit an event to this web site, please contact:
Tammy Bruckerhoff
tourism@hermannmo.com • 573-486-5400
_____________
CLICK HERE for live music and night life in and around Hermann.
Christmas Traditions at Hermann Farm
December 14 - December 15
$18.00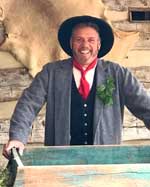 Herman Farm invites visitors to take a walk back in time to Christmas as it was celebrated in the 19th-century Hermann. The Farm will be open from 10:00 to 5:00. Tram tours depart at 11:00 and 1:00 on Saturday and 1:00 on Sunday ($18 for adults and $12 for children ages 3-15). Self-guided walking tours of First Settlement Village are $8 for adults and $5 for children. Beautiful holiday decorations and refreshments are part of the festivities.